New Feature Alert!
You asked, and we delivered. Majestic are very excited to announce our latest feature, New Links Alerts by email for specific web pages or websites that you wish to track.
You can now get a list of your best, new links that we have discovered, emailed straight to your inbox. You may choose the emails to come every week, every 2 weeks or as and when we update our Fresh Index. Create up to 10 alerts and choose the exact day to receive them.
There are two ways to set up these alerts and the most direct way is via your Dashboard. (If you haven't seen our new Dashboard yet, check out this post that explains all.)

Within your Dashboard, you will find the section named 'Email Alerts'. Type in the web address of the site or URL you wish to create the alert for and click 'Add'. Once you have set the time scale and date you wish to receive your alerts, this will currently apply to all alerts. For example if you chose Monday to get emailed, all your reports will be emailed to you on Monday.
The second option is within Site Explorer's Best New Links page. If while you are busy using the tool and spot some interesting new stats that you want to keep your eye on, just click on the 'Get this by Email' option within the 'New' tab.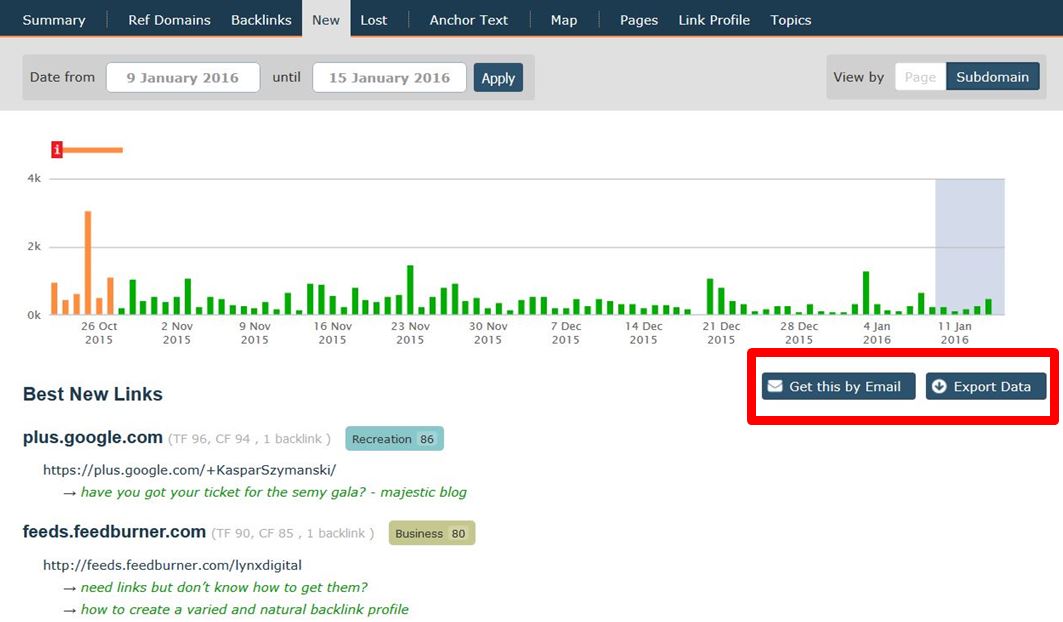 What Do Email Alerts Look Like?
When you receive your new link report in your inbox, the email itself will look something like: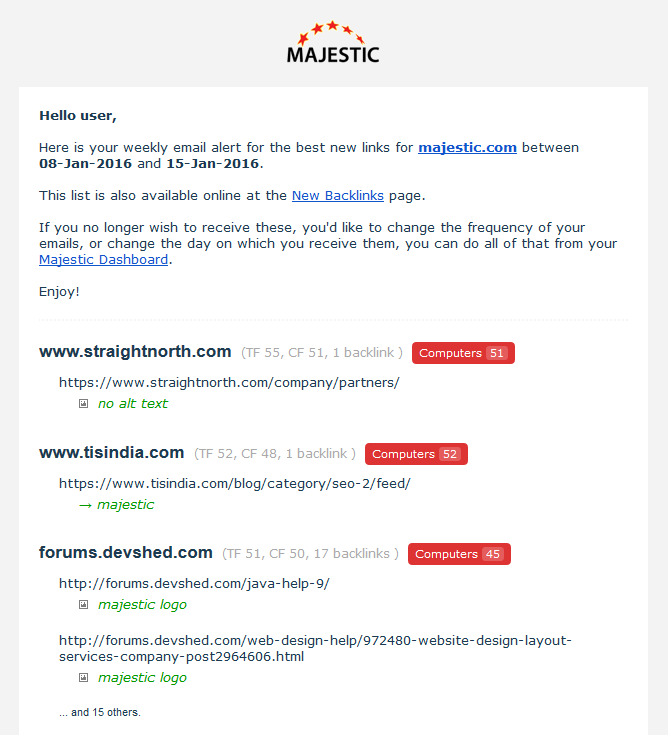 With links grouped by Sub Domain, it makes a very easy to digest report that helps you quickly identify your new link connections, how many links were received and of course Trust Flow and Citation Flow. Click on the New Backlinks link in the mail to open this up within Site Explorer to see more and investigate further.
In order to power these alerts, each email you receive will use a few Units from your monthly allowance. (a Silver account doing 10 email alerts every day for a month would only use up 3% of their monthly allowance of analysis units… so these are REALLY cheap).
This is only the start! What would you like next?
We know you all have been waiting for email alerts so please, test out this new feature of ours and let us know what you think.
The team wanted to get this live before expanding the functionality – so please do give some feedback on what you think they can do to improve the Link Alerts feature. This is the first release of this feature and as a Development lead company; we would love to know what you would like to see available within these alerts. We will review these and the most interesting ones will be put forward for the next update. Give us your opinions in the comment section below.
Enjoy!
Love this new update? Want to be the first to test upcoming updates in the future? Sign up to be part of our Beta Testers now!
Latest posts by Limsan Boulter
(see all)