This is an incredibly easy way to get a list of spammy domains that link to any site. It's a new feature, since it was only possible since we improved our sorting filters and integrated our Top Backlink functionality. Here's what we think is a list of spammy looking domains that link to our own site right now: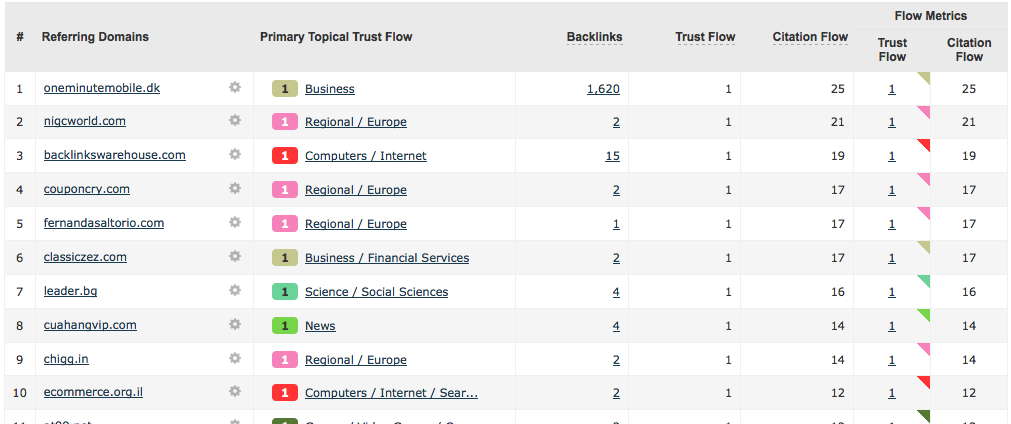 Easily get a Spam Finder list for any site…
It takes 20 seconds with a paid account:
1: Type in the domain you want to find spam for in the home page and hit enter.
2: Click on the Refer Domains Tab
3: Sort the list by Trust Flow Ascending then Citation Flow Descending. Like this:

4: If you click "Download Data" you can also export this list to Excel or CSV formats.
Try it on a site or two… does it work for you? If so, could you share it on your favorite social network?
Why does this Spam Finder tool work?
Sites with low Trust Flow but High Citation flow exhibit a particularly unusual link profile. These sites tend to have links… which used to be a seen as a string signal by search engines… but these links turn out to be coming from anywhere EXCEPT sites that are trustworthy. In a random world, Citation Flow and Trust Flow tend to converge at scale. If they don't, that is a red flag and generally with good reason.
Latest posts by Dixon Jones
(see all)