Are you monitoring your backlink profile?
It is no secret Google have become very aggressive when it comes to links and link building strategies: highly optimized anchor text links have suddenly become toxic as they are unnatural. So perhaps branding is the way to go and people are thinking twice before placing questionable links on their money sites.
While link building is still an essential part of your SEO strategy, there is another aspect you need to consider as an everyday part of your optimisation efforts: Monitoring your backlink profile.
Backlink profile monitoring should be an integral part of your ongoing SEO activities. You need to know who is linking out to you, and if there are any suspicious activities, in order to react in real time and avoid a disruptive, (or devastating), penalty.
How you can use Majestic SEO to monitor your backlink profile?
Majestic SEO offers 2 different ways to monitor your backlink profile:
Via a Tracking Report. The link tracking report from Majestic SEO offers a view of Trust Flow, Citation Flow, and other link quality characteristics such as external backlinks, referring IPs, referring domains, and referring subnets: link quality characteristics of any URL or website over time, updated on a daily basis. This report is useful in 2 ways:
It allows you to follow the link quality of a URL and see if there is any correlation between a change in a URLs position and whether the change was caused by an increase in good (or bad) links. These flow metrics start calculating many link iterations away from the URL you are tracking – meaning there does not have to be a change to the pages that physically link to you, for there to be a change in the page's fortunes on the web.
It offers an overview on the rate of growth of your Inbound Links (IBLs). The daily report offered by the tracking report offers strategic insights on a day-to-day basis which you can use to understand what is happening:

There has been a spike in new IBLs, where are they coming from?
Are they related in any way to a viral activity performed by the Social media Team?
Was a link picked up and passed along on Twitter?
Did the R&D team publish a white paper?
Was a newsletter published offering a download?

If the answer to any of these questions was YES, then you are safe and should be ready to bet those links are all legitimate.
But what if the answers to all these questions was NO – nobody did anything of the sort; there were no Social Media initiatives, no newsletters, none of your content went viral – then where are these links coming from?
Spikes in the IBL profile should be looked at with suspicion – they could be coming from a site which has nothing to do with us and could have dropped a run of site link in their navigation bar or footer… this deserves your immediate attention. The following graphic taken from a tracking report is the perfect example:
In this case we can see there is a certain trend in backlink profile, then a sudden significant growth over a few days; (in this case the IBLs shot up from just under 12.000 to 24.000). These links were found to be coming all from the same site, a very big portal with thousands of pages that had placed a link in the sidebar.
In very competitive markets competitors can organize a negative link building campaign to discredit you by adding thousands of low quality links, and then by doing so, impacting your trust flow, and boosting your citation flow. The tracking report will keep you up to date and in a matter of days you will be informed of the presence of these undesired and hostile links.
Tracking reports offer top level numbers and information but not the actual links; (they can be found in the Site Explorer under the New tab):
You can see the spike noted in the previous screenshot taken from the tracking report. By hovering over the dates Majestic will reveal total number of backlinks identified and date of discovery; (which is not necessarily the date of creation).
Clicking on the date will retrieve the links and allow a detailed analysis. If the links are legitimate you keep them, if they are not your only option is to disavow them: by doing so you are telling Google you have nothing to do with that inbound linking activity and are taking appropriate action to distance yourself from them; (and by doing so renouncing to any link equity coming from them). The disavow will feed into your link profile and these links will be removed from your link graph. In this way you are preventing any retaliation on behalf of Google when the day of reckoning will come … prevention is better than curing.
Thanks for your time – Sante J. Achille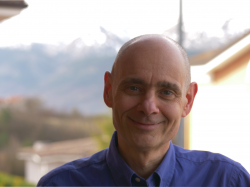 Latest posts by Sante Achille
(see all)