Welcome to part two of our three part series exploring Trust Flow. This post focuses on tools that help you see how your backlink metrics change over time. If you've landed on this article, you may wish to consider a recap and review of part one for a detailed explanation of "What is Trust Flow".
In this post, we will look at ways you can see how Trust Flow has varied in the past. We will also explore how to set up detailed tracking to monitor the Trust Flow of sites and pages. If Trust Flow and Citation Flow analysis starts and ends with Site Explorer, this post is for you!
As we have seen, Trust Flow is a vendor SEO metric, invented by Majestic, and used under licence by some third party tools. Trust Flow relies on a clever algorithm that attempts to differentiate good quality, human curated links from poor quality automated spam.
In this post, we'll share how to…
Track your Trust Flow (and other SEO metrics) for free.
Use Bulk Backlink Checker to check headline stats for huge numbers of sites at once (great for domainers with database skills)
Use Flow Metrics history to get an at-a-glance view of how a site'ss Trust Flow has grown or dropped over time.
Create Backlink campaigns to monitor domains or URLs of your choosing
Use the Majestic API to automate advanced backlink monitoring and empower your team.
How to track your Trust Flow for Free
Majestic offers a number of ways to monitor your Trust Flow for free. If you want to keep a watching brief, you'll need a spreadsheet and the discipline to visit Majestic regularly. This technique works for a number of SEO tools which offer previews of metrics, and can be rewarding for tech-savvy owners of small businesses seeking to gain a feel of their online presence. All you need to do is use a spreadsheet like Google Sheets to record metrics which are important for you. Then, visit the backlink provider sites to access this glorious free data on a regular basis.
You can decide the how often you wish to do this. Daily, weekly or monthly.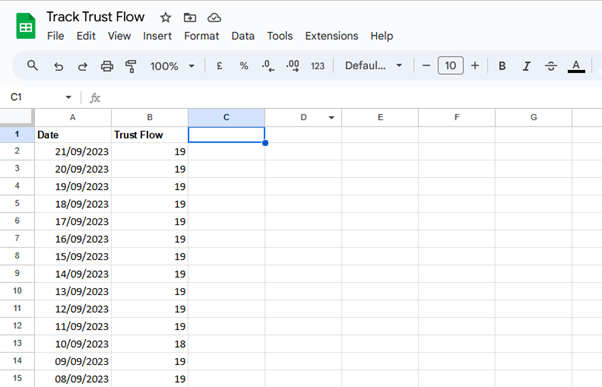 Each row of your spreadsheet relates to a particular date, with the columns containing the wonderful and free vendor metric and backlink counts data. A handy tip if you have a small portfolio of sites to check – you may be able to get around access limits by checking different sites on different days.
It may not be the most correct way of getting comparative measures, but over time, a rolling average should still provide some useful signals.
There are two great ways of access Free Trust Flow information from Majestic:
The free backlink checker from Majestic gives you headline metrics including Ref Domain counts, Trust Flow and Citation Flow.
The volume of accesses available every day are lower than paid plans, but creating a free login can yield more data than available to unregistered guests.
The free backlink checker is powered by Site Explorer, giving you access to a cut down version of the tool offered to paid subscribers.
The browser plugins offer a different route to access Majestic data.
Available for Chrome and Firefox, these plugins provide a quick report of key Majestic metrics for the page or URL you are viewing in the browser. The plugin operates in two modes. But, let's focus on the free mode, which offers the summary information you'll want to input into your spreadsheet.
The paid mode requires a Majestic Subscription, but does add a few more data-points and reduces the need for authentication checks.
Many SaaS products face a constant fight against sophisticated distributed scrapers who seek to target and extract huge volumes of data. Their aim is to pass the costs of their operation onto the paying customers of the targeted platform.
We have tried to balance being able to offer free data for a user's own sites with what might be considered "reasonable". Most users on free accounts find that they can see the links to their sites, as most users only have one or two sites.
Where free usage becomes more than the norm, we ask users to pay a modest monthly fee to cover the significant costs of collecting, analysing and storing this information.
Fortunately, we have one of the lowest cost of entry in the marketplace.
The Lite plan is our entry-level plan, which can be used for link auditing and link analysis – all for around $1.60 a day.
The Pro subscription requires a minimum of one months commitment of $99pcm for each month. Pro includes the same benefits of Lite, but adds much more data and access to the Historic Index.
Both Lite and Pro subscriptions offer a variety of ways to monitor your Trust Flow, in addition to supporting wider backlinks research.
Monitoring Trust Flow with the Majestic platform
Majestic offer a number of ways of monitoring your Trust Flow to suit your budget.
Lite subscribers benefit from access to Site Explorer, Bulk backlink checker and backlink campaigns.
The Pro plan adds the Flow Metrics History tool, the Historic Index, and a number of other tools to that list.
For Agency owners seeking to escape per-seat pricing, the Majestic API offers a great deal of power. With SaaS tool prices, if you are yet to evaluate the benefits of a bespoke in-house dashboard, dodging per-seat pricing by adopting a data supply agreement may be worth consideration.
Think about starting with the bulk backlink checker, moving to backlink campaigns, and then going to the PRO-option before looking at the way the API can help your agency.
Monitoring Trust Flow on your Lite Plan
Backlink Campaigns
Campaigns let you monitor domains, or groups of URLs, over time. You can stay updated on changes to your and the competition's site.
The tool has a user-friendly interface and comes with data that is easy to explore and interact with.
You can share real-time statistics with your stakeholders to receive feedback, suggestions and ideas based on the current data.
Campaigns help you take a proactive approach to link building.
Creating a Campaign is quite straightforward. Under 'My Majestic', you will find the tool.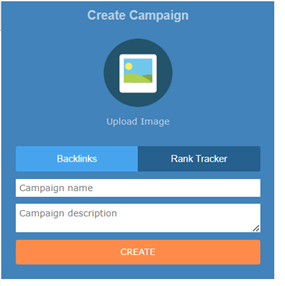 Enter your domains and we'll show you the current snapshot of data.

Monitor metrics regularly and address any big drops as soon as possible.
Inside each will be a history of Trust Flow and Citation Flow for every time the Fresh Index updates over the duration of the campaign.

Bulk Backlink Checker
Bulk Backlink Checker is an awesome tool for Domainers and SEO's with large portfolios of domains or URLs to check.
Bulk Backlink Checker returns key SEO metrics like Trust Flow, Citation Flow, and Ref Domain counts, in addition to many others. The tool operates in two modes:
Interactive Bulk Backlink Checker
File upload Bulk Backlink Checker
Interactive Mode gives you the ability to query up to 400 URLs or domains simultaneously. Domains and URLs can be copied or typed into the entry field. The "Check Backlink Counts" button results in analysis of your query, and a prompt return of counts and metrics.

A number of views are offered, along with the option to download the results via the export data button.

There is, however, a small trade-off in this bulk analysis. While Domain coverage is complete, some smaller URLs may require further analysis. When this occurs, the rows are highlighted as "Estimated" in the report, or given a status of "May Exist" in CSV download.
File Upload operates on a similar basis to Interactive mode, however, instead of entering your queries manually, you instead upload a CSV file containing all the Domains/URLs you want to query. Subject to the resources available on your plan, files of up to ONE MILLION rows are supported. That's a lot of queries!

To access the File upload mode of Bulk Backlink Checker, click on the "Upload File" button on the top right of the report.

Select your file using the "Browse" button, and then follow the onscreen prompts to tailor your report. A variety of file types are supported, so if you are unfamiliar with the tool, you may wish to use a smaller file initially to become familiar of the process before uploading large quantities of data.

After confirming the file type and the resources required to generate your report, you'll be taken to the download screen. Your report will generate in the background, leaving you free to use the rest of Majesitc, or instead grabbing a quick coffee while your download is prepared.
Monitoring Trust Flow on your Pro Plan
Flow Metrics History
Flow Metrics History illustrates how your website's Flow Metric scores have changed over time. We started tracking domain-level Trust Flow and Citation Flow almost 8 years ago for each domain in our index.
As with all the tools in our Compare Suite, you can compare up to 10 domains at a time.
The resulting graph shows fluctuations in the Trust Flow and Citation Flow through the Fresh Index and beyond. A snapshot of where each website currently stands is also shown in the graph to the side.

Each point in the chart shows the Trust Flow (or Citation Flow) for each site on a given day, showing where they have experienced a drop, or maybe even peaked.
But as we mentioned before, we don't want to be making knee-jerk decisions if the metric drops for a day but then bounces back up to where it was.
In this instance, the best way to track if your score is trending in a certain direction is to use the 'Average' score in that time-frame.

Monitoring Trust Flow on your API Plan
Web based tools offer a great deal of power, however, for the ultimate in flexible analysis, there is nothing like having the data in-house. Capturing regular snapshots of backlink data for customer and competitor sites can help you create an in-depth map of your clients need which is on-tap when you need it.
Audit, prospecting and client reporting can all benefit from the availability of data and the value you can add to it. The benefit of generating relevant information from raw data go far beyond in-house SEO.
It is possible to gather coverage manually, using exports from SaaS platforms before importing the data into a resiliant store of your choice. However the manual approach only scales so far before becoming cost-prohibitive.
Use of an API to automate data aggregation and in-house analysis reduces the overhead of data acquisition, helping you to create a service offering that scales far easier than manual alternatives.
For larger agencies, or those with bespoke development capability, the Majestic API offers a number of additional advantages over web based systems and all-in-one tools:
Aggregate data from a number of different providers into a single dashboard
Avoid per-seat pricing by opting for a data supply package
Plan and design your service requirements to avoid vendor lock-in
Support your Agencies USP and team with bespoke technology more resilient to staff turnover.
If you want high volume backlinks data at a predictable price point, the Majestic API is worthy of consideration.
The Majestic API is available on a self-service basis via the plans and pricing page. Full documentation and example code are available at: https://developer-support.majestic.com/
Which Plan to Choose?
A significant drop in Trust Flow for your website may be a cause for concern, and the tools we've covered here can help you monitor your websites and important pages for falls or increases in your Trust Flow and Citation Flow scores.
By covering how to monitor your Trust Flow using the different tools available across our subscription plans, we hope you can find the solution that fits your needs the best.
In the next article, we'll cover the tools and processes you can use to investigate WHY your scores may have dropped, and what can be done to remedy it.
If you'd like a detailed demonstration of the toolset, please book a free session.
Or, if you are ready to get started with Majestic, check out our Subscription Plans.
Finally, if you have any questions, then you can reach out to our friendly customer service team at support@majestic.com.
Thanks so much for reading!
Latest posts by Kainat Malik
(see all)