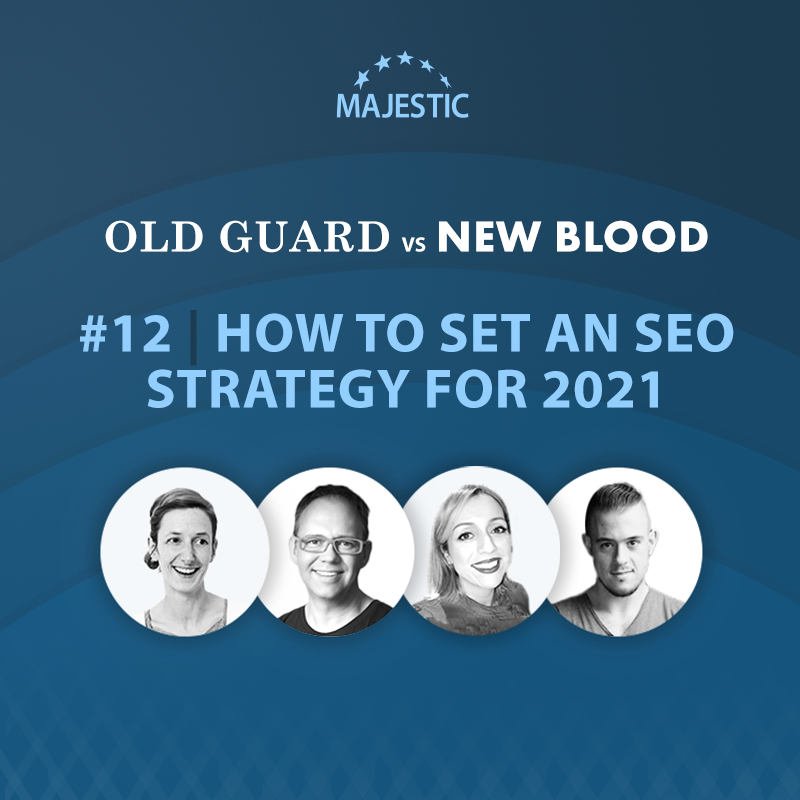 How do you plan your SEO strategy for the coming year? Is it best to plan your SEO activities for a whole year or is it more effective to break down your overarching plan into smaller chunks?
Join 3 leading SEO minds to discover how they pull together an SEO strategy and how they suggest you do too.
Watch on-demand
Listen to the Podcast
Joining Guest Host David Bain for episode 12 of OLD GUARD versus NEW BLOOD is…
Your Panellists
Kevin Indig, Director of SEO at Shopify

Anna (Appenzeller) Corbett, Head of Search at Base Creative

Maria Amelie White, Head of SEO and PR at FloristPro
Guest Host
Your host David Bain is a former Head of SEO and Founder of Casting Cred, the podcast production agency for B2B brands.
Transcript
David Bain
Old Guard versus New Guard episode 12, how to set an SEO strategy for 2021. Hi I'm David Bain your temporary host, after I look after the reigns while Dixon recuperates or recuperates if you want from his misadventure. Dixon's hanging around in the background and still here watching us. Hey, Dixon. How are you doing man?
Dixon Jones
I am guys. I just popped in just to show everybody that I actually did manage to get up off of a bicycle. If you haven't seen it, dixonjones.com. Look up ouch on dixonjones.com and you'll find a horrendous story of me falling off a mountain bike. Well, it's horrendous to me anyway. It's probably not so horrendous to anyone else. Anyway, I'm nearly walking again. But we decided that probably whilst I was on the drugs, it was better off if David did the running of the show and everything, just so I didn't do anything too silly.
I want to say hi, thanks to everybody that did say thank you, that did wish me luck for getting better. I am getting better. I'm going to bail out now and let David run the event and I'm sure everyone will be great, but happy 2021. It's got to be better than my December 2020 and COVID asides. Cheers guys. Thanks very much. Thanks David.
David Bain
Great to see you, and you're getting healthier and healthier by the look of it as the days go by. I'm sure that Dixon's going to be here to host the next one, which is actually going to be on the 3rd of February.
Dixon Jones
I hope so, yeah. I hope so.
David Bain
If you check the majestic.com blog and sign up for that one when it's available, and Dixon will be back I'm sure. The show of course is brought to you by majestic.com, mapping the web to help SEOs dominate their markets. Today, I would like to introduce you to the Majestic Link Graph, a recently released a visual map of the immediate network that surrounds a website or a URL.
Now, you can use link graph to discover suspicious link clusters, find the most valuable second and third tier link opportunities and identify valuable domains to buy. For those of you watching the video, rather than actually listening to the podcast, I'm going to show you just quickly how to use link graph or how it actually works. Here's my screen. Let's make sure that you're seeing my screen. Hopefully everyone can see that. Okay. We're going to start off with the most important website, Dixonjones.com, just as an example there.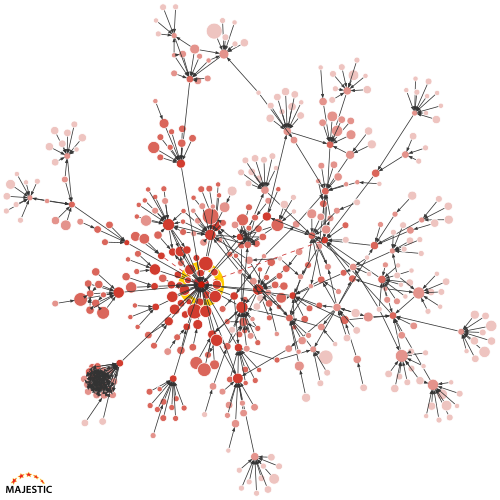 We can see that as you scroll out, you can see all the different websites associated i.e. linking directly to dixonjones.com. If you click on the various websites, you can see the Trust Flow and Citation Flow there as well for each domain. But it's a wonderful way to discover other clusters of websites. Scrolling right out there, you can start to see second tier opportunities, i.e. you've got a major website here that links directly to dixonjones.com. But you've got all these other websites that link to this site, and could be a great opportunity to perhaps forge partnerships with in the future.
Many other ways how to use this particular tool. It's also a brilliant tool to actually check out your competitors domains, to see which of their links are potentially of value to you and your business. To find out more, check it out at majestic.com. Now in the show, we normally discuss different SEO perspectives between those who are newer, and those who are more experienced in the industry. But I've actually got some three great panellists joining me today.
Because all of them have roughly 10 years of experience each, instead of doing some of them new guard, some of them older guards, we're going to do things slightly differently. Today's old guard is what used to work from an SEO planning perspective years ago, versus what's more effective today. If you're watching us live, make sure you share your thoughts and questions and we'll try and incorporate what you're discussing to as part of today's discussion. But I would like to introduce you to the three great guests that we have today.
First up, a lady who is originally from Germany. She is a super-efficient and logical lady, although she's been softened by years of British politeness and queuing. Welcome to the head of search at Base Creative Anna Corbett.
Anna Corbett
Hi, everyone.
Thanks for having me.
David Bain
Great to have you on board. Next up, is a lady who's completely in love with tea pots and tea sets. She has an MSC in psychological research and is the head of SEO and PR at FloristPro. Welcome Maria Amelie White.
Maria Amelie White
Hi, thank you for having me and apologies for the microphone again so, yeah.
David Bain
That's okay. You were struggling to get your microphone connected beforehand. We got you connected to some other audio device, but we can hear you okay, and we'll hopefully do a few tweaks for the podcast episode afterwards to enhance the sound even more. Lastly, we've got a man who believes that plans are useless, but planning is invaluable. He's been speaker at more SEO events than I've had bottles of red wine over Christmas. Welcome to the Director of SEO at Shopify, Kevin Indig.
Kevin Indig
It's good to be here and great to speak alongside Anna and Maria. Thank you, David.
David Bain
Great to have you, Kevin. Let's begin by asking our panelists how long you should plan from an SEO perspective. Let's actually stick with Kevin, let's start with a man who believes that plans are useless. What are your thoughts, Kevin?
Kevin Indig
Love you intros man. How long should you plan? I think it makes sense to plan a year, but to leave enough slack and buffer to adjust and pivot. When I say plan a year, it doesn't mean that you have to plan everything down to the minute, but you should 100% know what success looks like, meaning what your objective is, and I think at least what you want to tackle a quarter. I even like to go down to a monthly basis, because the finer your planner, your incrementality, the more feedback you get, meaning the better you know whether you're on or off, and then … Go ahead.
David Bain
You're saying, sorry, probably not to plan for the year, to actually have a broad set of objectives for the year, but have your more distilled step by step planning done on a monthly basis?
Kevin Indig
That's correct. Yeah, what I like to do is I have one big objective a year. It often is a revenue number or a lead number, something along these lines. Can even be traffic number. Then I break that down into every month, and then I set objectives by the quarter. That allows me enough feedback to see if I'm on track or if I have to adjust or pivot. But at the same time, it allows enough flexibility because as we all know, SEO takes a while.
If you want to plan it down to the day or to the week, you get into this weird limbo, where you ship something, but then you need to wait for a couple of weeks or sometimes months until you see the effect. This kind of combination allows me enough kind of grip on the roadmap, but at the same time flexibility to let things simmer.
David Bain
Great. Okay. We'll come back to you in a second just to find out what objectives you tend to set on an annual basis. But let's go to the other panellists. Anna, do you tend to mirror what Kevin does there, and that you'd actually only have a very broad set of objectives for a year out?
Anna Corbett
Yes and no. I think that, I also tend to work on a yearly perspective. We plan a strategy for the year for each client. The strategy is really closely based on the goals that they want to achieve, the business goals rather than ranking goals or anything fancy like that. I don't do that. It's basically what do you want to achieve as a business, and then we kind of backtrack on our goals that we want to set from a metrics perspective.
What I used to do is like one year plans, and now it's more like, "Okay, well, we have a one year objective, but actually, we're working in monthly sprints, sometimes bi weekly sprints," where we go through that, and then have three months to review. Every three months, we then go back and say, "Well, are we still reaching that objective now? Has anything changed? Has there been any kind of COVID thing happened?" It allows us to be quite flexible in our approach, and also allows us to be flexible in, yeah, in adjusting to those changes.
I think that maybe the others will agree that there's been a lot more changes in search, that actually mean that if we run with a very solid strategy from the beginning, then at the end of the year, that could completely be the wrong thing to do at that point. Keyword research that would have been done a year ago, looking back at that now, it's like, "Well, actually, the underlying intent has completely changed." I find it better to be a bit more flexible and say, "Okay, well, this is our objective.
But when it comes to actual tactics and keywords and targeting, I want to be flexible on a at least quarterly basis."
David Bain
So we might even have an in-house versus agency thing going on here. Because it sounds like your clients, as an agency provider are the ones that are particularly keen for you to appear as if you've got an annual, you have a fairly long mapped out set of objectives.
Anna Corbett
Absolutely, yeah. They're always keen on seeing the bigger picture and seeing the long-term benefits like, where are we going to be in a year's time. I try to, I don't know, squeeze them to be more flexible.
David Bain
Maria, you work in-house as well, does that mean that you tend to be a little bit more short-term focused in your planning?
Maria Amelie White
Well, my case is different to Kevin and Anna. I work for an agency that works mostly with small businesses. We manage 750 small businesses in the UK. It is a completely different story. It's fascinating the way we work with our clients for SEO. Previous years, we used to plan for an entire year because our clients are a small business essentially, so also they like to see how are we going to work, or have a big KPI or a big objective, and then we break it down by quarterly plans. However COVID happened.
With COVID we learned that these clients, now we do instead of having a quarterly plan, we have a monthly plan. Sometimes that keeps changing and like Anna mentioned rightly so earlier on, sometimes you can plan something in January for an entire year, and at the end of the year, or as you go along, you might find that it's not actually feasible what you plan at the beginning, because not only the algorithm has changed, but COVID has changed and consumers have changed, and a lot of things have changed in case of small businesses.
It is great to have a big picture, break it down in chunks of … every quarter, but also on a monthly basis that's as well how, like Kevin mentioned as well at the beginning, so that's why.
David Bain
Okay, okay. Doc Sheldon seeing in the live chat, glad to hear that you're mending Dixon. If anyone's got an opinion on this, we've got about 30 people watching live at the moment. How do you actually plan yourself? What do you tend to include within an annual set of objectives? Share that in the chat, and we'll try and incorporate that or ask the panellists opinion on what you share as well. Marie, you mentioned that you have to be fairly adaptable, that your plans can change because of COVID, or perhaps other reasons.
Is that driven generally by your clients? Or is it you as an agency that decides actually, these objectives aren't quite right, and tries to actually get there before your client and advise your client to actually change the objectives that you're working towards?
Maria Amelie White
No, it is old clients, we have to consider the crisis. Obviously, the clients, how the consumer react and how everything is smoked. You have to literally … This year, it was very interesting, because we have to improvise or not improvise, but literally have meetings around 8:00 or 9:00 PM at night, is to plan how we were going to cope with the crisis because it was something more a reactive response from clients and customers when the first lockdown happened. It was customers that had … The majority of our clients are florists.
80% of our clients are florists, so they were forced to close down, obviously. A good chunk of those clients that we had were not technology, SEO savvy. The first thing they thought, "I have to close down my shop. Therefore I'm not going to have sales, so therefore, I'm going to have to close down the website." It was kind of like an overreaction. But possibly the plans we had of working with influencers, for example, with pieces of content that we had planned for local newspapers or local charities and events, everything comes down and we have to prioritize other things such as, how are we going to move from a physical store to an online store?
How we focus all of our strategy, suddenly, it had to change from content influencer, PR focus into a more like a juicer experience focus, into more like integrating other stuff, how to increase sales, improve viewers experience, prioritize mobile experience for our clients. We have to for example, if we had let's say, for a good chunk of our clients, we had events with charities or with local hospitals or … This is PR business to increase local awareness and for some of our clients, suddenly we have to close all that down.
What we did was to look at things such as still working with influencers, but now we have to look at things such as email subscriptions, for example, how to adapt some classes such as floristry classes, coupons, discount codes, flash sales, and we had to look at that as well as exploring all the things that were very successful strangely, such as TikTok for instance, to drive traffic. It was a point of actually driving traffic and pushing sales that we have to do. We had to come up with plans, like improvise and sit down and plan over.
I remember, I'm not going to forget, it was during March, around the 22nd of March, I also had COVID as well at the time. There were meetings where it was like starting meetings around 5:00 PM and finish around midnight, because we had, first of all to cope with all of the wave of calls we have from clients panicking about what they're going to do now that they've closed business, and some of them wanted to close their websites. It was an interesting exercise.
From that, I take that, yeah, I learned that planning for a whole year is great, having a great ambition, having a big objective, but breaking down in chunks and be ready to improvise, that's what I learnt.
David Bain
Wow, yeah. It must be tough if you're working in an environment where you have hundreds or even thousands of different clients that use a platform, because then you have to firefight and deal with every client almost individually, but then actually try and build a system that works for all your clients, but you haven't encountered this before. So you're just trying to discover things in a live scenario, as you're actually dealing with these client challenges. I appreciate all the fires that you've come through yourself.
We've got a question come in from an attendee saying, "How do you plan for a new blog?" I'm going to ask, Kevin, I'm going to ask you that question just in a minute. Have a think about that one. If you as a business are planning on launching a blog, a new part of your website this year, how would you go about doing that? But first of all, let's go to Anna. Anna, we've talked in broad terms about the fact that you try not to set too many objectives, or plan too much too far in advance. But what a one or two objectives that you will tend to try to incorporate into a yearlong vision that you share with a client?
Anna Corbett
It kind of depends. It's based on, sorry, it's based on a client by client basis, because what I tend to work with is business goals. Rather than setting objectives of ranking or content production or link building, we work on a business goal for the year, and then the business goal for the next three years, and the next five years, so we have the long term in mind. Then we work back and saying, "Well, okay, looking at this business goal …" most of the time it's generating new leads or making, generating new sales obviously."
Then we say, "Okay, well, with that in mind, let's pick this particular topic cluster. We expect to get in X amount of visitors and X amount of conversions based on that." I don't have any set of set objectives that I'm like, "These are certain things that always need to be done." I tend to focus it on what the client wants to achieve, on the client business objectives. Having said that, what always comes up, I think pretty much always is going to be site speed, and just like, "Look, you need to improve that," and lack of content that actually serves the user intent.
Those are always things that come up with objectives, fixing user intent issues and fixing site speed issues, but from an overall point of view, it really tends to depend on the business.
David Bain
Okay. It was interesting you touching upon topic clusters there because, and obviously tying it towards sales objectives as well. If clients come to you and said, "Okay, I'd like to achieve 500 sales from organic over the next year," and you've worked together to actually identify perhaps the most relevant topic clusters to the product or service that is being sold there. Do you work on some kind of assumption that you're going to get X% click through rates from the SERP result and X% of people are actually going to make a purchase?
Anna Corbett
Because I work in a broader agency, digital agency, I am lucky enough to work with other departments. I will make a plan for a SEO, including social and PPC within that. What we tend to do is, we think about the user journey. If we have a topic cluster for example, we think about the user journey like a see think do type of journey. Then we say, "Okay, well, from an SEO perspective, what's going to fit into the see awareness phase? What's going to fit into the think phase? What's going to fit into the do the transactional phase?"
Then we supplement that with, "Okay, well, if we don't think that we're going to get enough traffic in from the informational phase at the beginning, then let's supplement that with some social activity. If we think that we're going to struggle getting in the transactional traffic that we need, then let's supplement that with some PPC or some paid social work." I don't know whether I make the calculations to say, "Okay, well, this is like, these are the exact amounts or these are the exact results that we're looking for."
But we certainly work in that integrated way. Did that answer the question?
David Bain
Yes. In that you're not just going to rely on SEO to achieve certain figures. You'll give yourselves the leeway to be able to, if SEO, I guess, isn't bringing in the volume of sales that the client was looking forward, to be able to actually hit the targets that they were looking for with other forms of traffic.
Anna Corbett
Yeah, yeah.
David Bain
We've got another question come in. I'd like Maria, to have a think about this one, which is, do you think you can deliver meaningful SEO results without a content strategy or any new content? But first of all, let's go to Kevin and, Kevin what are your thoughts on the question how to plan for a new blog?
Kevin Indig
Yeah, I think it's a really good question. I've done that many times in my career. Actually, to before and we were able to build that blog up to a million visitors, and then now at Shopify, we have quite a lot of blogs. If I were to run that question through the typical strategy framework that I use, it all starts with what success looks like, right? What is the objective or better said, what is the goal of the blog? Are you trying to drive a lot of traffic? If so what for? Is it for leads? Is it for brand awareness? Is it for revenue?
That's of course tied to the business model itself. Meaning, how does your business make money? Is it positively attached to a marketplace as in G2? Is it tied into a SaaS business like with Shopify? There's a lot of context that decides what the goal is, but you need to have a goal in mind. The next step is to think about the constraints or limitations of the business. That typically relates to, do you have writers or do you need to outsource content creation? That decision has a whole red tail attached to it? Can you quickly whip up a blog say on like WordPress or another platform?
Or is there developer effort involved? Then the second step is basically figuring out what you can work with. Then based on that, you come up with a realistic plan. Of course, there are steps like doing the topic research, keyword research, and then doing the math on seeing how much search volume you can possibly target and how much traffic you would get out of that, which is tied to the goal. But I think the bigger questions are, what's the objective? What are your limitations? Then the third one is, what competitive advantages do you have?
A good strategy exploits your competitive advantage. Advantages can be things like, do you have expert writers? Do you have like, say, a staff of doctors who can write content or medical staff or experts in their fields, have a good reputation? Or do have, say, user generated content that you can use? Those are important things to think about. Then lastly, what does your competitive landscape look like? Do your competitors have a blog? If so, what does it look like? Is it a high volume blog with lots of published articles, but the depth and quality isn't so good, or do they use something else?
These are the four, maybe five steps that I typically run through when I'm planning a blog.
David Bain
Okay, great. What about content? How do you go about deciding what content to write? Do you research what content perhaps doesn't exist out there? Do you try and aim for content that isn't as competitive?
Kevin Indig
It depends a little bit on the space, but I typically look for these competitive advantages as in what is something that I can create based on people that I have, people I can leverage or data that I have that nobody else has? That's the best defense you can build up. Because if you run into a situation, where you don't have experts and say you hire, or you have to hire a couple marketers who have to learn about a topic and then create content based on that, it is not a very defensible strategy because your competitors can do the same.
The biggest question is, what can you provide that is unique to your company or situation? Then from there, the next question is, how strong is your brand and how good is your link profile? Those two are often tied together. They then decide how competitive the topics are that you can tackle. If you're a new startup with a very small brand and a very young back link profile, you want to go more for the long tail keywords and the non-competitive topics. But if you're an established company, you might be able to rank for very competitive terms much, much faster. There's a lot of nuance there as well.
David Bain
Anna, I'll just give you a moment to think about the question that I gave to Maria, because Maria appears to have dropped off for a second there. That was, do you think that you can deliver meaningful SEO results without a content strategy or any new content? But first of all, Alison Reynolds was saying, "What is the optimum blog length?" Back to you, Kevin, in relation to blogging, is it just as long as it needs to be? Is it the longer the better? Sorry, Kevin that was for you. I'm not sure if you've muted yourself by accident.
Kevin Indig
Sorry, I dropped off a little bit and was hoping it was for Maria. Can you please repeat the last second?
David Bain
Yeah, sure. It was just in relation to blog length. I came back to you because obviously, we were talking about blogging. There was a question from Alison Reynolds saying, "What is the optimum blog length?" I was just saying, "Well, is it as long as it needs to be or is longer the better?"
Kevin Indig
Yeah, that is a fantastic question because I think that changed a little bit. I think there used to be a time when longer was better, as long as the quality kept steady, and you don't have to fluff it up. But now, what I learned is that as long as you can satisfy the user intent and can satisfy the best, length is not that important anymore. What that means is that, you can outrank a piece of content with half of the content that that piece has, as long as you have a superior answer. Then for very simple answers, obviously, that's a completely different situation.
But you also don't want to go for very simple answers, because that's where Google typically grabs a lot of market share. But for more complex answers, if you can give a better answer, your content doesn't even have to be longer, it just has to be better.
David Bain
Great. Okay. Randy is also saying, can we get a recording of this video? Yes, you can. It'll be published on the Majestic blog. Just go to majestic.com. It should be published in the next couple of days on there. Anna, let's go back to you with that first question. Then I see Maria has come back on, so we'll get Maria's opinion on it as well. Anna, do you think that you can deliver meaningful SEO results without any significant content strategy?
Anna Corbett
If your website content is already valuable to the user, if you've already got a good set that works well, that answers the user intent, then absolutely. There might be something technical that's holding you back. There might just be some outreach, some link building that you can do to make it more visible or even, just some social activity to make it more visible and build links that way around. Absolutely, you can, but you have to have the content to make that possible. If your website is a bit blotchy, or is lacking really valuable content, then you're not going to get very far.
But if you do have it then great. Absolutely, you can have meaningful results without creating new stuff.
David Bain
Great stuff. Maria, welcome back there. You dropped off for a second there. What are your thoughts on that particular question? Do you see many of your clients getting much SEO success without having significant volumes of content on their websites?
Maria Amelie White
No. In case of small clients, maybe you can get away with not having a strict content strategy for a larger client. I don't know. However, with smaller clients and clients that have maybe less pages, significantly less pages than a larger site, we have done many experiments and clients that have less content in their landing pages or content to offer, place elsewhere to get links is more challenging to get more success, because obviously the competitors what they want is to increase visibility for certain keywords or locations or topics or services, products, whatever.
The competitors are like fears. You have to have either content on your site that is going to be useful for your customers, or you just launch a website with no content and just your products like we have done in many, many tests, or just fewer, just a few lines here and there. It's just definitely not … it's not going to work.
David Bain
Okay, great stuff.
Maria, we'll stay with you for the next question from Neil. Neil is saying when planning a blog, how do you target content opportunities that are important to local search or intent?
Maria Amelie White
I hate to say, this is one of those "it depends" questions. I don't want to say that, but okay.
David Bain
You have a few florists as clients?
Maria Amelie White
Yes.
David Bain
You've got someone that's say, based in London or so. Is there any particular type of content that they could publish on their website that they would make them more appealing to local people?
Maria Amelie White
It depends, again, on the type of the client's location, what they offer, because even though they're florists, some florists are for example, focused on funeral flowers, others on weddings, others on … Even we have a couple of clients that are very unique. One that is a gothic kind of floristry service, and it's just incredible, so depends on the location, the type of … With local clients, you have to consider location and with that the type of audience and consumer changes by location. For example, clients that are based in Convent Garden, probably the customers are going to be different and the offerings, the blog that you might write for that kind of audience might be different than someone perhaps who is in a small village in Leeds. It depends.
For example, for some clients that offer also some floristry lessons via Zoom, we create content around how to create pieces on content, that is going to push the client to be more curious about the lessons, and things that are going to push the client towards either staying more with us as to … With florists, again, is very, very simple. I love that because you can get so many content, and you can mix psychology, emotions, crafts, a lot of things with flowers and with smaller clients that some …
Yeah, it depends, as I said, depends on the audience, location and is, as I said, I find it a lot easier and simpler with smaller clients than perhaps the larger ones.
David Bain
If a business was perhaps struggling to be seen locally, would be one of the first things you do ensure that they had a decent Google local listing?
Maria Amelie White
If some client is struggling to be visible locally, perhaps the first thing what I would start working would be Google My Business. Google My business is my priority. In Google My Business, you have the option to create smaller posts. We can use a lot of things with Google My Business, post our products and for everything you do, it is crucial to our UTM tagging.
This is incredible because as soon as you set up your UTM tag around Google My Business, you can see pretty much nearly on Google Analytics, the behavior of the customers that come through to your website through Google My Business, and you can even see the products you have uploaded on Google My Business Page are of their preference, how many sales and so on. It's very, very interesting.
David Bain
Great. That kind of answers Neil's question as well, when planning a blog, how do you target content opportunities that target local intent. Neil, I guess what Maria's saying is the content opportunities aren't necessarily on your own domain. You can build up your own profile within Google My Business. Add more content on there, demonstrate your authority and relevance within there. That's obviously naturally going to translate back into your own website there as well. We had someone ask the question, sorry, Maria, you were going to say something else.
Maria Amelie White
However, content because you work with smaller clients, so it's very, very important not to write content just for the sake of it, and just write really long pieces of content or really long like over 300 and 450 words in each page, because what you're going to do is bore your clients or your audience and they're just literally just going to leave and lose interest. It has to be something that is relevant for them, easy to read, easy to follow.
Because if it's with small clients, like if you are talking having a cup of tea with someone like on come and chat having a conversation kind of post, depending on the tone of the client, if it's a small business, that's the tone you use. Yeah.
David Bain
Okay, great. Okay, lots of information on there. Also things to think about there as well. Someone asked, is there any minimum word count for ranking with optimum ranking on Google? I think Kevin's really covered that one by saying, length isn't as relevant now. You need to drive people and focus on UX and answer people's questions directly there as well. Kevin, let's go back to you with a question from Emma McCourt saying, "Kevin mentioned that he looks at how competitive is the link profile.
Could you mention some of the top three to five tips or a guide he looks for when gauging his link profile competitiveness?"
Kevin Indig
Yeah, absolutely. I work with a mix of metrics. I found that some of the proprietary metrics like domain authority or domain rating can be useful. But I tend to not simply look at a single metric. I tend to look at several metrics in a row. If you have access to several tools, I like to do that a lot. Of course, Majestic is a fantastic solution. I think there's something to be said about the strength of the domain, and the strength of the page that you get links for, or that ranks for the keywords that you also want to target and rank for.
Never just trust a single metric when it comes to links. Look at several ones to get a more complete picture. It really depends on what tools you have access to. I think the much better question or not better, but the much more relevant question is, how big is the impact of links on the ranking? That unfortunately, is also dependent on the vertical you're in. I see that in certain verticals, the link profile does not have a big impact. In other profiles, it does have an impact. I did also notice that link building is still very … it still works pretty well, and that links still generally across the board have a big impact.
You want to look at a specific use case. What I mean by that is, it is much easier to say, "Okay, here, we're not ranking the top positions. Could that be because our competitors have a very strong link profile and we don't," instead of saying, "Okay, I'm taking this one Majestic's metric, and then sort all of my pages by how well they perform against that metric and then try to improve it." Again, metrics are helpful, numbers are helpful. Majestic is a fantastic tool, but you want to tackle the problem from the other side.
We first look at, could links be a problem, and then evaluate your link profile against your competitors. That's where I love Majestic because it has a topic related backlink metric. That can be the most efficient one when it comes to assessing certain verticals. I hope that was concise enough to give you an answer to this.
David Bain
Great stuff. I'm also going to come back to you with a question from Rans, which is probably just positioned for you, Kevin, which is what's a good starting strategy to market a Shopify site that sells products without high interest, like placements for a table? I'll let you think about that one. But in the meantime, Anna, have you worked with price comparison sites before, because Mustapha is asking about price comparison sites, and about which types of pages on those sites are best to try and optimize and drive traffic to.
David Bain
He mentions category pages not being able to drive much traffic to them. Would you be able to recommend an optimal strategy for where to try and actually get organic traffic to a price comparison website?
Anna Corbett
That's interesting. I guess, I would fall back on creating something in that that's going to be useful for the user. When it comes to, rather than just looking at the category pages or the product pages themselves, creating some supplementary content that talks about the products in a wider sense, if that makes sense. If we're talking, I'm just thinking about placemats, take placemats for tables, because that was one of the things that just came up. If we had a price comparison site for placemats for tables, then I would suggest that one of those products was that.
We'd look at that specifically as like, "Okay …" Build content around that. Thinking about what … This is maybe a really bad example, but what the use cases of these things are, and maybe some of the history. Again, placements for tables is maybe not, it doesn't have a great history around it, but I tend to … I would probably tend to think about, "Okay, what content angles can we find that could create a page that can then link out to the individual products, and as well as category pages, but focuses on the wider topic, on the wider comparison rather than the individual comparison?" Does that make any sense?
David Bain
Yeah. You talked about category pages in the same breath as talking about product pages. In other words, you attempt to link to both the product page and the category page at the same time?
Anna Corbett
Yes, I would. I would probably have, break this imaginary page that I'm thinking of in intersections where at the top, I would talk more broadly about the product in general and link to the category page, so you could then see, "Okay, well, this is where X, Y, Z products are compared." Then at the bottom we then highlight some of those specific products and the link to those out, link out to those, so there's a more broader net, linking deep into the product pages, but also giving the users the opportunity to browse the category pages.
David Bain
Great stuff. Okay, now we've got a pile of new questions that will come in just like that. We're going to try and answer as many questions as we can. If you can possibly keep your answers fairly succinct for the next four or five questions, we'll try and get them all covered there. Maria, do you have any thoughts on voice SEO for local search potentially, when someone is using voice search to try and find some local result? What kinds of things does a business have to do to optimize for voice SEO?
Maria Amelie White
What kind of things?
David Bain
Is there anything that a local business can do to their website or to other things?
Maria Amelie White
Yeah. What we have noticed is, in case of local businesses, if clients tend to use voice search only to find directions to come to the shop, but not necessarily like, not really … To be honest, we don't … It's not something that we are prioritizing at the moment, maybe on voice search. We are focusing on other elements within SEO and digital marketing as a whole. But at the moment, voice search is not really a priority, because we have noticed that our clients and our customers use voice search only to find directions to go to the shop.
David Bain
Okay. Okay. Well, that's interesting in itself, because it probably demonstrates that you absolutely do have to use Google My Business, have a decent local listing, because unless you're on there, then you're not going to be appearing in those map results, and get traffic that goes to yourself.
Maria Amelie White
Yeah, and … Oh, sorry. We have noticed as well, again, on Google My Business insights and other amazing tools such as Bright, local, oh, my God, I don't know if I'm allowed to mention all the tools. But in case for local SEO, Bright tool, it's an excellent tool. On Google My Business insights, you can see how many requests are from your customers for directions for several things within Google My Business to get to your shop.
Maria Amelie White
There is a large volume of requesting directions to go to shops, which makes those things either this comes from a voice search device, voice search perspective, I don't know. But it's not really … We guess that voice search is only used to request for directions, not really like to get to the-
David Bain
Okay, great stuff. Okay. So I'm going to go to Kevin and Anna with a couple of questions there. But one other question Maria for you to have a think about. That's if you link out plenty of other resources from individual blog articles, would you advise to use no follow links instead of follow? Just have a think about that and how you'd approach that. Kevin, let's go back to you in relation to the Shopify site that sells products without high interest, like placements for a table. What's a good starting strategy for that particular type of site?
Kevin Indig
Yeah, and by the way, Dave, you do a really good job in juggling these questions, just want to point that out.
David Bain
Thank you sir.
Kevin Indig
To answer the actual question, it really depends on your audience and who you're trying to reach. The more a, I want to say commodity a product is, the harder it becomes because you compete with very convenient marketplaces like Amazon, or you actually compete against price. The first question is, who should buy your product? Where are those people? Are they on social media? Are they looking on search engines?
You mentioned that there's low interest, which to me somewhat implies that there might be low search volume for these keywords; correct me if I'm wrong. Then number three is, how can you stick out or how can your product stick out? Meaning, how is it different from all the other alternatives that people could get, and how does it compare in terms of price? When you answer these four questions, you then find yourself in a, I don't want to say a corner, but in a situation where you can construct a plan, an acquisition plan.
Then you can say, "Okay, maybe TikTok ads would make sense, because I still come out net positive after looking at the customer acquisition costs, or maybe an SEO strategy would be suited better." I think it all starts with the customer. It then goes to the market and then to the products.
David Bain
Okay, wonderful stuff. Let's go to Anna with the next one from Jason. Jason's saying, where there is a significant change in topic that you've covered in your site, is it better to update existing content, so perhaps, to use the authority of an existing URL, or to publish a new blog post, publish a new page in your website, because there's been a significant change in that topic, so perhaps it merits a new URL, a new page?
Anna Corbett
I would actually say do both. I would amend existing content to make it at least up to date, maybe even with a tag at the top to say this has been updated, and this is the date of when it was updated. But then also, to not maybe lose the old content altogether. Keep that there unless it's completely out of date and not relevant anymore, but keep the old content there, and then create a new page or blog post or whatever it is, to cover those that change so you've both.
David Bain
Do you ever advise clients to take that old URL and just do one redirected to the new content?
Anna Corbett
If it's completely irrelevant and it's been replaced wholeheartedly with some new content that covers all of the instances that the old content has, then yes, sure that's definitely a way to do it. Otherwise, I will deal with it on a, actually mentioning on the page and then linking out to the new page too, so they can see that journey. I guess it depends on what changes have been made. But either make sure you see that journey and comment, here's the new page, here's the new content, or redirect it if it's just not relevant at all, any more then, yeah.
David Bain
Let's go back to Maria with that other question about links from blog articles. If you're linking to lots of different sites, do you use no follow links Maria?
Maria Amelie White
If I'm linking out or if I'm requesting for a link?
David Bain
Yes, if you're linking out from a blog post, yes. If you're linking to lots of different resources, is it better for your website from an SEO perspective to actually no follow those links?
Maria Amelie White
It doesn't really have a … in case for small businesses, it doesn't really have major effects, so we don't really look at that. We link out it, doesn't really matter, because in the end, what matters is the quality of your content and the quality of the links that you earn or acquire in all the websites and overall site speed and other elements, rather than if you give a follow on a follow link. It doesn't really matter. We don't see a major difference on giving a follow or no follow link when we're linking out.
David Bain
Okay, great stuff. No following was perhaps more of a thing a few years ago. I used to see sites, sculpting every link internally as well as externally with no follow, but I guess it's not quite so much of a thing now with Google having evolved. Maria, hi, one other thing?
Maria Amelie White
Sorry. Just that, now that you mention that there is a huge still misconception, and it's interesting to see in some of our clients who are really curious about SEO and read SEO here and there posts, is like they come with very interesting stats saying, "Well, we should have like 20% of follow links and 80% … No. 80% of no follow links in our link profile and 80% of follow links." It doesn't really matter.
David Bain
Okay, wonderful. What I'm going to do is I've got one more question that's come in. I'm going to give that question to Kevin, that's about disavowing links. But just after we get to that, I'm going to ask each of our panelists something new that you're incorporating into your SEO strategy in 2021, that you haven't done too much of before. You can perhaps share that just in a moment there. But Kevin, Emma McCourt is saying I'm dealing with thousands of spammy blog posts links, how critical is it to disavow these links? Why do people build these? Is it purely malicious intent? Disavowing Kevin, is it an important thing to be doing there?
Kevin Indig
I would make the decision based on how strong your link profile is. If you have a million good links and then 100,000 bad ones, probably not the worst problem. If you have 10 good links and 1,000 bad ones, I would definitely disavow these. I think that in your case without knowing the context, I would say generally, yes, I would probably err on the safe side and disavow these links. I've also seen a couple of case studies recently popping up, where people have disavowed low quality links, and they saw an uptake in traffic. Is that the end all be all answer? Probably not, but I would side with caution here.
David Bain
Okay, great. Not the most important thing to be doing just now. If your website's perfect, your content strategy is perfect, your links are wonderful, then maybe you can focus in on that. Let's get our panelists thoughts on that final question, which is, what's something new that you're incorporating into your SEO strategy in 2021 that you haven't done that so much before? Anna, would you like to take that one initially?
Anna Corbett
Sure. I think that maybe I'm cheating, but I think this year is going to be a very interesting one. I think we've got a lot of changes coming up well, just alone with COVID, user behavior changes. I will encourage my clients to think broader and think, well, how does their business, how will their business survive this? How will their business pivot now that users will eventually I assume, this year return to stores, there'll be more local intent again. It hasn't been so much recently.
I'll really encourage them to think about the Google My Business profile and think about, how are they going to take advantage of that new found, again, enthusiastic local traffic and think bigger, think of bigger picture. How will their SEO strategy fit in with all of the other channels? Because I think that a lot of businesses are really struggling, or have been really struggling. That's the imperative thing is, how can we make these businesses work? How we can make them flourish? If SEO is the answer, then that's really great.
But I think it's just about, where are you going to get that exposure, and think broader. Search features, any kind of exposure in search, whether that's Google My Business, images, videos, and just thinking in search, but then also take a view at the other channels that you have at your disposal.
David Bain
Great stuff. When you were saying Google My Business, I saw Maria nodding her head there thinking, "You've stolen my idea." No, Maria, what are your thoughts on what you're doing in 2021 versus previous years?
Maria Amelie White
Previous years, it was amazing. It was kind of, well for me it was easier, because it was just focusing on a year plan that you would break into chunks, and you would focus on your technical elements and your content. You were with outreach, and it was just all pretty settled. But now we need to be ready for changes, like Anna mentioned. I made a list of new things that aside from the old things that I would focus on which technical links UX, all of on that, I'm integrating also introducing experience and prioritizing better payment flows on our website, reduce payment complexity, making more payment options for customers, adapting.
Perhaps is not a SEO anymore, which someone said to me, "That's not a SEO," but we have to integrate it with small businesses. It's focused on things, integrating things like subscriptions, discount codes, little things to push sales a little bit more and integrating as well big media campaigns. That was a must during 2020, especially Google ads, Facebook, Instagram, and the new thing we had to … It was very interesting. We had to sit down and explore and experience it and that was TikTok.
We integrated TikTok for some of our local clients. Perhaps it was the funniest thing I have done this year for some of our clients, and it worked really, really well for some, it's not for everyone. But it worked for some bringing … But that's elements that I'm going to focus on apart from SEO. But on SEO related, it would be in our case image optimization, geo tagging images. That's amazing to keep and the priority of Google My Business, UTM tagging, pushing reviews. Reviews are crucial for small businesses and for local SEO reviews, reviews, reviews and user generated content, faster and more efficient websites and JavaScript.
That for us is our priority because our websites, we work with florists, and all of our websites are image led, and images is what is pushing the clients to essentially to make a purchase. But also, we need to make sure that these images are, all of the JavaScript dynamic elements and everything are not being actually more damaging than beneficial. We need to also keep an eye on JavaScript rendering and all of that, so it's a lot of things.
David Bain
There are a lot of things. There are so many different topics there you've mentioned. You've mentioned many ideas for future shows as well. Perhaps the image optimization for SEO could be one of them as well.
Maria Amelie White
Geo tagging too, it's been amazing and I have a few case studies on that geo tagging, using geo tagging on images. Google My Business …
David Bain
Yeah, the list goes on, the list goes on.
Maria Amelie White
If I have to choose from all everything I mentioned, the one I take is TikTok, it was very interesting.
David Bain
TikTok Okay. Perhaps the biggest thing for SEO is to focus on other things apart from SEO.
Kevin, what is your thing that you've been focusing on or intend to focus on actually over the coming year that you perhaps haven't been doing so much over the past?
Kevin Indig
Yeah. I basically started to look at everything in SEO as an experiment. I think SEO has become so complex and so contextual, that it doesn't make sense anymore to come into a problem with … or a plan with a preconceived notion of saying this is going to work. Instead, my whole roadmap is basically list of experiments. I'm trying to have the highest velocity possible of these experiments to quickly gain knowledge. Try things out at small scale, and then once I see that they work, roll them out as quickly as possible. I think that's the biggest change.
David Bain
Yeah, that's a great idea. I learned that working for massive eCommerce companies, doing lots of tests. You have to have tests and learn sessions and see what works for you, and then implement it, roll it out. Don't just take it because someone's seeing something in a blog post that it's a new thing that you should roll it out in your website without you testing it yourself.
Kevin Indig
Right.
David Bain
Wonderful.
Anna Corbett
That leads us also really nicely back to the beginning where we started, when we first talked about strategy, because actually testing will actually change your strategy. Yeah, I'm 100% for that Kevin.
Kevin Indig
That's why plans are useless, but planning is invaluable.
Anna Corbett
Yes, exactly.
David Bain
These guys have too much to share. It's hard to stop them and end show here, because there's so much great advice. Guys, just to finish off what's the best social handle and website for people to reach out to online and say hi, if they'd like to do so? Anna, would you like to share up a social handle and a website for you?
Anna Corbett
Yeah, sure. You can get me on Twitter and my social handle is really easy. It's @AnnaAppenzeller with a double P, Z and double L.
David Bain
Or if you prefer Anna Corbett.
Anna Corbett
You can probably find me by searching Anna Corbett but that's my handle. Anyway, that's my maiden name and my German name.
David Bain
It was great to have you on today.
Anna Corbett
The website is basecreative.co.uk. Yeah, so basecreative.co.uk is my agency website.
David Bain
Superb and Maria, where can people find you online?
Maria Amelie White
On Twitter, I live on Twitter. It's @Maria_Amelie. That's it. That's my Twitter account. Yeah, if you have any questions, feel free to send me a DM and I'll get back to you.
David Bain
What's your website?
Maria Amelie White
Floristpro.co.uk.
David Bain
Wonderful stuff. We've got Patrick saying thanks for your time today guys. Great stuff and other people saying thanks so much, bro. Kevin, where can people say hello to you online?
Kevin Indig
Sure. On twitter @Kevin_Indig. That's I-N-D-I-G like Indigo. Or just Google my name, you'll find my website and my Twitter and all that kind of stuff.
David Bain
Wonderful stuff. Well, thanks so much, guys, for coming on. Thanks to everyone for watching live. It's been wonderful having so many questions. I've been your temporary hosts David Bain. You can also find me producing podcasts and video shows for B2B brands over at castingcred.com. Join us on Wednesday, the third of March at 5:00 PM GMT. That's 12:00 PM Eastern Time for the next episode, where we're going to be asking the question, how do you use SEO to serve audience intent?
Dixon Jones should be back in the host chair for that one and joining him will be Imogen Davies from Found, Jenny Halasz from JLH Marketing and freelance SEO consultant Natalie Mott. Sign up to be part of the live audience for that one over at majestic.com. But thanks again everyone for being part of today's show. Great to have you. Bye-bye for now.
Previous Webinars
Follow our Twitter account @Majestic to hear about more upcoming webinars!
Or if you want to catch up with all of our webinars, you can find them on our Digital Marketing Webinars page.