Today we can announce that we have categorized the whole web. Not just by website – but every page and sub-domain as well. As we launch, we are showing data for the whole of our Fresh Index – data seen over the last 90 days of web crawling. It is our intention to extend this to our Historic index as well in the near future.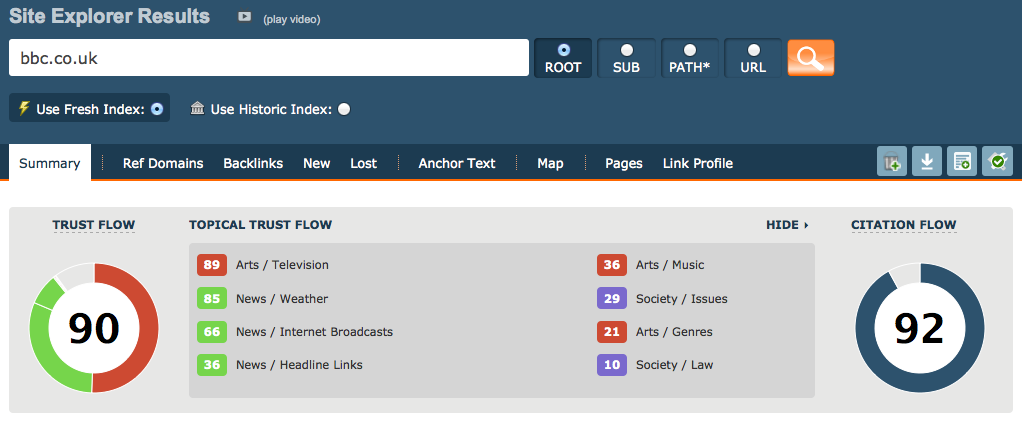 This is a huge leap forward for outreach and inbound marketers, advertising strategists, PR professionals, business analysts, SEOs and no doubt new audiences as well. Previously, the only practical way to look at a set of websites by category was to take them from a manually reviewed directory like the Open Directory Project. If a site was not in there, then it wasn't classified. If it WAS in there, the whole site was usually tarred with the same category.
Now, we can show the proximity of any page within a site to any topic and we can show the trust we put in our prediction with a new score: Topical Trust Flow.
What? Say that a Different Way!
For each of the 700+ billion pages in our Fresh index, we have worked out the proximity of the page to one of nearly one thousand categories. We have used this to work out the Trust Flow of each page for each category. We have also categorised the Subdomain level and the Root domain level. The screenshot above shows the Root domain categories for the BBC.co.uk. The site is hugely influential when it comes to Arts and Television – but they have no influence when it comes to (say) Automobiles, where they do not score. However, if you pulled up the same chart for the "Top Gear" page on the BBC – a car program on the BBC with a US counterpart, then THIS page has considerable Topical Trust Flow around the automotive industry. Check for yourself.
Why is this SO important?
For the first time, it becomes blatantly obvious why a link "anywhere" on a site isn't enough… unless that site is very focused.
Until now, all the main data sources have shown a simple score for a page's trust/authority/rank. Majestic were always trying to be one step ahead with two metrics to help differentiate "size" from "trust" – but even then there was a lack of context. By categorizing Trust Flow into topics, we can help you to be much MUCH more laser-like in your marketing and research, because you will no longer be trying to hunt down the webmaster of (say) Whitehouse.gov when you are trying to build up a reputation for your diamond mining business.
It will also help us to rank websites on our own search engine in the coming months – but right now, this is all about you. What can this do for YOU?
Cool Ways to use Topical Trust Flow
Cool for Finding Influencers

Back last summer we GAVE AWAY a list of the top 50,000 most influential Twitter handles. (You can still download that list here by the way). But without knowing WHY each handle was influential, it's not always easy to connect with them. Now, however, you can put ANY Twitter handle into Search Explorer and not only can you see their associated Trust Flow overall, but you can see their Topical Trust Flows as well. So above we see two influential people on Twitter. However – let's look at their Topical Trust Flows against each other and we will find almost no overlap at all:
Obama vs Gaga by Topic:
I say ALMOST no overlap, because our system did seemed to pick up that both "players" get credence from Computers / Internet… because Twitter itself is a big player in that category and these two are big players on Twitter. But the color differences should give you all the clues you need to see their diverse audiences. Makes sense, right?
Cool for: Finding appropriate content
Now that any page can be both categorised and graded with Topical Trust Flow, you can be far more laserlike in your link building. Nearly a 1,000 times more laser-like to be honest. Finding and being connected with pages that have a big Trust Flow in a category/topic that is the same or very close to the page that you have created will help a search engine see how groups of objects on the internet (Not just web pages, but PDF files, people AND of course web pages) should either rise to the surface in a search… or (if the neighborhood is poor) sink like a stone.
Cool for: PPC and advert bid Evaluation
Knowing how many people visit a web page isn't good enough. If the context sucks, you advert suffers. You can rely on the networks to help you, or you could add this new layer of bid intelligence. Predicting what will "spark" a reader's interest by knowing the topic of every web page before you have even seen it. How COOL is that?
Other immediate uses
Business Evaluation Due Diligence
Traditional Link building (of course)
Content sculpting
Penguin Problems
Who can use Topical Trust Flow?
We are really excited about Topical Trust Flow, and our beta testers seem to think we have created something very special too. Give it a try – it's live on the site now. It has been a massive investment for us – intellectually, time-wise and in terms of infrastructure, so whilst it is available in all its glory for any paid accounts, we have no plans to provide this in free accounts. Accounts start at UK £39.99/US $49.99/EU €46.99 a month, find out more from our plans and pricing page
Can I see more?
We'll run a webinar on the 30th April where I'll try to answer any questions. You can register free here for the webinar or just jump right in and use it.
Latest posts by Dixon Jones
(see all)