It is no secret that Majestic will have the most comprehensive data set to analyse your sites. Not only that, you can also gather information on your competitors also. Analysing your competitors is a great way to catch some links that you may be missing from your link profile.
Easy competitor analysis
The Clique Hunter tool is one of the quickest ways to analyse competitors in the eyes of link prospecting. This tool can handle 10 domains at once. Make the most of it by typing in your site and fill the rest of the spots with your biggest competitors. For this example, we are taking on the fashion industry.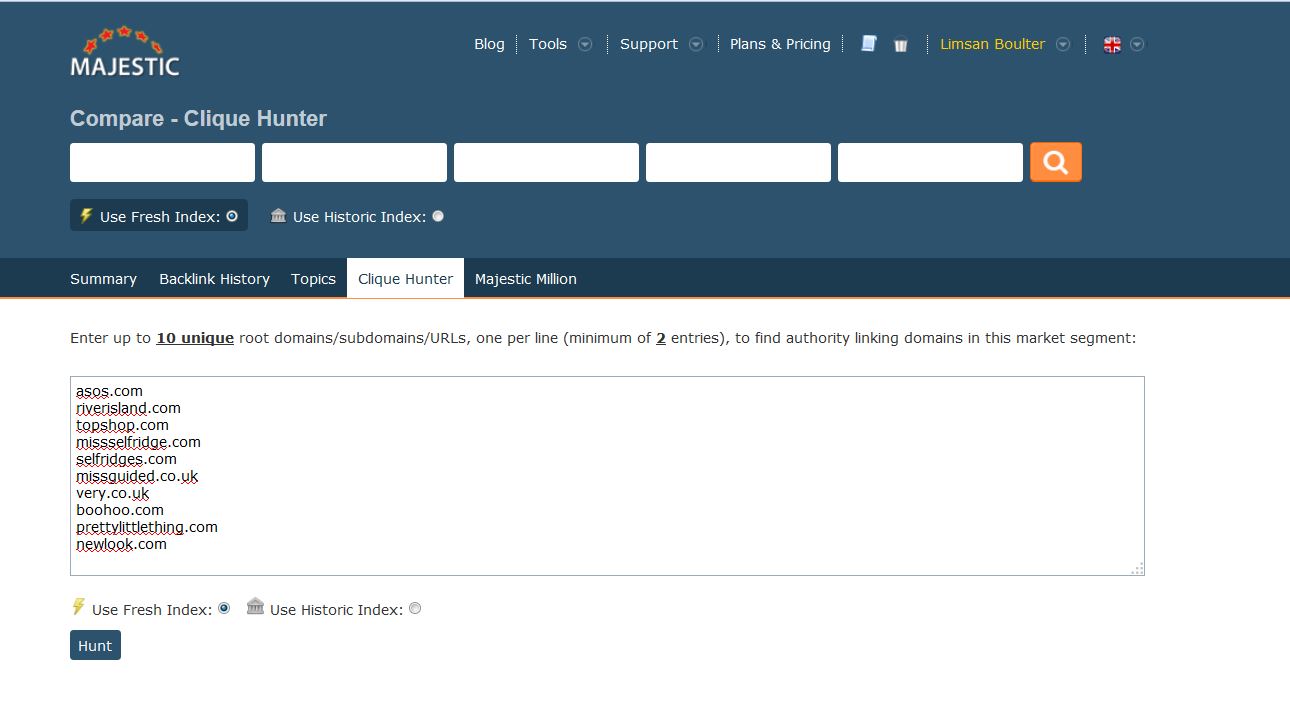 You will be presented with a long list of domain matches within your industry. See which websites are linking to all/most of your competitors, easily identifying key players within your sector. We make things easier by also allowing you to play with the results order. By using the drop down menus provided, you can manipulate the data so you can see what you want at the top.
*TIP* the most useful is to have Matches – Ascending followed by Trust Flow – Descending. Looking through the list in this way can help you find the highest quality sites that currently have an established link to your competitors.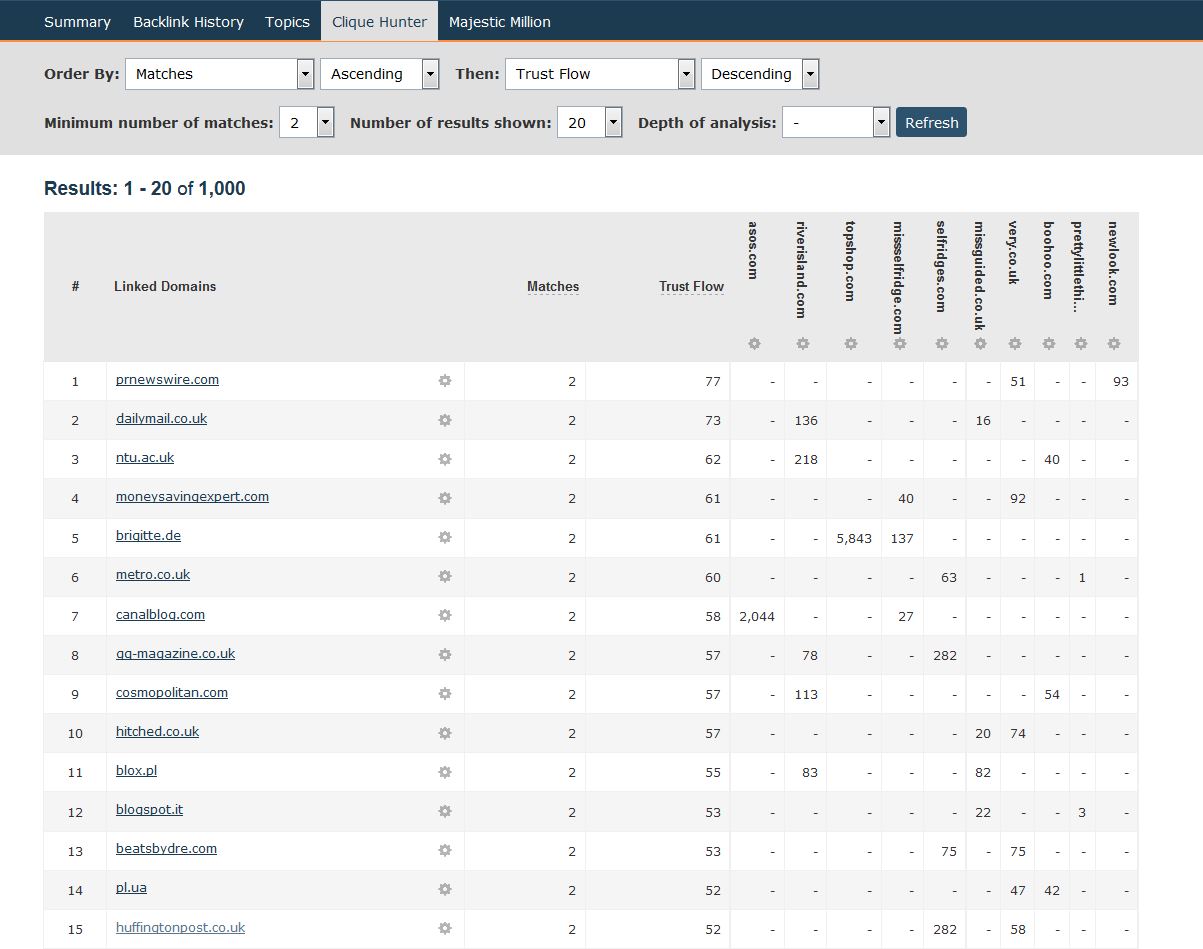 Let's say we are ASOS.com. We can see that there are a lot of dashes in our column, showing us that there are quite a few high trusted domains not yet linking to our site but has links to some of our competitors. Simply go down your site's column and see where there are gaps.
What about those 404 Pages?
Analysing competitors is not the only way to find some easy links, finding and changing all the links pointing to any 404 pages on your site is another good method. These pages of course have been removed, but there may be some useful link relationships that you have gained that can be redirected to another page on your site.
First, use the Site Explorer to find all of your 404 pages. The Pages tab is the best for this task. Once on the tab, click Download Data at the top or bottom of the page. Once exported off site, you can open the file within Excel and change the columns to see all the pages with the Crawl Result to be HTTP 404 Page Not Found. Collate this in a separate list and save the file.

Next you will need to create an Advanced Report about your site. You can do so by selecting Create Report directly within Site Explorer or by Report Options on the My Reports page. Once this report has been created, open it up and go straight to the Analysis Options at the top.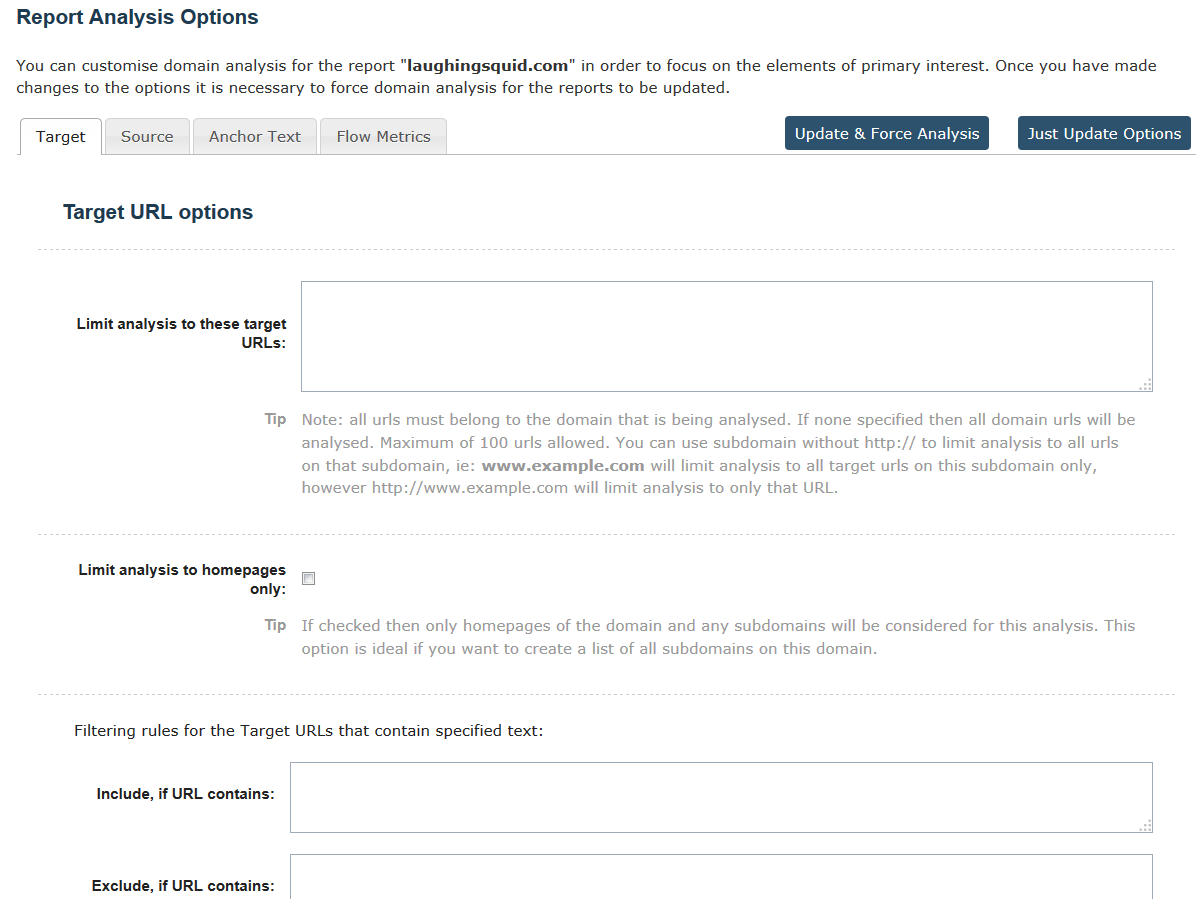 Within the Target tab, copy and paste your list of 404 pages in to the box provided. Once you are happy with this, click Update and Force Analysis. This will refresh your report but you will only be looking at all the links currently linking to those 404 pages you entered. Look through this report and see if there are any links there that you can direct to another page on your site, whether that be through placing a HTTP 301 Permanent Redirect on these links yourself or by contacting the webmasters.
*TIP* Within Advanced Reports in the Source Tab, by using the box at the very bottom of the page you can analyse specific types of links. NoFollows, Deleted, Images etc. Play with the tick boxes and change these according to what you are looking for. A report with only the Mentions Included will help you find where on the web your website has been mentioned but not necessarily linked to. Some more easy links!
You can find out more tips on Analysis Options from our previous Power User Tips post.
Latest posts by Limsan Boulter (see all)