Majestic has introduced an easier way to work out which Site Explorer data extract is best for you.
We have to admit that accessing backlink data from Majestic has been a little complex. It's not so much that we limit access to downloading backlinks, quite the opposite. Majestic has made a number of different ways to download all the backlink data. The problem is that we have presented too many ways of exporting data, sometimes with different names, and often with different locations on the screen.
This year we have set out to enhance our backlink data with our "Backlink Fidelity" project. Majestic now gives you duplicate link indicators. We have taken steps to enhance the clarity of what we mean by backlinks. We are now taking the next logical step in this program by improving the way that we communicate and offer the export of backlink downloads from Site Explorer.
The new way to export links from Site Explorer
Site Explorer gives you the choice of two levels of backlinks export:
A "Top Backlinks" report that attempts to mirror the data you are looking at in the backlinks tab. The number of rows of backlink data is dictated by your plan and is capped at one link per referring URL.
A "Full" raw export of all Inbound Links data, with multiple links shown from each referring URL where appropriate.
Until this most recent update, we made it far too hard for customers to find the second of these two options. We hope we have fixed this.
The "Export Data" button in the Site Explorer backlinks report has been replaced with a brand new menu.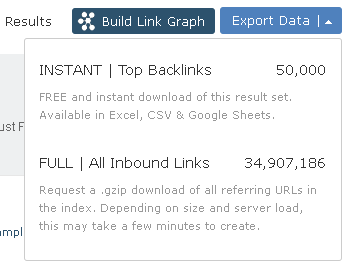 Previously, this rather prominent button just gave you a "Top Backlinks" download. Now we have promoted the Full Export to the same level of prominence as it's instant "Top Backlinks" equivalent, giving you both options at your fingertips.
You can choose to have an immediate download of the dataset you are looking at in Site Explorer. The download is instant and included within your plan. No analysis units will be used to generate an "Instant Top Backlinks" data export. The volume of links varies according to the plan you are on.
An alternative to this is to exchange some of your plan's allowance units for a full download of all inbound links. This will trigger a request to our server and, depending on the site size and server load, your extract could take a few minutes to prepare.
We very much hope this change enhances your experience of Majestic. If you try this and feel we haven't, please do look at the continuity option described later, and do get in touch and let us know!
We have gone one step beyond the subtle interface change to consolidate work we have been doing on modernising our data export capability.
Introducing Export 2.0
What we know as Majestic now started trading as Majestic SEO way back in 2008. We have constantly innovated and added new data-points to our backlinks index. We have also tried to respect the needs of our valued existing users and taken a philosophy of trying to avoid breaking changes.
However, times move on for everyone, and an organic approach of maintain backwards compatibility by adding new fields and never removing the old ones has limits. By way of example, there is some data in our old extracts that are simply irrelevant in current digital marketing practice. Look no further than the presence of AC Rank to see an ancient metric that pre-dates both Trust Flow and Citation Flow.
We don't want to drop this type of field completely as we appreciate that some customers may need them, even if it's just that their continued presence prevents some in-house code that's worked for years from breaking.
So that we can continue to offer a legacy export for backwards compatibility, we have introduced an additional, more contemporary, export format.
Export 2.0 is our recommended choice of data extract. It offers
Expanded data points (including Link Context, languages, duplicate link status)
Easier-to-read column headers, including new backlinks terminology
Synchronised column names between Instant and Full extracts
Removal of deprecated columns
Future updates as they become available
Up to 20,000 rows for a Google Sheet extract– double the legacy export
How to Request an Export 2.0
Export 2.0 is available for INSTANT downloads. And, hopefully we have made this much easier than the old export methods.
When you choose an INSTANT extract, you will be offered a choice of two formats… Export 2.0, or Legacy. That's it… that's all you need to do to choose a new Export.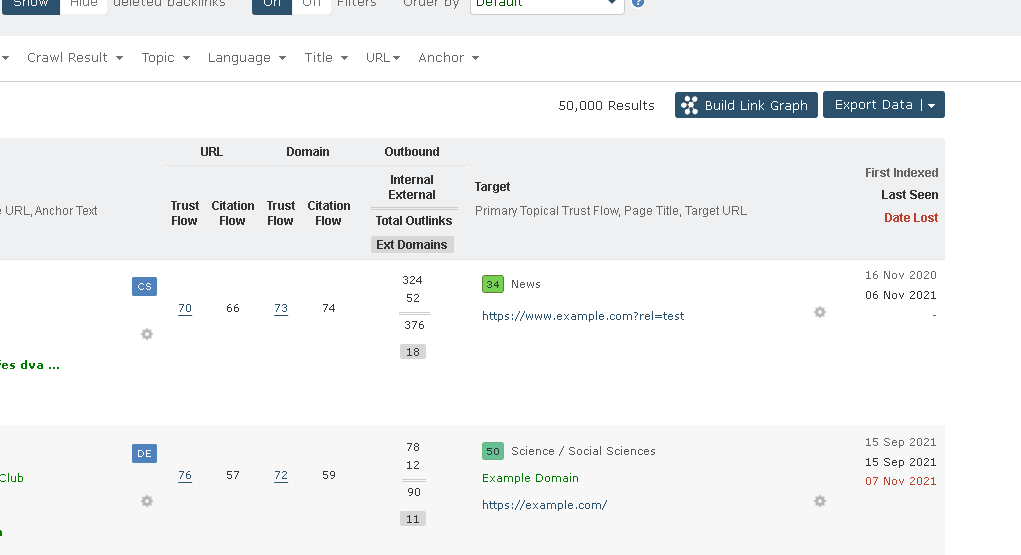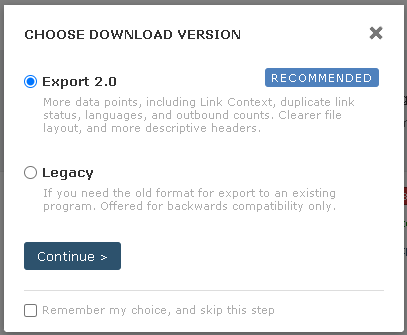 If you would rather skip this step in future, we have added a, 'remember my choice' option. You'll still be able to change your Export version in the future.
Finally, whether you chose an Export 2.0, or a Legacy download, you will be able to choose your download format.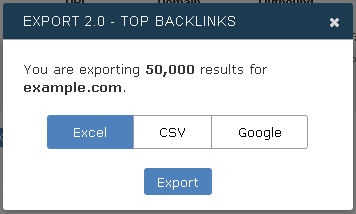 If you still want to use the old "Raw Export"
There were a few ways of downloading a "full extract" of backlink data from Majestic previously. Some might suggest, there were too many ways on too many screens.
We believe that the new export menu is clearer, more coherent and represents a significant enhancement on how you can extract data from Majestic.
However, we didn't want to upset existing workflows for our valued community of long standing customers. We have therefore left the old "Raw Export" in place to give you a chance to evaluate the new feature, and fall back to the old way of doing things if there is something you value that we have missed.
For completeness, the old way of accessing a full down of all the backlink data was hidden away in the "Actions" menu under the "Raw Export" menu.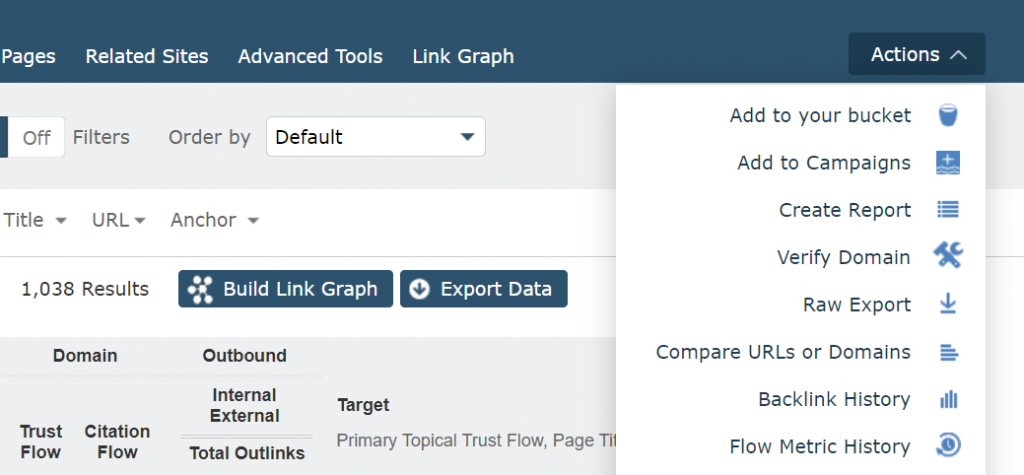 This route still presents the old export screen, depending on whether you have opted into the new export format or old one as discussed above: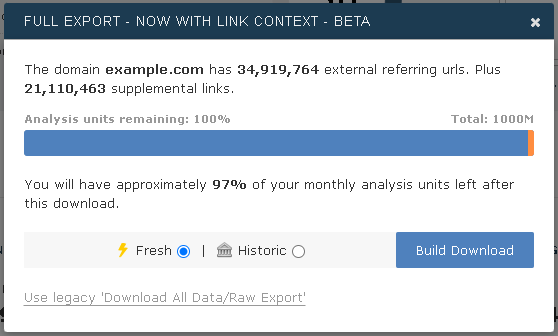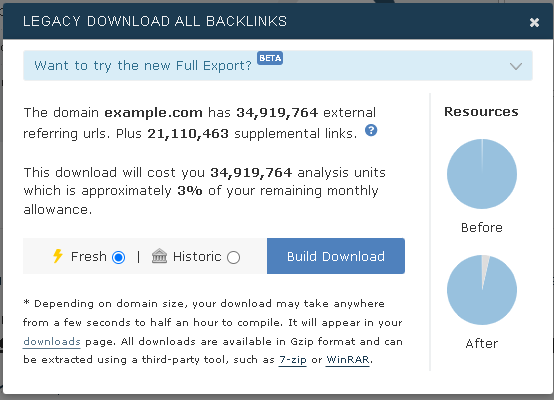 Other ways to extract backlink data from Majestic
We mentioned there are a number of ways to download all the backlink data from Majestic. As well as those mentioned above, the ubiquitous "Cog" menu provides an option to "Download All Backlinks" from either the Fresh or Historic Index.
If you're on the Pro plan, you can create Advanced Reports for a site. This is one of the oldest features on the Majestic site, and can be a little rough round the edges when compared to the newer export tools described above. To get an idea of age, Advanced Reports were recommended by Majestic for Penguin and Panda analysis. Advanced reports have some expert features not found elsewhere, but given the associated learning curve, are principally retained to provide continuity of service to our valued long standing customers.
The final way to extract backlink data from Majestic is through our API. The Majestic API allows access to Majestic data for application development and automated queries. We have three classes of API:
OpenApps API – lets you create third party application that any user with a Majestic account can then link to and access. Developers using OpenApps are responsible for providing support for their applications.
Standard API – for internal use only (you are not able to then resell or use the data within external applications).
Premium Partner API – facilitates the building of web and public facing applications. Reseller API deals are individually negotiated, and typically cost several thousands of pounds a month.
Wrapping Up
We hope you enjoy using Export 2.0 and get the most out of it. If you have any feedback, ideas, or would like some pointers on getting the most out of Majestic, our Customer Service team will be delighted to help.
All existing subscribers can try Export 2.0. To get the most out of the Majestic, New subscribers are encouraged to try the PRO plan at a monthly cost of £79.99/€94.99/$99.99. New Customers benefit from a 7-day money back guarantee for Lite and PRO plans. Try it out.
Latest posts by Miraj Shah
(see all)