We've added some minor updates to our Majestic Rank Tracker tool.
If you haven't experienced the Rank Tracker, it connects to Google® Search Console, and regularly imports your Google ranking data into the Majestic toolset. We then combine your Google rank data with Majestic data.
This data builds to give you a long term view on how the sites you manage perform in Google search results, and insight into the visibility of your sites on the web.
Here's some of what you can see in Rank Tracker for your own sites:
Overall daily search traffic from Google:

Impressions / Clicks and Click Through Rate

Daily average search positions in Google by search term
Breakdowns of ranking position, Impressions, Clicks and CTR by Keyword or Page on your site
Organic search traffic from Google by country
When you click on a campaign item, you'll be shown a summary screen of your results. We then show you a heat map of the last 90 days for your Clicks, Impressions and CTR, as well as graphs for Clicks, Impressions, and break downs of the phrases and positions of your results. You'll also be able to view a breakdown of which devices were used to search for your property as well as a map of where the top clicks originated from. The Search Results tab will make it much easier for you to filter and sort your search results on the fly, than from within Google Search Console itself.
Updates
Today, we have released a few Quality of Life updates to Rank Tracker.
Domain-Level and URL-Path-Level Campaign Items
Previously, Rank Tracker only allowed you to add a URL-prefix campaign item (that's an item that begins with http or https), without supporting paths. This meant you were restricted in the sites you can see.
Today's update adds new ways to view the trends and key metrics for more of your sites.
Domain-level items

This includes all subdomains (eg, www., blog., m.), and multiple protocols (http, https, and ftp)

URLs with paths
You can read more about the different types of properties you can add to your Google® Search Console.
Majestic Failed Verification Campaign Items
Initially, Rank Tracker did not allow domains that had failed Majestic Verification. For example, a site would fail Majestic Verification if we were blocked from crawling the domain. This requirement is removed, so you may now add all websites from your Google® Search Console.
Adding multiple campaign items at once
To help save you time adding different properties with the same locations to track, we've enabled adding multiple properties at once. Use the checkboxes to select the properties you want to add, and optionally, add the locations you want to track for all of them. Click submit and wait for your data to be retrieved.

Global View Campaign Items
Before this update, you had to specify one or more locations that you would like to track when you add a campaign item (on top of the global tracking we provide by default). We've now made it optional to add a location to track, so that you're not forced to track locations. This is very helpful if you only want to see the headline numbers. You'll still be able to edit your tracked locations and focus on particular territories through the campaign item settings.
Sorting
You can now sort your campaign items in a way that suits you.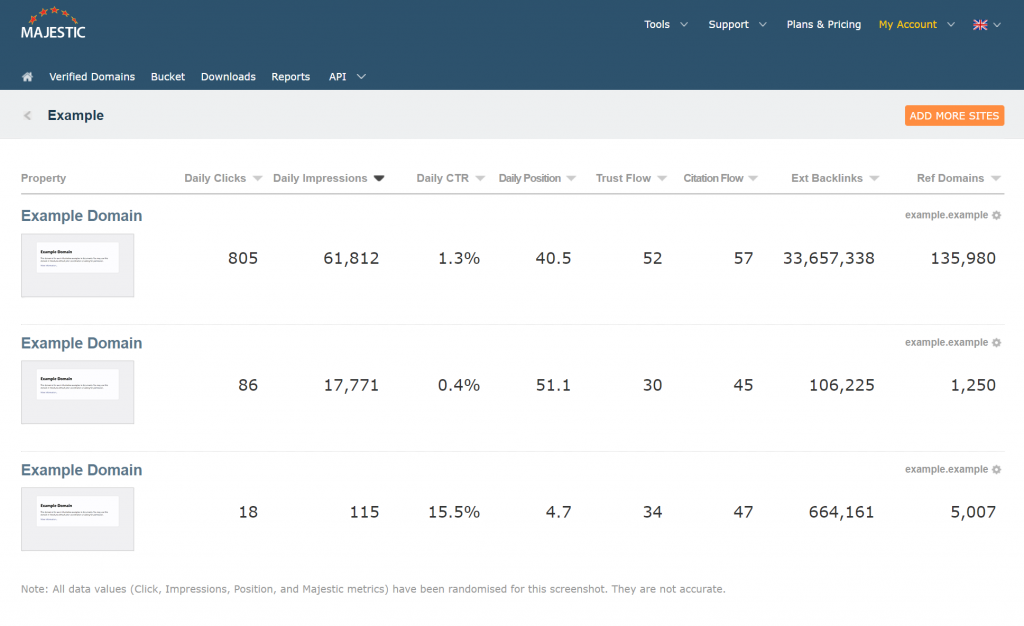 Wrapping Up
We hope that these updates to Rank Tracker will improve your experience in using the tool and will help you gain a deeper insight into the evolution of key search metrics for a range of websites you own. If you have any feedback, ideas, or would like some pointers on getting the most out of Majestic, our Customer Service team will be delighted to help.
Rank Tracker is available to subscribers on the Pro Plan. Lite plan users are able to upgrade to the Pro plan to use Rank Tracker, at a monthly cost of £79.99/ €94.99/ $99.99. New subscribers are able to use Rank Tracker by subscribing to the PRO plan at a monthly cost of £79.99/ €94.99/ $99.99. This comes with a 7-day money back guarantee for brand new customers. Try it out.
Latest posts by Miraj Shah
(see all)