This is April 2023 and Majestic are launching a tool to find Typo Domains.
Some might suggest that this is something of a delay since mispelled domains research was popularised.
The world has changed since 2007 when researching misspelt domains was a more mainstream SEO activity. While a lot has changed in SEO, brand research and fixing brand relevant 404s remain activities worthy of consideration.
We realised that we could combine some typo-domain analysis techniques with our backlink data to quickly identify possible misspellings of your domain name that have links.
The Typo Domain Tool can help you:
Conduct brand research. If you are interested in a new domain name, would you like to know what semantic neighbours you may have with a similar spelling to yours that could be confused?
Form part of an audit to see if you are missing out on links intended for you
Tidy up after PR campaigns – check to make sure you aren't missing an intended link as a result of a campaign domain name misspelling
Check your brand for Typosquatting. Are you (or your clients) interested if someone else is building a link profile to a domain with a similar name to your own?
Before continuing with an explanation of what Typo Domains does, it's worth adding a warning around the dangers of accidental Typosquatting. Typosquatting is a highly questionable technique which can incur risk and cost whereby domains are registered with the intent of redirecting traffic intended for one site to another. In addition to trademark concerns, authorities were aware of the dangers of Typosquatting in 2003, twenty years ago. Monitoring the risk of typo-squatting to an established brand is worthy of consideration, but great care should be taken when acquiring domain names to avoid infringing trademarks or misleading users.
How it works
The issue with misspelt domains is that there are so many different possible misspellings. Reports in Majestic like Site Explorer and Backlinks download can help you identify links to a given domain, or find the pages that are most linked to on a given domain.
This made us think, that as a leading backlink database, we could combine a misspelling generator and a domain link checker into one tool and return a list of domains that are similar to the one submitted that have at least one external backlink.
This in turn can provide a list for you to prioritise and research further.
But how does the tool work?
Using a series of different methodologies and identifying a set of common spelling mistake patterns in the English language – Typo Domains generates a list of "misspelt" domains that have at least one external backlink, which look similar to your site and may contain links destined for it.
The methodologies we use to create the set of Typo Domains include:
Missing Letter
Swapped Letters
Repeated Letters
Neighbouring Characters (using the 'QWERTY' keyword layout)
Added Letters
Common patterns of spelling mistakes in the English Language
Typo Domains in Action
When you first go onto Typo Domains, you will be asked to enter a domain for which you would like a list of "typo domains" to be generated.

For this example, we'll be using "example.com":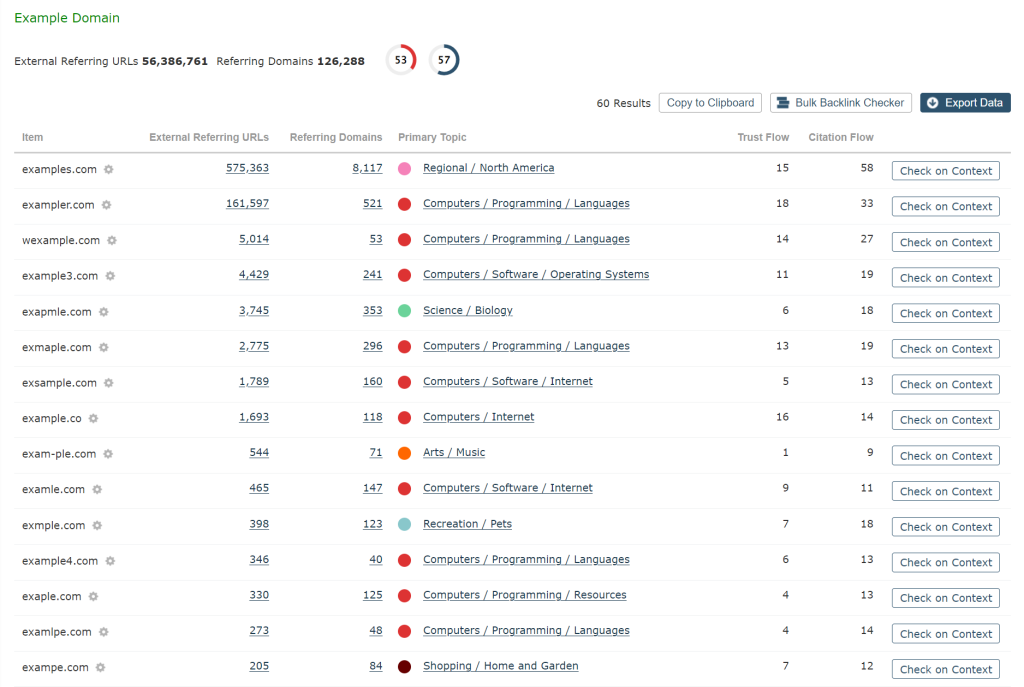 Once the list is generated, the report will provide the following information for each domain with at least one backlink:
Number of External Referring URLs
Number of Referring Domains
Primary Topic
Trust Flow
Citation Flow
The list of domains is ordered by number of Backlinks (more specifically External Referring URLs) in descending order.
If you are interested in broken link reclamation, you can take a closer look at the link context of each domain through the "Check on Context" button. This helps identify links which are meant for you.
Referring back to the example.com site we used above, we can zoom into the link context for "example.om" – a domain discovered in the Typo Domains report:

This report shows there is a link that could be intended for "https://example.com", but is actually linking to "https://example.om". These sorts of links are prime candidates to reclaim. All you need to do is a manual check, and if this looks like a mistake, contact the author of the link on "evren.co", and politely ask if they mind correcting the typo.
Export Options
We recognise that data can have greater utility when extracted from a tool. The results from a Typo Domains report can be exported in three ways:

You can copy the results to your clipboard and paste them into the spreadsheet tool of your choice, export the results in a csv format for further analysis or send the domains to Bulk Backlink Checker for a deeper look into their backlink numbers.
Wrapping Up
Typo Domains has been released into the Experimental Tools section. Access to Typo Domains, and other experimental tools is available on the PRO plan.
Experimental tools are not intended to represent a full workflow. Instead they are tools that experienced power users can use to find new ways of working, often used in conjunction with other tools and reports both on and off the Majestic platform.
In testing, we've found interesting results when looking at Typo Domains to highlight candidate sites for further research. If you have success with the Tool, either with Link Reclamation or Brand Management, we would love to know. Likewise, if a couple of tweaks is all that's needed for this to become real useful to you, please do shout.