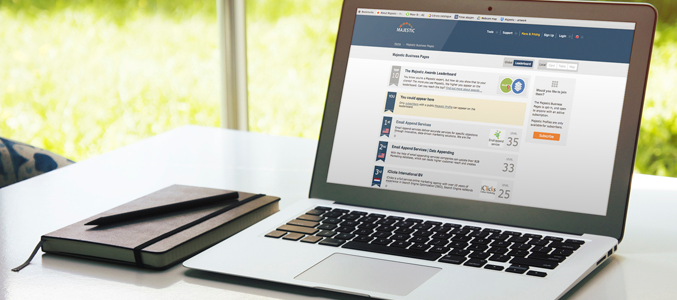 We have asked our Majestic Ambassadors, colleagues and friends about what they have learned this 2016…
Fili Wiese, former Google Search Quality team member:
At this point – November 2016 – we already have seen the most exciting SEO and Search Industry developments of the year. It is unlikely for any major search engine to still release a market shaking algorithm or product, so close to the holiday season that tends to be both a short and equally important quarter for many online businesses. 2016 was yet another exciting year, not only because of the recent release of Google Penguin 4.0 which shows that Google remains on the top of their game and very much invested in enforcing their linking policies.
Mel Carson, Founder of Delightful:
I love how the search marketing industry has taken to our #MajesticInSpace campaign. 16 years ago when I started in search, if you told me it was possible for a private company like Majestic to be able to compete with the likes of Google and Microsoft and collate huge amounts of data to help digital marketers stay competitive in an Omni channel environment I would not have believed you. If you'd said, we'd be able to 3D Print "The Internet" on the International Space Station 250 miles above the earth I'd have said you were crazy! 16 years later we're doing it and I'm proud to be involved!
David Iwanow, Director of Strategy @ BlueGlass:
I think the biggest shift is how aggressively Google is pushing forward with mobile, it's no longer a choice it's get on board with mobile or get out of the way.  The aggressive expansion of App-Indexing over the last 18 months, followed by the aggressive rollout of AMP and now Google is pushing a mobile first index.  With all these shifts towards mobile business can no longer ignore mobile anymore otherwise they will get left behind in 2017.
Jan-Willem Bobbink, freelance SEO Expert:
The most interesting development during 2016 for me was the rapid increase of importance of Google AMP (Accelerated Mobile Pages). It seems Google wants to really speed up the web and user experience and websites are not developing mobile friendly websites fast enough. It is quite clear why Google pushed AMP so fast. Baidu has just launched MIP (Mobile Instant Pages). I'm not sure about the long term effect on the quality of website traffic but it sure is a great way to optimize loading speeds.
Jacob Hagberg, CEO @ Orange Fox:
"The fastest way to destroy a multi-million dollar business is to launch a new website design without preserving SEO link equity. A 30% drop in revenue from search engine traffic is enough to put even the strongest brands in a difficult financial position."
Krzysztof Marzec, CEO @ DevaGroup:
Sending reports itself are waste of time for both sides. Sending key ideas how to improve based on data and reports – much better. Explaining process of simple report analysis to a client, working on improvements with him gets you results and more educated and loyal client.
Dixon Jones, Marketing Director @ Majestic
What have I learnt in SEO in 2016? When Google announced that they were moving from "Mobile First" To "Mobile Only" in the search results, I was rather worried. Majestic has only around 5% of users on mobile and if any product was designed for desktop use, Majestic is it! Using Majestic fully needs, things like Excel powered up, several browsers open and maybe a BuzzSumo or Screaming frog running at the same time. Then I found from Gary Isles that a responsive website will do just fine. If there is only one URL for mobile and desktop versions, then nothing much will change for you.
Matt Roberts, Co-Founder & CSO @ Linkdex
2016 has been another interesting and unique year in SEO. Here are the four stand-out changes for me. Google started to remove access to Ad Planner data and the industry, as it always does, has responded with innovation. I think 2017 will continue to see new sources of keyword data, and demands become fulfilled. Panda became smarter – real-time, and with it link building has become a big thing again. Back to the future, but this time better. Google has become a mobile first index and continues to push AMP. And the marriage of SEO and Content Marketing carries on accelerating. It happened in agencies first, then in-house teams then finally in the tech space. A significant Content Marketing Platform and SEO Platform joined forces. Inevitable when you think about it.
Jon Henshaw, Co-Founder & President of Raven Tools
How you optimize and code your site has never been more important. After years of overloading pages with too many ads and JavaScript, and making the modern web experience clunkier than it's ever been, Google is attempting to shape the internet once again. Google is using its tried-and-true method to get this done, the threat of not ranking. As always, SEOs are on the front line and their sites become part of Google's forced experiments.
Razvan Girmacea, CEO & Founder of Monitor Backlinks
I believe that in 2016 SEOs spend too much time micro-analyzing every little bit of Google Algorithm and SEO techniques instead of focusing on creating real value on their client's websites. Pareto's principle (80/20) applies in SEO too, so SEOs should spend most of their efforts on what will greatly improve their client's website, instead of wasting most of the budget to archive the other 20%, just because it's easier for them and they feel they are working.
Laurence O'Toole, CEO @ Authoritas
My biggest takeaway from 2016 is that it marked the start of a significant move towards the real-time web. There have been several developments throughout the year all indicating a shift toward this. In May, at Google's developer conference, they announced the Beta of their real-time indexing API for trusted publishers. In August, we saw Google introduce the "live coverage carousel" for election, sports and breaking news results. September brought us Penguin in real-time! In October, Google brought us real-time information about how busy stores were during 'Black Friday'. I can see a much bigger push in 2017 by Google and the other major search engines to surface more real-time content in their search results.  For Google, this will be powered by an extension of their real-time indexing API to more publishers; publishers who have AMP-enabled structured content that they can push to Google using an ATOM XML feed.
Razvan Gavrilas, Founder & Chief Architect @ cognitiveSEO
To put it simply: SEO is A.R.T. – Authority. Relevancy. Trust.
Authority – Authority cannot be bought or sold, given or taken away. Authority is about what your website stands for and the influence it has on people. Being in the top SERPs is a vote of confidence that a site has received both from the search engine and from its audience.
Relevancy – Relevancy in SEO is a must. A webmaster must ask himself how relevant is his page content to the keyword query of his visitor. Optimization equals relevancy when an in-depth understanding of correctly using keywords and relating them to the proper market niche is done.
Trust – It is said that trust is difficult to build up, but all too easy to destroy. But what is the basis of this intangible bond? Moreover, what is the base of an online trust? The search engines needed a way to establish trust online and to assign a value to that trust. From the search engine's point of view, trust is built up from domain age, the periodical updates a site does, the traffic it has or its popularity.
A website can be dropped from rankings if it stops reinventing itself, adding fresh content, builds a high bounce rate or just doesn't attain any click. Looking at how Google and the other search engine developed in the last years I would dare to say that in the future years Artificial Intelligence will model better and better the SEO A.R.T. Concept that I underlined in the above paragraph.
Mitul Gandhi, Co-Founder and Chief Architect @ seoClarity
The biggest takeaway in building authority for 2016 is simple – link building is still a major factor in your rankings. After a year of research into changes in the search landscape and listening to our client's real-world experience, we have learned that quality and contextual relevance is still and will continue to be an important signal in your site's authority.
The partnership between Majestic and seoClarity enables our platform to provide the largest and freshest backlink data for our clients. The integration works because of the unique value that our clients derive from the combination of Majestic's frequent updates and depth of backlink data matched with daily data and machine learning recommendations and insights from seoClarity.

Latest posts by David Kenning
(see all)