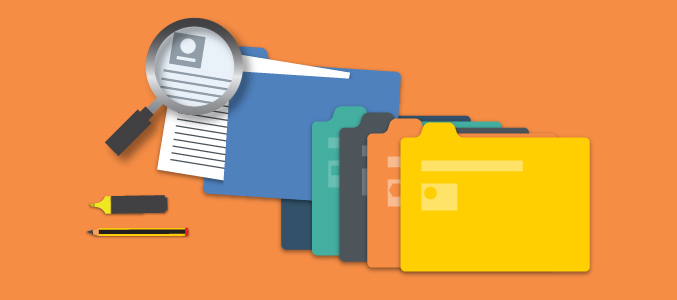 In the last part of this content series on how to use Majestic to find out insightful data about Twitter, I will show you what you can find out about Twitter accounts by using some of Majestic's tools. With over 100 million daily active users ranging from big brands to the average Joe, Twitter has a diverse audience base and can be analysed in multiple ways. The simplest yet most popular ways people analyse Twitter accounts is just a simple check of how many followers an account or for a further analysis, look at how many retweets their recent tweets have got.
My particular way of analysing Twitter accounts is a much more in-depth and possibly unheard of method. Instead of looking at followers or retweets, I conduct a deeper analysis and look at the Trust Flow of a Twitter account and how many Referring Domains it has. By entering a Twitter account's @ into Site Explorer, you will be presented with this.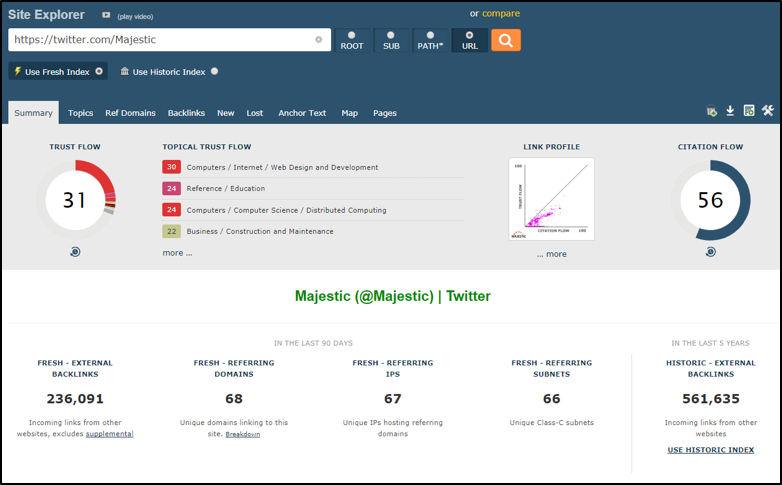 If you want more of a quick snapshot analysis of an account whilst you're on that particular's account profile, use either Majestic's Backlink Analyzer plugin on either Chrome or Firefox. This is what appears whilst using the Google Chrome plugin when analysing a website.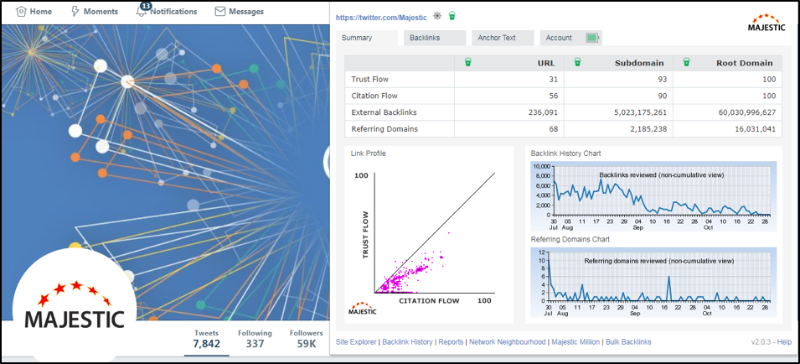 If you want to compare multiple Twitter accounts at the same time, make sure to use our Campaigns tool which allows you to compare different websites side by side and track any changes over time. The image below shows you how I have used the Campaigns tool to compare the Twitter accounts of UK political leaders.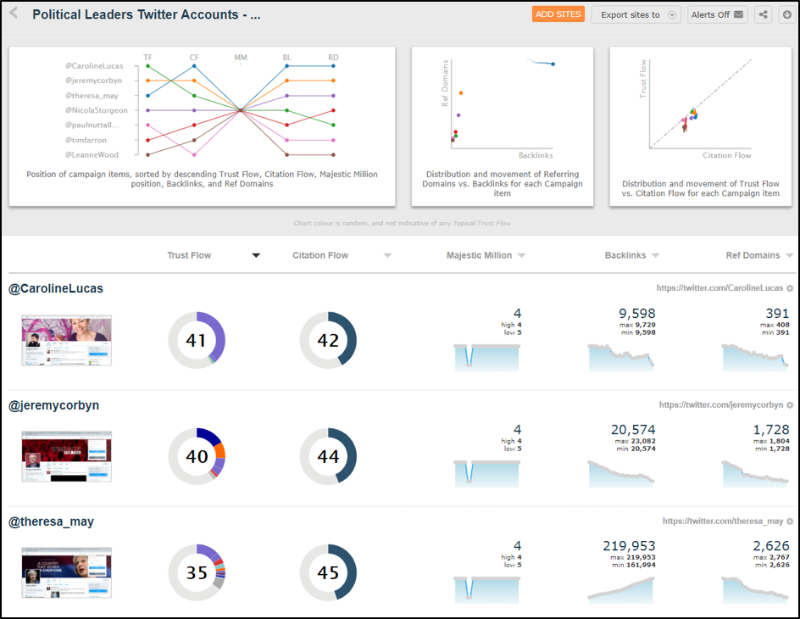 If you want to go into an even deeper analysis, I would recommend exporting the top 30,000 results for twitter.com which I have mentioned in previous blog posts. This is done by going onto the pages tab of Site Explorer and then clicking on "Export Data".

Once the export is complete, you are presented with A LOT of data however for this particular example; it is fairly easy to filter the data so it just shows Twitter accounts. Firstly, go into column A and then type the @ symbol into the search bar like in the example below and the spreadsheet will now only show Twitter accounts rather than hashtags or tweets.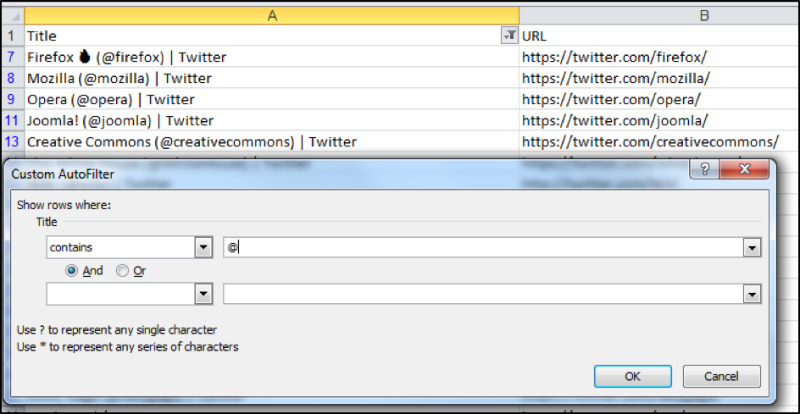 From this, I have a lot of metrics to play with such as what accounts have the highest Trust Flow score or even what account has the most Referring Domains. The graphic below looks at which Twitter account has the highest Trust Flow.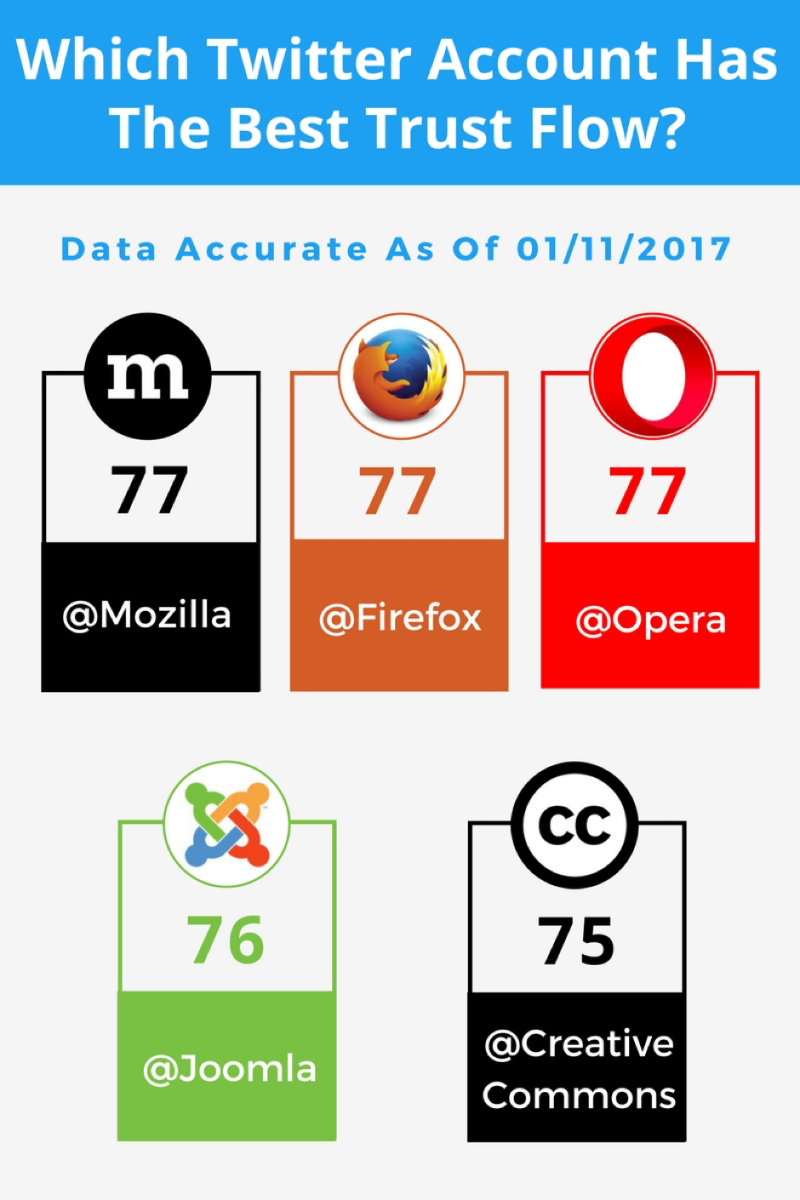 You may have been expecting a celebrity or a certain politician to feature in this list, however, there is a reason why these accounts have the highest Trust Flow. Firstly, @Mozilla has 34,466 backlinks from its own website which itself has a Trust Flow of 90. This is also the case for @CreativeCommons which has 41,960 backlinks coming from its own website as well. In a slightly different case, @Firefox's Twitter account is being linked to from the likes of Mashable and the Huffington Post which both have high Trust Flow scores. This was a result of Mashable and the Huffington Post embedding tweets which mentioned @Firefox as you can see in the image below.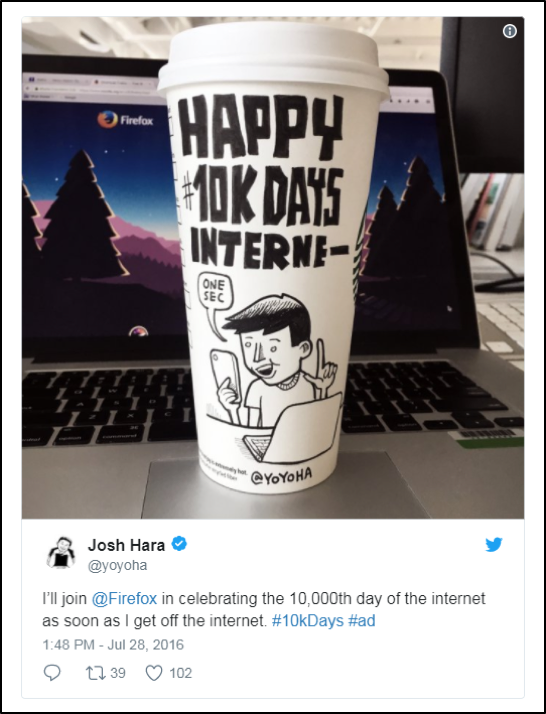 This now concludes the 3 part content series on how to use Majestic to find out insightful data about Twitter. I hope each article has been a source of education and/or help and you have come away knowing that Majestic is not only limited to websites but also to some social networks as well.

Latest posts by David Kenning
(see all)