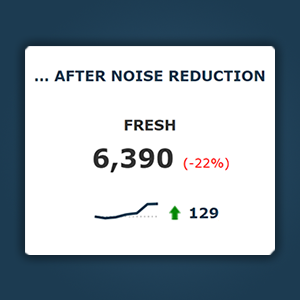 If you are a Majestic blog reader, you will have noticed our ongoing project to improve backlink fidelity. We launched Duplicate Link Detection last week, and are ready to share with you the next major stage, Noise Reduction.
TL/DR: We are going to remove low-quality duplicate links from the Fresh Index. Before we start to erase them, we have added After Noise Reduction to Site Explorer Summary. This is a new temporary count to help you see what impact the completed noise reduction project will have on your site's backlink count.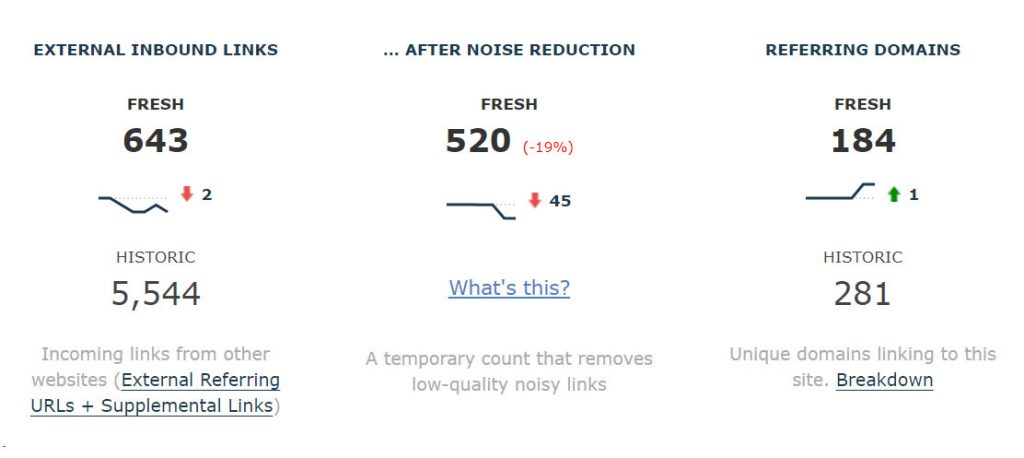 ---
Backlink Noise Reduction
We want to give you better, more usable data by delivering on a promise to "show FEWER backlinks in Fresh."
We are about to use our duplicate link detection to remove rows of link data that offer little value.
While that may sound drastic, the purged data is unlikely to impact many Fresh Index users. Site Explorer already defaults to one link per domain, effectively removing all but the most notable links. While rows will be removed from advanced reports and raw extracts, the most visible change will be a variation of link counts.
Noise reduction works by combining Trust Flow and Citation Flow with the new ability to label duplicate links. By removing low-value duplicate links, a lot of space can be made in the Fresh Index. Then we can extend the four-month window of the Fresh Index, so that it contains higher quality link data from a longer period.
---
A Refresher: What are Duplicate Links?
As an example of how duplicate link detection works, and how we decide which duplicates are noisy links, consider this URL.
http://news.ssen.co.uk/news/all-articles/2019/july/ssen-helps-garve-see-the-woods-through-the-trees/
The content has three links from ssen.co.uk to sse.com. There is an editorial link (with the anchor text 'here.') in the main content body.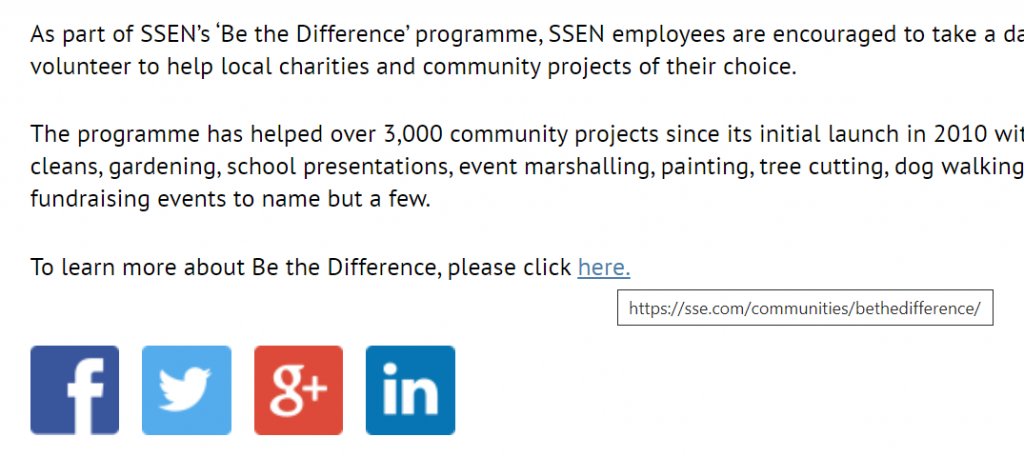 Additionally, there are two further links in the footer that look like classic sitewide links. One that goes to a Careers page.

And one that goes to the home page.

Duplicate Link Analysis works out that the first link is distinct, and both footer links are duplicates of other links on the site.
Here is the link context panel for the editorial link (again, with the anchor text, 'here.').

This link is considered Distinct, there are no other links like this on the referring domain. It is a notable link, and completely safe from any noise reduction.
Moving on, here is the Link Context for one of the footer links.  If you look at the page title, and URL, you can see that this is the same page as the link in the previous example (above).  Duplicate Link detection works at an individual link-level, not URL-level.

This link has one of our orange Duplicate labels.  That means that this link is repeated many times throughout the referring site. Unlike the previous example, this link is NOT Distinct; it is a Duplicate.  
Here is the same link, with the same Link Context, but on a different page. This also has a Duplicate mark…

Bringing these three links together, here are all links from our page to sse.com. Looking the labels under the context, you can see that one is Distinct, and the other two are Notable Duplicates.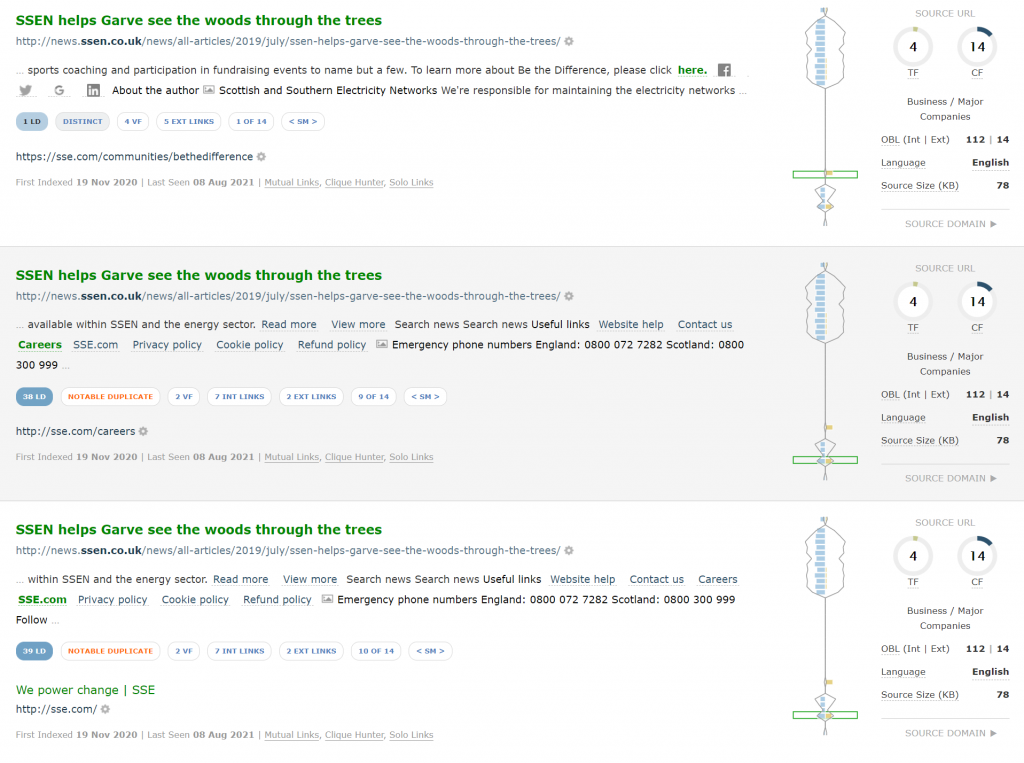 Note: If you want to hunt for your own duplicate links, you may need to change the backlinks per domain limit in Site Explorer to 3, 10, or All.

---
Notable vs Non-Notable Duplicates
These previous examples are to help you spot a Duplicate versus a Distinct link.
But this update is to target a special type of duplicate link. A Non-Notable Duplicate.
A Non-Notable Duplicate is a link that has been flagged as duplicate, AND is also on a page that does not carry any Trust Flow or Citation Flow. As they have no Flow Metric scores, non-notable links take up space, offer little-or-no value to Fresh Index users, and we plan to eventually remove them from the Fresh Index.
In the instances above, we identified that the footer links to sse.com were duplicates, but as the source pages have Flow Metric scores (this example has 10TF and 18TF), these links are considered Notable. To avoid damaging Flow Metric totals, these will be retained in the index.

Switching from the Context to Backlinks tabs (to show that the Backlinks tab also has duplicate labels) …
Here are additional examples of Duplicate links from the same site (these are more of the same footer links to sse.com). BUT, in this instance, these source URLs have 0 Trust Flow and 0 Citation Flow.
As they are duplicate AND have no Flow Metric scores, these links are considered Non-Notable Duplicates. We will remove them from the Fresh Index, in a future build.
---
To help you prepare, we have added an "After Noise Reduction" count
Don't worry. We have not yet started to delete these links.
But we do realise that this is a massive shift from how we have presented backlink counts in the past.
To help you see the impact that this may have on your sites, from today, every URL, domain and subdomain search has a new headline metric at the top of Site Explorer Summary, "… After Noise Reduction."
This number is the total number of External Inbound Links, with the number of Non-Notable Backlinks removed. This is what your External Inbound Links would be if we deleted all of your Non-Notable backlinks TODAY.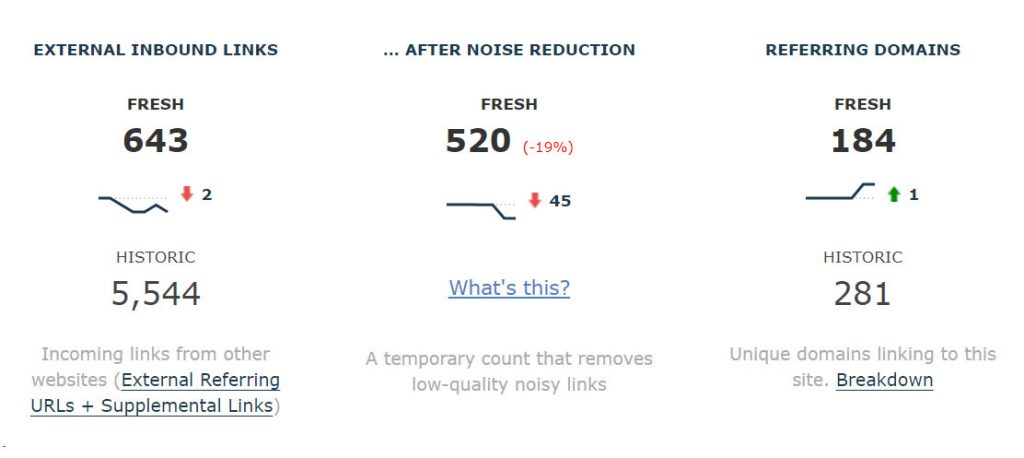 After Noise Reduction is an estimate of the number of inbound links your site will have once the reduction process is complete. It is a benchmark, so that you have a more stable backlink number while Noise Reduction is in progress.
If you would like to read more about the After Noise Reduction number, we have added a, "What's this?" panel to Site Explorer Summary. Click that panel for background information, and to find out how Duplicate Link Analysis has classified your inbound links.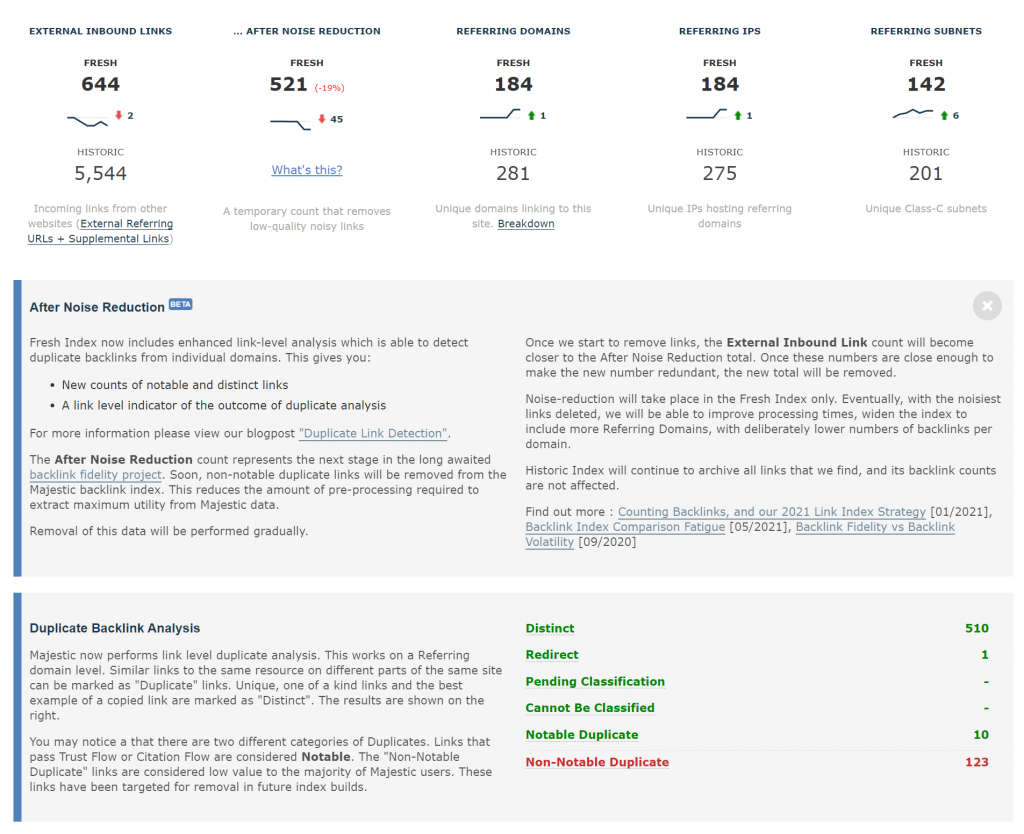 We have not started to remove links yet
While Noise Reduction will be an ongoing process, this initial wave will be the most visible.
Once we start to purge links, the main link count totals will almost certainly drop for most websites. Your External Inbound Links count will start to move towards your After Noise Reduction total.
When we are finished, the External Inbound Link number will finish somewhere near the new After Noise Reduction count. And at this stage, we will remove the new count.
When Noise Reduction starts, Inbound Link counts will be volatile. The After Noise Reduction count exists so that you can have a more stable number while we perform noise reduction.
Why are we doing this?
This will make the Fresh Index wider, and leaner.
It may seem counter-intuitive to deliberately reduce the number of backlinks in our index. But, our Fresh and Historic Indexes have evolved over time. Where we used to see them as the same view with two sets of data, it is clear that they suit two different SEO skillsets.
Historic is a web archive, a snapshot of how the web used to link together. Seeing every link is critical. Noise Reduction will not be coming to the Historic Index. Historic will remain an archive of all the links that we find.
By removing useless, noisy links from Fresh, we can open up the Index to be a more contemporary view of today's internet. This will help you get to the best links first. Then, with more space, we will be able to increase the index window from its 120-day cycle. This should increase Referring Domain counts, and dampen the Memory Effect that can be frustrating for builders of new links.
Prime Your Clients
It is almost a year since we published our first post on this Backlink Fidelity project. At each stage, we've tried to reinforce that relying on raw backlinks counts can be a terrible idea.
But, we get that some of our customers may have clients of their own who rely on these numbers.
This is important… if you rely on the headline Majestic Backlinks numbers for client work, you NEED to speak with your clients now. It is almost certain that their backlink figures will reduce once we start to remove duplicate, low-quality links from the index.
We recommend taking this opportunity to switch to Referring Domains counts. But, if your clients are determined to maintain backlink count reporting, you should introduce them to the After Noise Reduction number as soon as possible. Apart from usual backlink count fluctuations, this total will stay relatively stable through the noise reduction process. It will show you what their number of backlinks would be, if we deleted all Non-Notable links today.
Try It Out
The After Noise Reduction count is available for any URL, subdomain or domain search in Site Explorer Summary. We would love you to have a try and see what you think.
If you don't have a subscription, you can check out our free showcase site.
If you have ANY worries or questions about noise reduction please get in touch with our customer support team. We will try to help.
Latest posts by Steve Fitzpatrick
(see all)