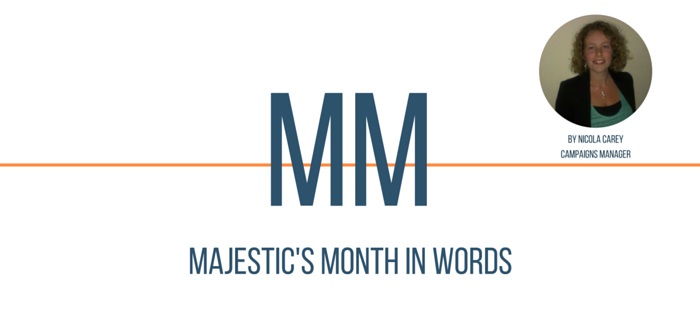 Welcome to another edition of Majestic's Month in Words and wow what a month July has been! It started with my birthday and turning another year older and wiser; (of course), then a trip up North and eventually down South to meet Royalty! Yes, you read that right – Royalty!
Majestic is actually based in Birmingham in the UK so we took the M1 north and visited Leeds for SearchLeeds on the 7th July to stay in a rather interesting hotel and talk to like-minded professionals about SEO, Analytics and Content Marketing. The event welcomed many agencies and industry speakers and offered some good networking opportunities, as well as a very nice stage for the speakers!
However, for us, the highlight of this month has to be our rendezvous with Royalty. On the 14th July our own Alex Chudnovsky; (Managing Director) and Dixon Jones; (Marketing Director) were invited to Buckingham Palace to see the Queen! They walked through the grand corridors of the Palace, admired the artwork on the walls and had the opportunity to talk to Royalty in what was a very nice one-day event. Canapes were eaten and drinks enjoyed as the Queen entered the room and apparently looked just as you'd expect! No cameras were allowed into the room but I've included a picture of Alex and Dixon in their best bib and tucker; (smart suits) outside the gates.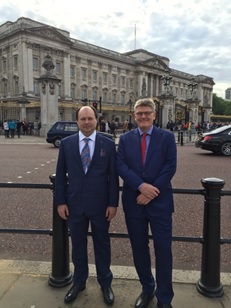 The fun didn't stop there though, as then on Thursday 21st July, we invited Vice Lord Lieutenant Colonel George Marsh to a "Queen's Award Presentation Ceremony" so that he could meet the entire Majestic team on behalf of her Majesty the Queen. We each took it in turns to greet Colonel Marsh and say a bit about what we do, and how long we've worked at Majestic. The day felt very prestigious and really made me think about what I've learnt this month.
What I learnt this month…
We were all introduced to the Vice Lord Lieutenant Colonel with a brief description of how each of us contribute to Majestic, and as we congratulated one another it reminded me on the importance of teamwork. I know teamwork can be a difficult thing to get right, and to manage. It's most definitely not as easy as it's often said to achieve, and to find the right individuals for an organisation or role can take a lot of time. But I feel that for a team to really flourish, you have to define a wider objective, and then goals to achieve said objective; Of course, there can also be one core objective and goals on different campaigns, but the key is having defined the objective, and numbers of goals, to ensure that they are understood and accepted within your team, so everyone who is responsible for an element of a goal, and in turn an impact on an objective, knows their responsibility and can therefore feel a sense of pride in themselves when they achieve said goal.
A few years ago I looked at different concepts for teamwork, and charts such as the RACI Matrix to define roles, but the scholar who I probably think of the most is Belbin who defined Team Roles, (nine team roles in total). I won't list them all as I think it really depends on the size of the organisation and team you have as to whether all roles are required, but essentially I think what makes a well performing team is that each team member has the ability to make a difference, and to be accountable for what they are achieving. Team members who can be proud of their contribution, with a little structure and guidance, can flourish for themselves and the wider objective.
That's not to say teamwork isn't a revolving process and roles can't be re-defined within a team through clear communication and listening, but I find, certainly at Majestic, knowing who has ownership of different parts of a project, development, or even region within marketing helps in following up customer queries and that makes work more enjoyably and productive. It could also be why we were fortunate enough to win The Queens Awards for Innovation in 2016.
Latest posts by Nicola Carey
(see all)