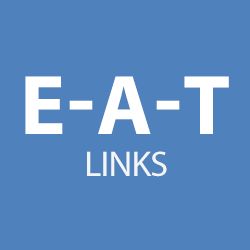 The idea of "Expertise, Authority and Trust" is a central pillar in Google's Quality Rater Guidelines. Unfortunately, they talk very little about links – but the idea makes for a sensible and readily transferrable way of looking at links. This talk looks at how you can think of links in terms of Expertise, Authority and Trust and use this to build a better presence on the web for your brand.
Of course, someone may tell you that EAT has NOTHING to do with backlinks. You should perhaps watch this presentation and make up your own mind. I may talk rubbish sometimes, but I do have more than a passing understanding of links and backlinks…
What are the QR Guidelines?
They are 170 pages of advice and instruction to Google employees being asked to rate the quality of Google's output. Why is it important to SEOs? The guidelines show what Google's algorithms aspire to. Also, the recommendations come from Google themselves… not from third party opinions.
Do the QR Guidelines talk about BACKLINKS? No. The guidelines mention link (or links) 120 times.
But they are MOSTLY talking about links OUT of a page.
This will be obvious because the quality-rater doesn't have access to the backlink profile.
But these things that Google are asking their raters to check for will help you to write better content AND get better links.
EAT is used heavily in the Quality Rater (QR) Guidelines. You can download the Search Quality Evaluator Guidelines here.
It is all about Page Quality
Quality Raters are asked to set a Page Quality (PQ) score for every page they visit. Google's algorithms are trying to emulate these scores. So you want links from pages that will get GOOD scores.
You probably also want CONTEXTUAL links from these pages. If you get non-contextual links, then you are likely to have the effect of reducing the PQ score in the future. As Google has already set an expected PQ score by machine. PQ is checking that Google's algorithms got it right. So over time, any spam technique that is visible to Quality Raters will gain in numbers, and start to affect the PQ score which, in turn, will cause the engineers to consider how to mitigate low PQ scores. (Note that below a certain threshold of quality, Google engineers really do not have to worry.)
Google is really trying to assess quality.
The links OUT of a page get the E-A-T treatment. Because a link OUT of a page says something (a lot actually) about the Expertise, Authority and Trust of that page, the link itself affects the PQ of a page.
Think about this when you ask for a link… are you making their page better, or worse? Be honest…
This doesn't mean supplementary content is bad! Quite the opposite. It is a link opportunity
Sometimes, Google is looking for focussed content. If I am trying to improve the Page Quality, then instead of a 10,000-word article, I might consider short paragraphs, then link out to pages with more detail in that section.
This can work for you in an outreach situation. You might persuade others to link to you because you have that supplementary content and level of detail within your content?
Do the QR guidelines give us a clue as to whether Wikipedia links are good?
Links from Wikipedia are no-followed. But no-followed links still matter because Quality Raters are not TAUGHT about NoFollow!
They ARE, however, encouraged to research Wikipedia to see if the page or MC stands up to scrutiny!
Now… Google is trying to mimic what the Quality Rater sees. I propose that it must do that by recognizing links TO a page from Wikipedia as a signal of quality. (Unless the link is inappropriate! In which case, it's 6-of-1 and half-a-dozen as to whether Google, or the Quality Rater notices.)
By the way – not all Wikipedia pages are even of the same quality. Majestic has great browser extensions (Chrome and Firefox) that let you see the key metrics of ANY web page instantly, without leaving the page. There are even free versions, and no data is shared with Majestic. EVERY SEO should have it in their arsenal. I use it ALL the time.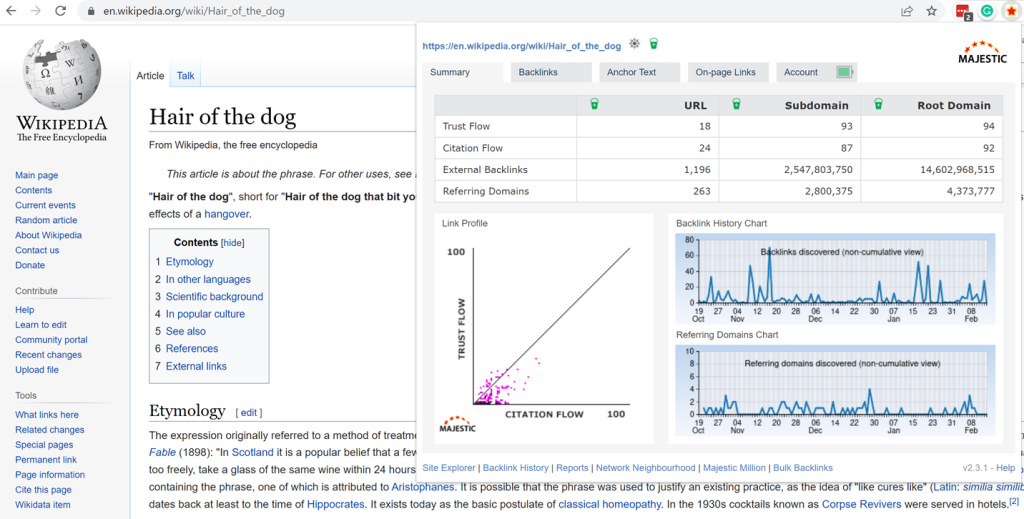 OK. So how can EAT inform your link building?
The QR Guidelines are all about a web page demonstrating E.A.T. So your two questions as a link builder are:
Does this web page (that I want a link from) ooze E.A.T. and
Can a link on this page help THAT PAGE's E.A.T. (and Page Quality) scores? –
You can only evaluate this based on what a link does for THEM… not what it does for YOU!
Let's look at the three pillars of EAT in turn, and how you can play to them.
Getting a link by adding Expertise
Visual cues are brilliant for demonstrating expertise. The Youtube video shows a guy trimming Christmas trees with machetes. This guy IS an expert. No question. You want links from pages that demonstrate this level of expertise in THEIR subject matter.
A caveat here… If the site/page doesn't already show some level of expertise, then this may not be fertile ground for a link. But perhaps you can help them along that route. A YouTube video or a Slideshare is a really easy thing for site owners to embed. It is also really easy for the web owner to decide whether it adds real value to their visitor. YouTube assets can make for great links! If someone embeds your video into their page, do you really need to ask for a link as well? Certainly, offering a video or Slideshare or even an infographic that makes the page content contain more evidence of expertise is much easier than asking for a link! And once that asset is there, a link request is MUCH easier, as you are asking for attribution, not just a link.
Adding Trust to get a link
How might you offer to make a page more "Trustworthy" by adding a link?
An example of using the Trust pillar to develop links can be seen being used by review sites, which offer free widgets to site owners to embed on their site to show off their reviews.
If a page is desperately trying to ooze trust, there may be link opportunities for third parties here. If a site is showing off an award they won, what if the awards organizer has a video of the award ceremony or comments by the judges? If a site has quotes from happy customers, what if you became a customer and added a review of their product on your site? Surely your quote will carry more weight if it also links through to your review?! It might not influence me to put a link on my home page because the home page is sacrosanct… but I might link to an internal "trust signals page" which could link out for verification.
Links from home pages DO happen!
The SmartMoney business awards have managed to get a link on the home page of Starling Bank. It demonstrates extra TRUST, for the bank. (But only if you trust the awards.) A bit of digging by the QR would help determine that, but Google could use simple PageRank like scores on the SmartMoney business awards website to emulate the Quality Rater's research.
But I believe a BETTER link opportunity would be from the FCA. This brings us to the hardest pillar…
Can a link add authority?
Demonstrating Authority is MUCH. Harder. Both for you and for the candidate web page.
This may be why ".gov" pages are perceived to carry so much weight. It is less likely to be a function of the domain TLD and more about the perception of authority.
How might the Quality Rater assess "Authority"? How might a link to YOUR site improve the Authority of the source page? It's really not easy.
Certification badges – especially ones that link to the badge issuer. Has certainly helped.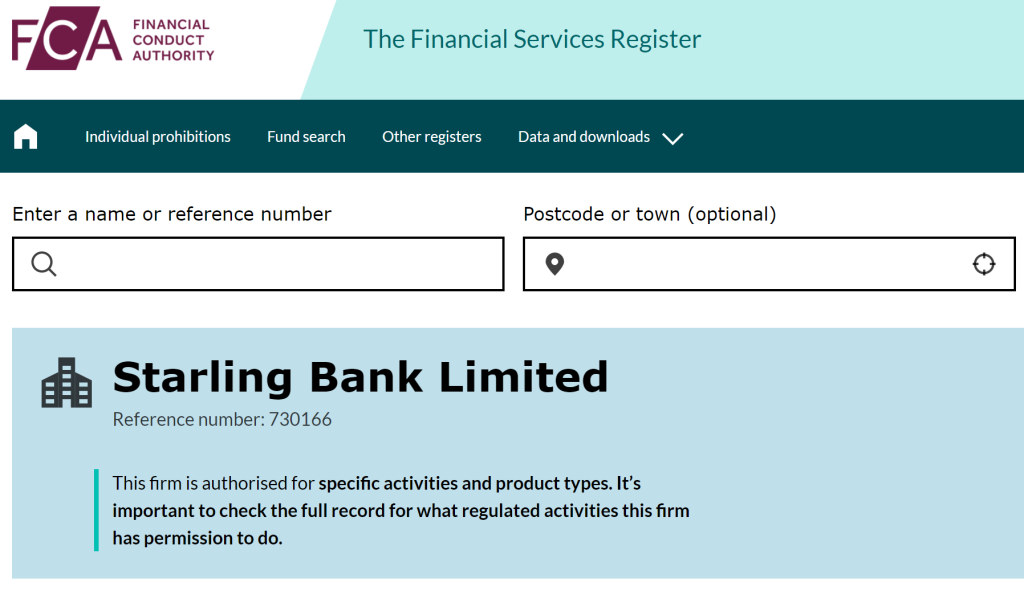 This would be a link that… if the FCA asked for it… would benefit all parties. Firstly, the user would be easily able to verify whether Starling Bank is allowed to operate as a bank. Second, it would give the page a potentially higher PQ score and thirdly, it would do no harm to the FCA as they lend their position of authority to their members' pages.
When it comes to Authority, people of authority may have an advantage in getting links.
There is a lot in the guidelines about WHO is responsible for the (MAIN) content (MC), for example…
The content writer
The website owner
Syndicated content
An advertising network
If the author is responsible, then they better have some kudos relating to the MC, which is evidenced on the page or in the SC. Otherwise, the PQ will not be good enough to get a link benefit. Not even Bill Gates is authoritative about Popular Culture. The author's persona matters!
Takeaway
E.A.T. is important for backlinking because E.A.T. is at the heart of Page Quality scores.
If your proposed link INCREASES the Link Prospect's PQ Score, you are in with a shout.
But if it would reduce or make no difference to their PQ Score, you may find yourself with nothing to bargain with.
Following on from this talk, Dixon has produced 3 additional articles on E.A.T for Link Building:
– Expertise in Link Building
– Authority in Link Building
– Trust in Link Building
Latest posts by Dixon Jones
(see all)