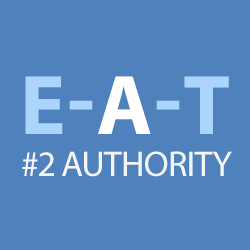 This forms part of the E.A.T. Approach to Link building. The theory is that every page needs to ooze Expertise, Authority and Trust. One way for pages to do this is to link out, to enhance one of these pillars. For the link builder, leveraging one of these pillars can provide a bargaining chip to get links.
We've previously discussed the theory of E.A.T, looked at Expertise in Link Building and will look at Trust in Link Building next.
For most of us, the Authority pillar is the hardest to leverage in Link Building. In fact, if truth be told, it is just not possible for the masses. You need to wield power (whether real or perceived) to convince a website owner that linking to you will enhance their authority.
But when you DO wield that power, the links can fall like rain…
Regulatory Bodies
Perhaps the most obvious authority linking is around regulatory bodies. Let's take data protection law. It's all very well to SAY you care about people's privacy, but it's much more powerful when you link to your ICO (Information Commissioner's Office) registration page. The ICO does not insist that UK companies link to their listing, but perhaps they could – and should? Once the public is aware that companies handling any kind of personal data in the UK are required to register and obey the codes, then the public would also be better placed to help police the system and protect themselves.
If I ran the ICO, I would certainly encourage this strategy. Providing a simple to use Cookie and GDPR-compliant pop-up would pay for the annual registration fee, and could link to the member's registration. True – Google would likely eventually discount these. But the messaging would be clear: No UK company should be trusted with your data if they don't make it clear they are registered to do so.
This ability to build links through wielding power extends into most regulated industries. Most UK electricians are members of N.I.C.E.I.C. While free to join other organisations, they must join at least one to be qualified and legal to declare their home "safe". All banks and financial institutions are generally regulated through quango-like institutions like the FCA (Financial Conduct Authority). A simple recommendation by the body for institutional members to link to their membership registration would result in thousands of links!
So why do we not see these tactics being used so much for link building? Well, I think that when you ARE the authority, you suddenly do not need links… in fact, there is a cynical argument to be made that these regulatory bodies do not ACTUALLY want to wield their power! NICEIC and the FCA get funded by the companies they serve. Making it easy for the public to complain about a member just creates work for the body, without extra revenues. It's sad but true! Power really can corrupt.
Academic Institutions
Another source of authority lies within academia, and especially in academic papers. Most reputable academic papers get listed in Google Scholar. This is a very real link-building opportunity, and can help migrate from an "Expertise" pillar to the more powerful "Authority" pillar. The strategy does, initially have a barrier to entry. You have to get an academic paper (in your name) published in a publication listed on Google Scholar. The paper itself might link to your site, or the association may be made by Google by recognising the author. Either way, if third parties link to the publication, you get recognition by association and the website linking out fulfils their Authority pillar. This is made easier because Google Scholar shows how many citations they see to a publication AND provide formal citation syntax.
During my MBA, I found myself constantly using these citation links to back up my arguments. So actively pursuing this strategy can help the citations mount up. It seems obvious (to me) that the citation count is a ranking factor in Google Scholar's algorithm.
Become the Authority: Write the Book
If you cannot find a way to write and publish an academic paper, maybe you can write a book on the topic you want to become the authority for. This was an approach that has worked reasonably well for me. I wrote a book on Entity SEO and published it on Amazon through my company. Of course, the book has to actually attempt to be the last word on the topic. But if it is, then you will start to attract links and more! Unfortunately, Amazon does not show URLs as links on their store – but that doesn't stop me from linking through to my personal pages in my author bio.
Furthermore (and this is important), trying to associate the Amazon book with the author will help to generate entities and relationships in Google's Knowledge Graph. This may come in many ways, but it does seem that the Wikimedia foundation will treat both Amazon and Goodreads.com as suitable citations to create a record for an author. I already had a knowledge panel for myself before this entry – but when these connections were made, my Knowledge Panel bio changed from "Internet Marketer" to "Author". I'll take that!
This means that Wikimedia knows and cites my home page. While it's not a "Follow" link, I do not know many hard-core SEOs that would refuse any kind of citation from Wikimedia.
Remember – this is not a quick way to get links, but it is a good way to build up authority within your niche and that is where the leverage for link building might stem from.
Latest posts by Dixon Jones
(see all)