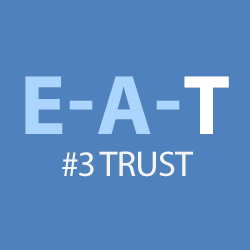 In this post, we will look at how your Link Building efforts can improve the TRUSTWORTHINESS of the page that you get links FROM. Trust in link building is not easy to portray, but in the right circumstances, linking out of a web page can improve its trustworthiness considerably.
This is a continuation of my talk at Brighton, where I introduced the idea of using the E.A.T. framework in Google's Quality Raters Guidelines as a link building strategy. It's the idea that where one of the pillars of Expertise, Authority or Trust is missing from a web page, this is a real "bargaining chip" for getting a link if only you can fulfil the missing pillar.
I've previously posted about both of the Expertise and Authority pillars, as well as given a talk on "How to E.A.T Links" at BrightonSEO.
Trust: The Most Cynical "E.A.T.?"
If you are an expert or an authority, then when you collaborate with other websites, their reason to cite you can be quite clear and potentially compelling. Building links through the lens of "adding trustworthiness" to another site's webpage is somewhat more circumspect.
The problem comes if there is a disconnect between your own trustworthiness and the trust you might claim to give to a webpage that links to you. Three common "Trust" based links occur when a website wants to:
1: Show they have won awards (Links on Awards badges)
2: Show that their customers trust them (Links to Reviews)
3: Show that they are ranked highly amongst their peers (Links to pages that cite the source)
Awards as a Trusted Link
A danger lies particularly in using the award route as link bait. There is now an increasing number of people that are running awards online. Most of the awards are purely to generate a buzz and occasionally a good dinner, but the worst are cynical attempts at a link. Do not misunderstand me, Majestic itself has been very proud, not only to enter and win awards but also to sponsor awards in our industry.

The challenge with a company creating an awards competition is that it is not their core competency and therefore the award itself can reduce credibility. That is not to say it cannot be a success. Just yesterday, I entered an award set up by KPMG in another venture. If I win, I will most certainly brag about it. I also recall Majestic joining the Deloitte Fast 50 in 2014 (although we did not link to them back then, it seems!). We also did not link out when we won the Princess Royal Award for training. However, we DID link to the Queens Award Magazine in 2016, but now I see the link is broken!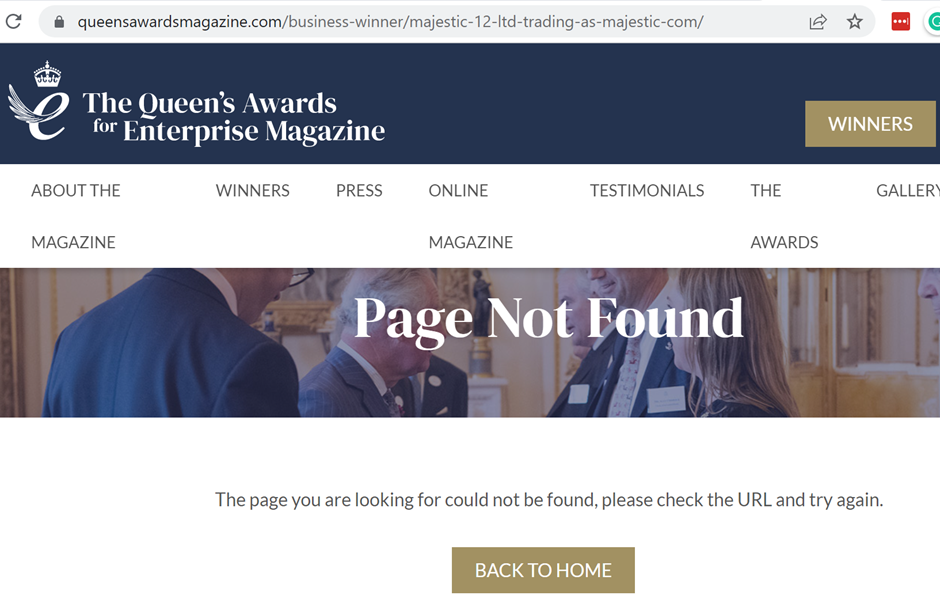 This last finding is a real blow for us but shows just how powerful the desire to link to an honest award can be for an organisation. The Queen may not need the links, but the Queen's Award Magazine really SHOULD be maintaining their listings of winners over the years. In this instance, the Queen's Award specifically only lasts for three years – but this is no reason for the Magazine to take down its historical listings because in doing so, they take away a semi-official register of winners. This is good link bait!
A good award should be unbiased in the judging and demonstrate that the business giving the award is to be trusted. When an award is given, there should be a page online that the winner can link their customers to, to demonstrate that the win is genuine. Not all winners will link, but many (including Majestic in the past) will.
Trust Links from Customers vs. Suppliers
Your customers can be a good source of links. Many of us ask customers for reviews and citations. We proudly post these on our site as social proof that we are trustworthy. But have you noticed how sites like Google look for circular corroboration in these things?
You can see it in the way they handle hreflang. If one page says this is the "main page" for (say) the English version of the content, then the French page should corroborate this by citing the English page. In the same way, adding customer reviews to your own page is great, but not as good as the customer putting a review of you on their own blog (and hopefully linking to you). So how can you achieve this? One way to do this is to make sure that the customer review quotes on YOUR site only come from quotes on other people's sites. People send something like this to their best customers:
Dear Laura,
Thanks for your nice comment about our support the other day. Would you like to be featured on our home page? We are looking for quotes about us on third party sites, to add to our home page. I see you have an active blog and was wondering if you might talk a bit about the work we did for you and maybe add a picture of the finished article? In return, we'd select a quote from that page and cite you.
It's a lot more compelling than an email to a stranger, I agree. But it does not leverage the idea that getting a link FROM that page will INCREASE that page's trust. If I write a blog post about my new solar panels, that does not improve my trustworthiness as an SEO in the eyes of my reader.
So how about we switch the idea on its head? How about looking to your suppliers, instead of your customers for links. How about, as an SEO, I write about my new solar panels and then approach the company I used to install them?
"Dear Laura,
I have posted some pictures and talked about the solar panels you installed over on THIS URL and also added a few choice quotes. You cite customer reviews on your home page, but when I was looking, I was unable to click on them to verify they were genuine. It might help for you to include my quote so your potential customers can verify the review is genuine?"
This, to me, would be a more compelling case to link. Moreover, the link is more likely to come from the home page, as it will back up the credibility of the Solar Panel installer.
Show a Site is Ranked highly amongst its Peers
Earlier in this post, I mentioned the "Deloitte Fast 50". It is an annual list of technology companies, ranked by their growth rate. They do not make the mistake of the Queens Award Magazine. I can still see Majestic's 2014 ranking online today. In fact… they've waited a long time to get the link, so here it is!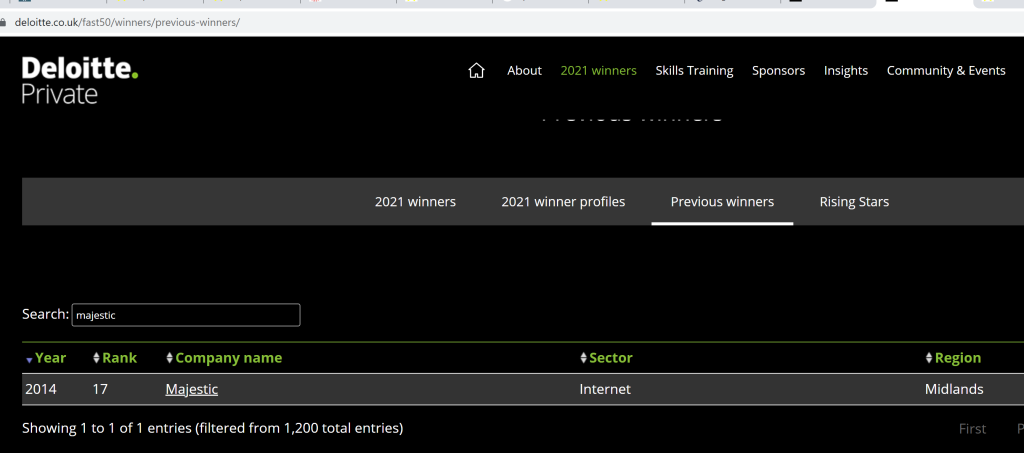 Creating a regular, reputable list can be a powerful alternative to setting up an award. In order to do this, you need a methodology that your audience can buy into. A subjective list of the "Top 10 Printers for the home office" is good for SEO and maybe a spot on social media, but to get a link from one of the people on the list, the scoring needs to demonstrate trust in all regards. If your LIST is to be trusted, then there is value in the people ON the list to link to it too, as it will increase the trustworthiness of their own business.
Latest posts by Dixon Jones
(see all)