On Monday, we introduced a new site of the week – our local burger restaurant, OPM. Since then, we have been sharing insights from the OPM website's online profile as a showcase for some of the features in Majestic.
Note: This post is part two in a series. If you have missed out on Part 1: Introducing this week's Showcase Site, we do recommend that you check it out.
Today – we will show you how the Backlinks tab can help with your link investigation projects.
The backlink checker does exactly what you'd think – it lists all of the places on the internet where we have found a link to a certain website (domain) or webpage (URL), information that is typically hard to find at scale without an SEO tool like Majestic.
Our backlink tool is one of our oldest features and has dutifully served the SEO and link community for well over ten years. As we shift to Link Context (where we show the full context of a backlink's habitat, rather than just anchor text), we anticipate that usage of the backlink tool will reduce. But for now, while we wait for our web crawlers to revisit the entire Fresh Index and extract that extra juicy link context data, the backlinks tab is where you can presently find the comprehensive range of data.
To use the Backlinks tab, you search our Site Explorer for any domain, subdomain, URL, or wildcard path, and choose 'Backlinks' from the menu. In this instance, we'll concentrate on the OPM website, originalpattymen.com.
When you look at the list of backlinks for OPM, it may feel intimidating – page and page of results. However, with a quick pause to gather your thoughts and a couple of clicks, you can take control of the list and start to squeeze out opportunity and intelligence.

To help start your backlinks journey, we've highlighted three aspects of your first screen:
1 Backlink Per Domain: We usually recommend that you start with a limit of one backlink per referring domain. This will make sure that you are looking at a breadth of backlinks across multiple websites, rather than having to scroll past multiple and potentially similar-looking links from a single website.
Something to keep in mind is that while limiting yourself to the best link from each domain is recommended for a preliminary review, there may be some other great links from the same domain bubbling under the surface.
"Show/Hide" deleted backlinks. A link used to be in a place, and when our crawler next visited, that exact link, with that anchor text, wasn't in that same place. We call these 'deleted' links. It's usually because the link has been genuinely removed. However, there are a few more technical reasons for deletion (such as being unable to crawl a page, the anchor text changing, or the target changing from HTTP to HTTPS). As we will see, deleted links can be very valuable in SEO and Digital PR.
112 Results. This is the number of results available for you to view or download. If you are looking at "1 Backlink per Domain", this is usually the number of Referring Domains for the website, although it may be reduced by a combination of applied filters applied and the data rows limit of your subscription plan.
At 112 results, you can see that even a local micro-business like OPM can have a healthy number of backlinks and referring domains, and it would take some time to investigate each one of the result rows to figure out if you need to take any action.
What to do with each backlink?
This depends on your motivations for looking at the data. Let's move on from curiosity to consider three real-life use cases of this data.
You are a competitor of the website you are looking at, and are seeking to plan a strategy. This may be a part of ongoing marketing or even a launch.
You are a promoter of a related industry looking for potential up-and-coming businesses, or search terms, to help generate local and relevant content.
You are a representative of the business, and are looking to make sure they maintain an online share of voice.
One potential source of valuable intelligence for all three parties is influencer-finding. Who has helped OPM in the past? Can they help with your project?
You can quickly sift through this data to a hunt for influencers by using Filtering options. That's the area of the menu highlighted in red below:

Our filters have a host of options, and they are all there to help you instantly hone in on the precise results that will help you most.
For influencer finding, we recommend that you use the "Title" filter to create a few shortlists out of that 111 sites. This filter will let you search inside the page title of all of your backlinks. If you are familiar with advanced Google searches, this is very similar to the "title:" operator.
Your first go at finding influencers could be to focus on links where the word, "blog," is featured in the page title.
Click on the "title" filter, and enter "blog" into the text box next to the "contains" selector. This will reduce the 111 available results right down to just those which contain the word "blog" somewhere in the page title.

The results – far less of a mouthful! 112 results have been pruned to just 6.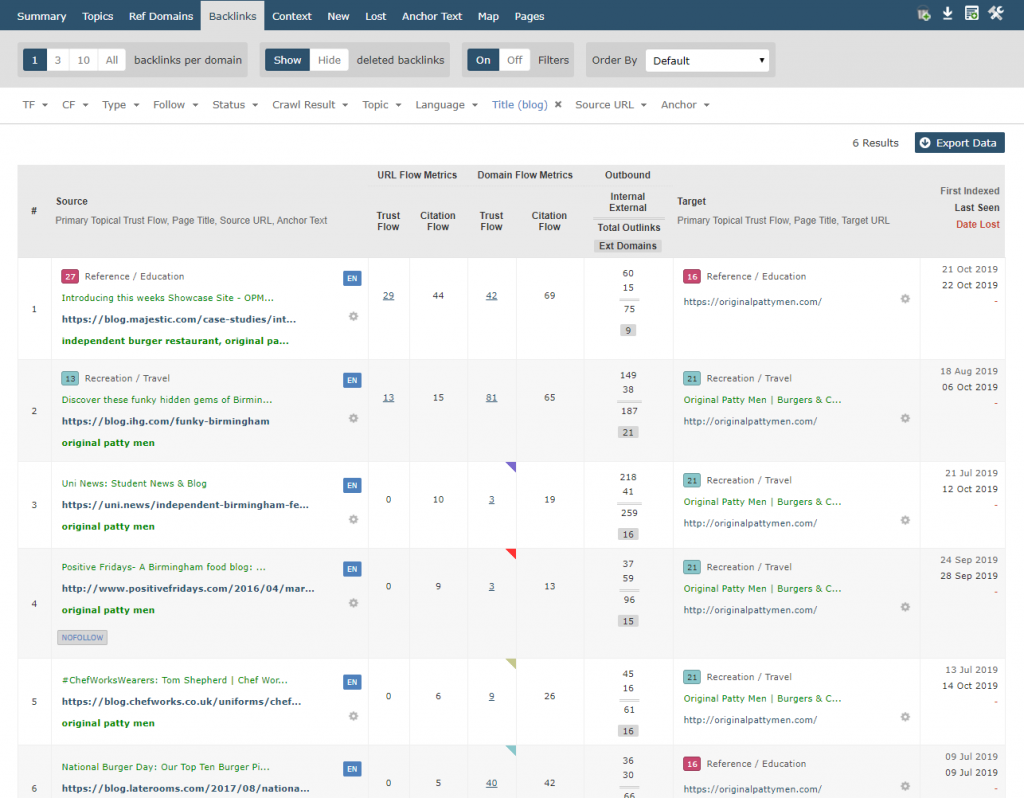 With this far-more-manageable list, you can easily check each of the results by visiting the page. The quickest way is to hover or click on the action cog next to the source URL, and choose, " Go to URL".
From the list of OPM results, I found the "positivefridays" blog potentially useful. It is non-corporate, and appears to be very accessible. The site has a listed email address, and the homepage offers a timely and current selection of posts. The blogger appears active in social media, with a twitter handle amongst others. This is exactly the type of link we are looking for.
If you are considering this from the perspective of a competitor to OPM, some classic SEO practitioners might choose to send off an immediate, "Gizza Link," template (see below). However, other options, like feeding this contact into a classic PR or marketing list, may mean that you could achieve a higher chance of a good relationship and links by inviting the influencer to a promotional event.
Alternatively, if you look at this information from the perspective of a business owner, it arguably is just as important. It can be easier to gain more links from an existing relationship than get new links from someone who doesn't already link to you. Again, a classic bricks and mortar PR approach should be considered over a quick, "Gizza Link", email.
While we have only found one blog so far, PositiveFridays does appear a good starting point, potentially leading into a little social research which could uncover other local influencers. We can then try searching for other words using the title filter which may reveal other potential relationships.
Some of our favourite title searches are:
Review – in the context of a service or product, this can be a great term
"Top" – A tip – using the "space" key on your keyboard after a keyword will ensure that there is a word match for "top" as an ending to a word – so this will capture "Top 20", "Top 5"
"Best" – Similar to "top" – there are a plethora of words that can be generated from a thesaurus and typed in.
Whilst it can be easy to exhibit some confirmation bias and only go for popular terms, it can be interesting to look for other titles from a reputation management perspective. As regular diners, the lack of results for a title search of "worst" comes as a bit of relief: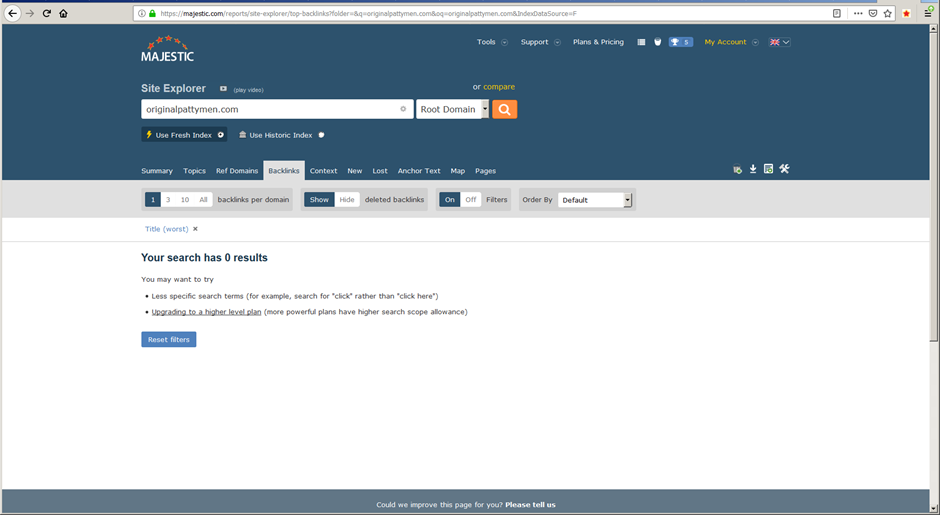 With a little refinement, a small dictionary can be built, including terms above and others like "local", "visit", and "guide" can be created as a part of this investigative workflow.
Getting crafty with other filters
While the title filter provides a good introduction to Site Explorer filtering, other filters can offer a great deal of power in subtle ways.
The "Source URL" filter can be used in subtle ways to find pages where convention or software leaves a fingerprint.
By way of example, many blogs are date-stamped, with a URL containing a date, often expressed in the form 2019/10/24. While this form of fingerprint may occur elsewhere, it is particularly prevalent in blogs.
Because the Source URL filter examines all parts of the URL of the linking page, it can be used to discover web pages containing a term like "2019" or "2018" by entering a "/" ( forward slash) followed by the year in question, as illustrated below: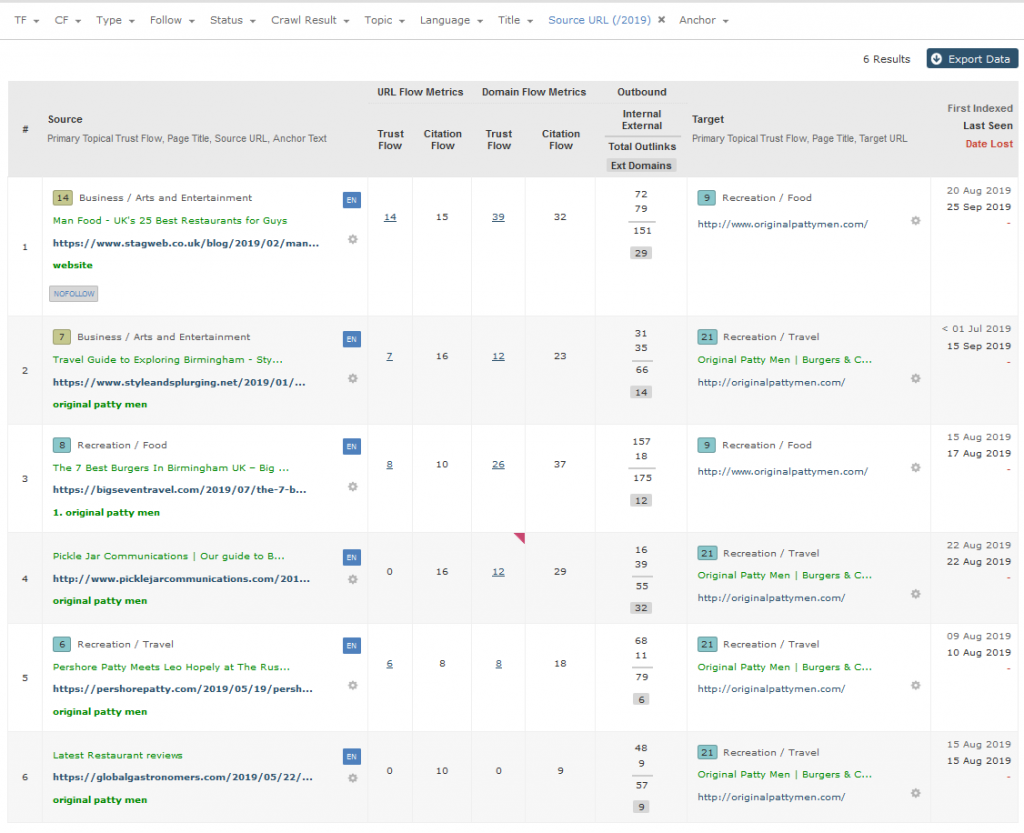 This filter produces a complimentary list of results to those seen previously – the rest of the interface remains the same, with the "Go to URL" link still present in the cog next to each entry.
This process can find more pages to compliment pages found from the "title" filters described above. The filters can also be used in combination to reduce the overall data count. Sometimes, for bigger sites, a "blog" filter may still return hundreds of matches. If a lot of data is returned, the Source URL and Title filters could be used together to reduce the result count into something more easily reviewed.
"Gizza Link"
"Gizza" is British slang for "Give me", hence "Give me a Link" and "Gizza link" are equivalent terms, albeit one with a far more relaxed parlance than the other. The relevance to the research processes above is the outreach phase that happens after data collection. Many SEO's consider the sending of templated emails requesting links to be an easy process automation. This simple mindset can result in emails being sent with a high potential for annoyance and a low chance of success. Despite that, we still get emails sent through to us that seem to be based on building a list of link targets and sending a mail merge email that says something along the lines of:
Dear <<Name>>
My name is Sean Eric Optimy. I loved the piece you did on <<blog title>>. I found it really resonated with me.
I hope you don't mind me asking, but I also run a blog, and have written a post which your readers may find interesting – <<LinkToPromote>>. I'd welcome your opinions on it. If you are able to mention it to your readership, it would be much appreciated.
Many thanks,
Sean.
There will always be cases where carefully tailored emails produce results, especially on smaller runs of automation, or where there appears sufficient qualification to generate interest on the part of the recipient. However, it needs to be noted that sending unsolicited commercial email can simply end up in many spam folders without any resulting link building joy.
We are not suggesting that templates are without merit. It is however widely recognised that the using templates to ask for links where the recipient has little to benefit has been overdone. Rather than counting on emails, if you go to the length of targeting well, it may be worth considering the impact of small, relevant promotional items, requests for reviews, and invites to promotional evenings as a way of establishing a relationship that goes beyond transient linking.
In closing…
Today we have looked at the Site Explorer backlinks tab, building on the techniques showcased in the first part of this series for a quick site triage/audit using Majestic Site Explorer Summary.
Site Explorer Filters are available on the Lite plan, which provides access to Industry leading metrics and data. Our Lite plan starts at $49.99 pcm and comes with a 7-day money back guarantee for new users.
We will return to Original Patty Men in the next part of this series to discover further insights from the Majestic web map.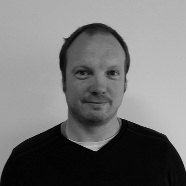 Latest posts by Steve Pitchford
(see all)