Visualising local relationships with backlink data
This article is part four of our case study about how Site Explorer can be used for SEO, based on a Birmingham UK based independent burger restaurant – OPM. You can read parts one through three using the links below:
In part 3, we briefly discussed how related sites can find (amongst others) geographically similar sites. This post explores that context deeper – Let's look at how link research can provide intelligence on a local business like OPM and for those offering SEO services, yield potential prospective clients for your Agency or Business.
Understanding the "Related Sites" tab
The related sites tab is really easy to use – assuming you are a Majestic Subscriber, enter a website or webpage into Site Explorer, click search, and click on the related sites tab – that really is all that is required to get access to the data. If you aren't a Majestic Subscriber yet, the related sites data for OPM is available for free – the related sites can be viewed as a part of our showcase program.
The related sites tab is illustrated below: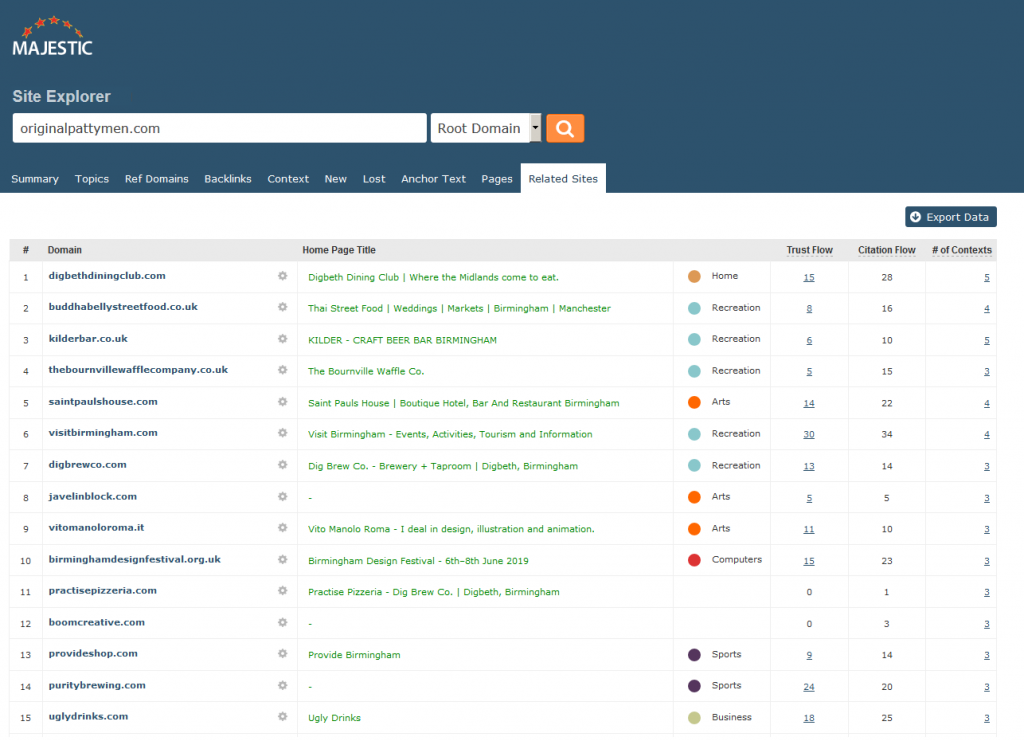 The simplicity of the results page hides A LOT of complexity under the hood. These results are generated using a technology known as "co-citations". Co-citations have been discussed by a number of authoritative sources in SEO over the last few years, and are based on academic research.
The theory goes that a relationship can be implied between two sites which have are linked to by the same page, especially when these linking relationships appear closely together on the source page.
The "related sites" tab does this analysis under the hood, based on "Link Context". The related sites page is ordered by the volume of times this link relationship is expressed.
Analysing related sites data.
Today, we will be using a manual technique to perform deeper analysis on the data returned in the related sites tab.
Focussing on the top 15 results returned, we can visit each site, look for the address details of the business and make a note in a spreadsheet.
It doesn't take long to visit a number of the websites listed in the OPM related sites list, and make a note of address details.
Next, we can fire up Google maps, and create a custom Google Map ( https://www.google.com/maps/about/mymaps/ ) using the address data gathered above.
By default, there is a lot of noise, but the "Simple Atlas" base map option removes a lot of existing places.
Very quickly, we can build a visualisation of relevant entries from the list:
Out of the first 15 entries, 10 appear to be within walking distance ( or at most, a short taxi ride ). One site – for the Kilder Bar appears next door.
How's that for an algorithmically generated list of "related sites"?
Impact of the data.
The related sites tab can provide the background for a great story on a business – in the case of OPM, the results appear to contain nearby businesses, with suppliers and competitors included in the list ( though it's important to note that "false positives" may creep into the data ).
The related sites data, and a little further research can provide great intelligence for customer and SEO Agency alike. For the Agency – the related tab tells a story about their client, and their sector. Armed with the knowledge this story provides, an SEO can seek to build dialog upon it, with the hope of building a closer relationship with their client – possibly increasing the chance of retention.
The information that can be derived from the related sites data can help an agency ( or indeed a business ) enhance their online reputation. For example – if some suppliers are linking to a business, can this information be levered for the benefit of the business by encouraging other suppliers to seek co-promotional activities?
Does the knowledge of other businesses in the same area pave way to collaborative, win-win promotion across these businesses?
In conclusion
We've seen how local, geographical links can dominate a boutique restaurant like Original Patty Men.
This does not mean that Related Sites is a geographic tool – far from it – one needs look no further than majestic to see a top ten list of "related sites" generated using the same algorithm as the OPM list:
ahrefs.com
moz.com
semrush.com
opensiteexplorer.org
majesticseo.com
screamingfrog.co.uk
alexa.com
seomoz.org
backlinkwatch.com
cognitiveseo.com
While our old trading name "Majestic SEO" makes a predictable presence, the above list seems more representive of sites "similar" to Majestic – with the names listed being names reconisable to many in the SEO community.
This gives us two examples of sites with very different markets – an online business appears to have a different sort of related sites "link profile" to a local business.
If you have a Majestic subscription, why not see if there are hidden, yet to be exploited relationships buried away within the "Related Sites" data?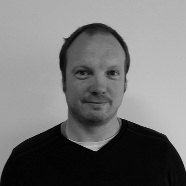 Latest posts by Steve Pitchford
(see all)