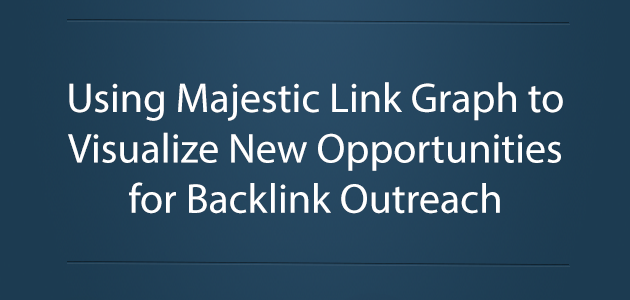 This is the third and final webinar in a three-part series helping marketers to understand the impact of backlinks on their website. We discuss how to use Majestic's Link Graph tool to visualize new opportunities for backlink outreach.
Take a look at our recap of the first webinar: Understanding How Backlinks Influence Organic Traffic and our second webinar: Introduction to Using Majestic's Link Graph to Improve Authority Analysis
Once again the webinar was moderated by Kristine Schachinger, while Brooke Sikora from Inseev Interactive and Majestic Ambassador Bill Hartzer talked about the Majestic Link Graph, how to identify links with authority, and how to use the Link Graph to identify opportunities for new links.
You can watch the recording of the webinar below or view the slides:
Webinar Recap
Link Basics and Site Explorer
The session started with Brooke going over the some link basics that were covered in the previous webinars, including an explanation of the value of links and how they different websites provide more valuable links than others.
Brooke then gave a quick demonstration of Site Explorer, going over how to see the websites and pages that link to a website, the anchor text used to link, as well as how to see the pages that return a 404 response.
Backlink Health and how to Clean Up Your Link Profile
Bill took the lead on the next section about backlink health and he shared tips on what to look out for in a healthy backlink profile including:
Ratio of Trust Flow to Citation Flow
Referring Domains
Topical Trust Flow of Backlinks
Distribution of Anchor Text
Assessing the Link Context of each Backlink
Checking Lost Backlinks
Looking at the Crawl Result of your Pages
Reviewing Links on the Link Graph
Reviewing Links Through The Link Graph
Brooke then took us through how to review your Tier 1, 2, 3 and 4 links by using the Link Graph, and how to use this to implement link building strategies, from Broken Link Building to Lost Link Reclamation.
In the next section Brooke shared how to find link opportunities from competitors link profiles, how to target the sites where they have received links from, how to review their Anchor Text, and see their best pages by different Topical Trust Flow.
In the final part of this section, Bill explains how to get all of a websites backlinks from Majestic by using Advanced Reports.
Q&A
To wrap up the webinar Kristine asked questions that had been submitted to Brooke and Bill, including how to build links when you don't have content, and disavowing backlinks.