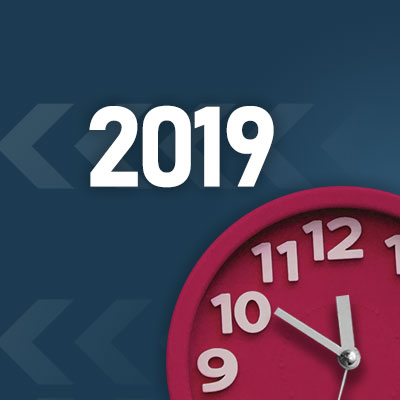 The Majestic backlink tool suite has seen a range of improvements in 2019. We have selected a few of the more notable changes to share here.
Related Sites
Related sites uses advanced heuristics to create a list of sites which the link graph suggests may be in some way "related". Sites reported tend to be competitors, linked via supply chain, have a similar audience, or be in a similar geographical area.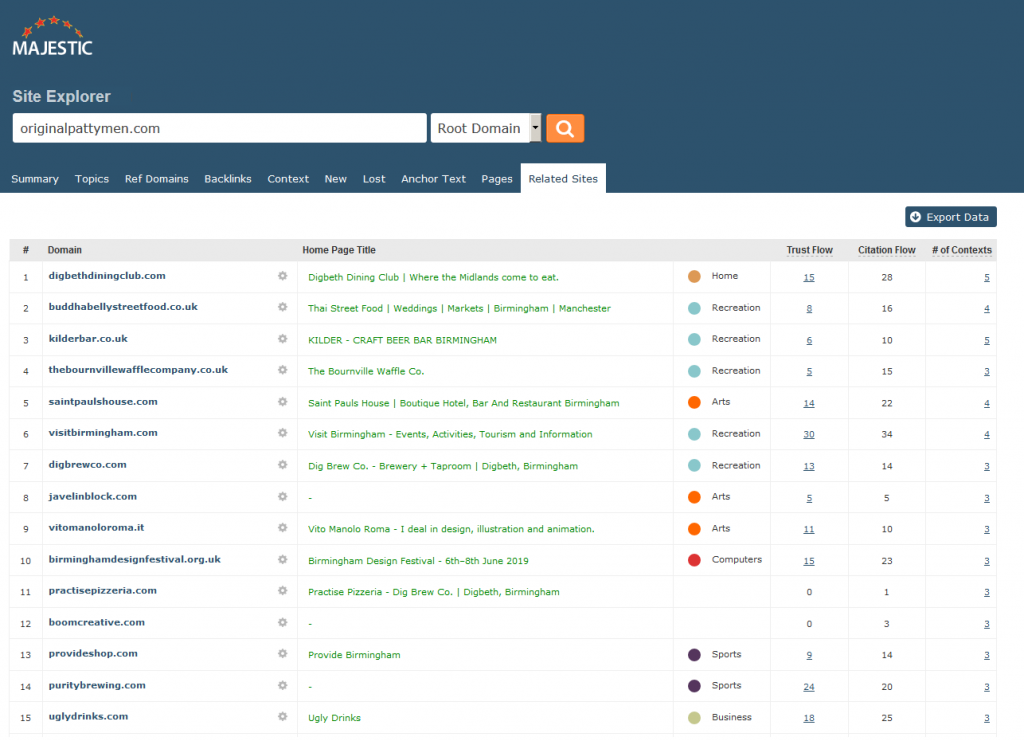 We've been so impressed by related sites that we've begun integrating it across the site – you can find Related Sites in Site Explorer, and as a shortcut in the cog menu. If you like what you see in the Related Sites Report, the "send to" option makes it easy to open up the top related sites in the compare suite. If you prefer to start comparisons in the compare suite, we've added a new button to make selecting complementing sites as easy as possible: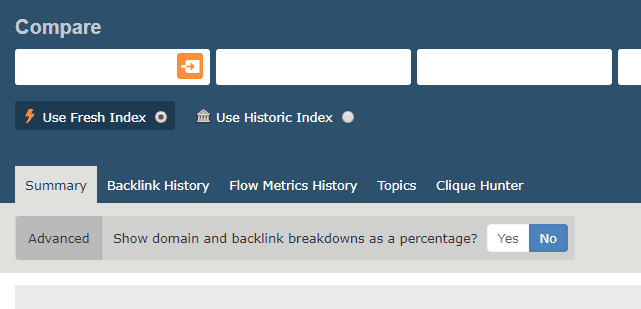 We've also rolled out Related Sites to the API, making the valuable information far more available for automated analysis.
Link Context
It's fair to say 2019 saw us put a lot of love into Link Context. Link Context represents a huge leap in terms of the data gathered, processed, and analysed. Link Context is centred around the source of a link, and tries to answer questions like "Is this link an editorial or a header/footer link?", "How many other links are on the same page?", "Is the backlink surrounded by many other links?". We've done two things to try to answer these questions:
Collect many more data points to help you sort and filter the data
Create a new chart – the "Link Density Chart" to visualise where on a source page your link was found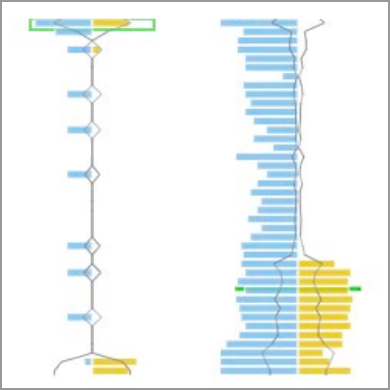 To mark the launch, we sponsored a trip on the British Airways i360 at Brighton, produced an introduction and comprehensive guide available to download. We gave our friend and Global Brand Ambassador Dixon Jones a yell to get involved in our promotion planning, which saw him doing a tour of podcasts and interviews. If you missed it, please do take a read of the introduction linked to above or roundup – it's truly exciting tech.
While we love Link Context, we were even more impressed with the potential – this an area we are keen to develop further. Link Context provides the foundation for the "Related Sites" functionality. We have even experimented with a new hybrid link level metric (LD/TF)!
Subscription Management
While not as exciting as some of the new features, subscription management is important to our paying customers, and therefore, important to us.
We recognise that for many, SEO can be seasonal, and have tried to make it far, far easier for subscribers to switch between plans – really useful for the occasional significant audit – so it's now straightforward to upgrade from Lite to PRO, and then drop back down when your analysis and exports are complete.
Following customer feedback suggesting that not every resource hungry user wants API access, we've also introduced two new plans – "PRO L" and "PRO XL" to give greater depth in Site Explorer and more analysis units. PRO or Lite users can upgrade to these plans at any time.
Site Explorer Enhancements
Site Explorer has seen a huge upgrade. Top of the list – a long demanded set of sorting and filtering options have been integrated across a number of tabs.

This makes it easy to find backlinks for a number of criteria – you can search for URLs containing the word "blog", links from pages with a title "review", or filter results by source page language.
We've also tried to make this almost bewildering array of options easier to use – in 2020, watch out for more reports like the "Find Editorial Links" option in Site Explorer ( Link Context Tab ), illustrated below.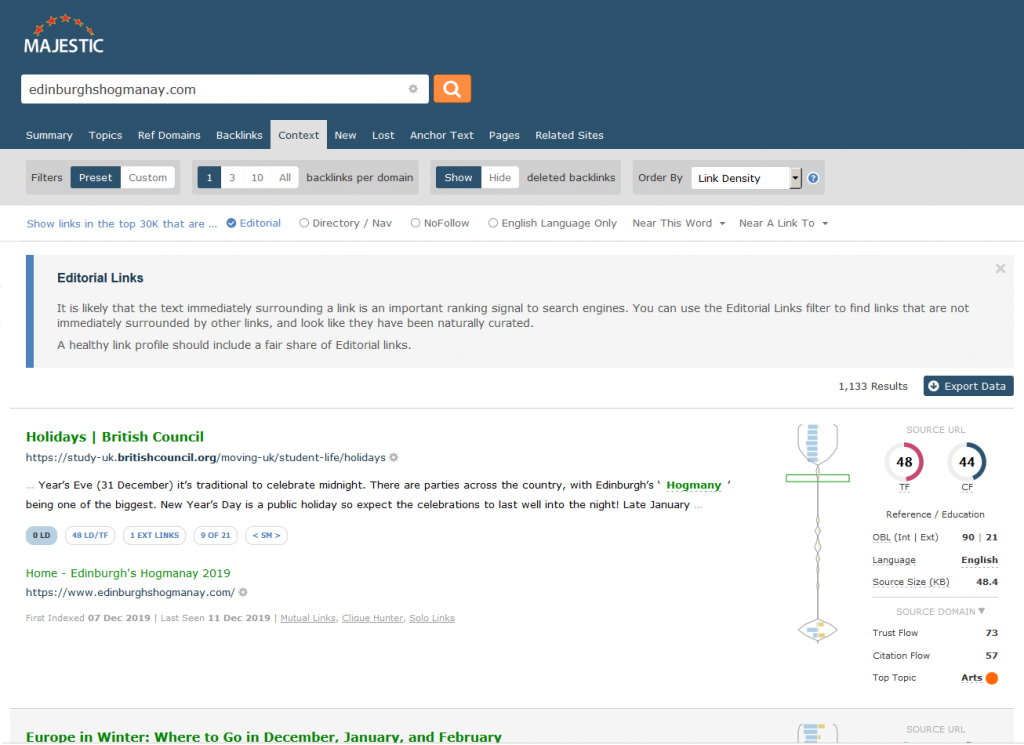 The API has not been forgotten – we have introduced a rich array of filtering options to the backlinks API command to facilitate processing.
Another new feature – the addition of "Inbound" link stats in the "Ref Domains" sub-report.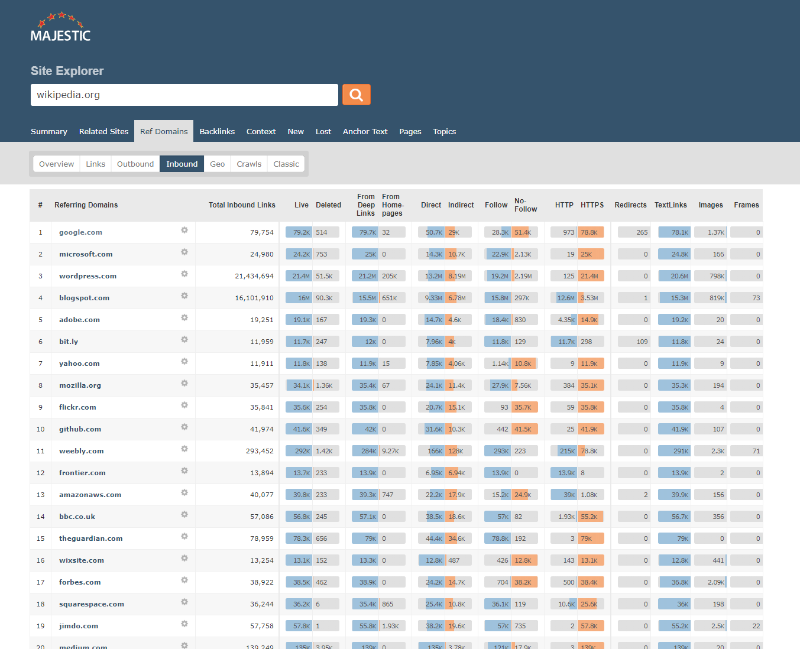 The Inbound sub-report highlights the total inbound links, and shows a range of summary stats, such as https/http balance, proportion of links from homepages, how many of the links have been reported as live, coupled with a "redirect/text/image/frame" link type. It's a great little tool for spotting odd anomalies .
Showcase Sites.
A subtlety that's been appreciated by some on social media is our revolving "Showcase Site", or as Barry Adams suggests " a new and highly current & relevant example URL in their site explorer every week or so. "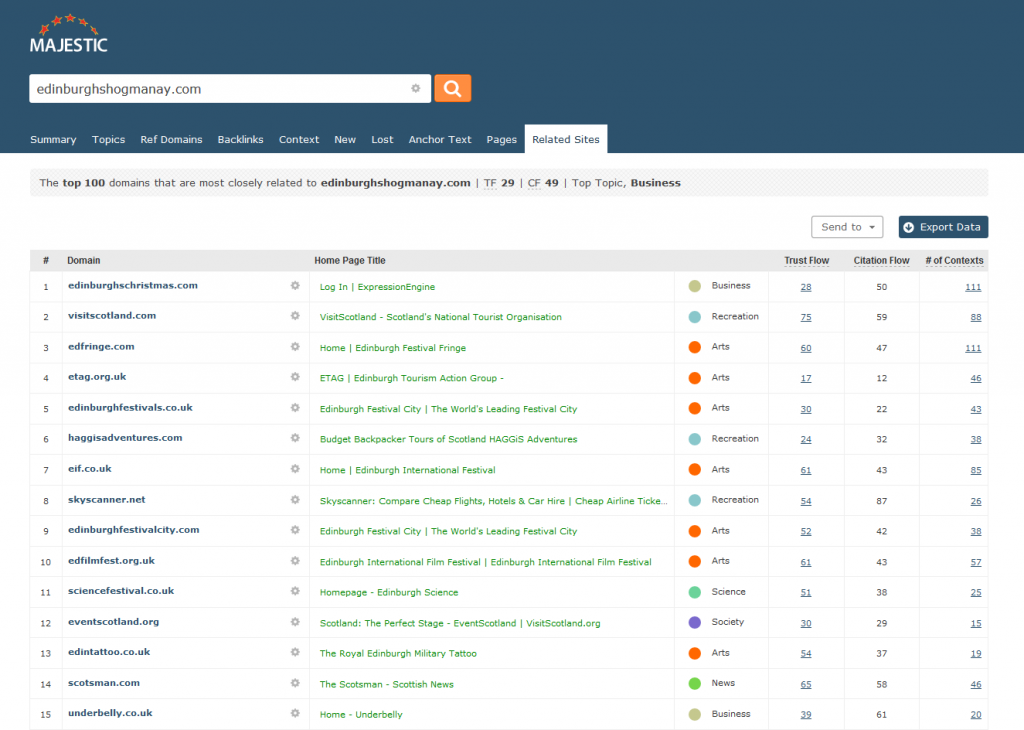 Cliquehunter – Find sites that link to my competitors but not me.
Cliquehunter is a hidden gem that helps you find authority or hub sites – an invaluable tool for link prospecting and link building. We've added a new "Link Opportunties" checkbox, that filters sites out that already link to you.

Social Explorer – Updated for 2019
Rewind a few years – in 2015, Majestic ran a summer internship scheme for local students. We gave them loads of data, and paid them to come up with imaginative uses for our data.
One of the tools developed was "Social Explorer" – an innovative way of using Topical Trust Flow to aggregate Twitter handles into topics.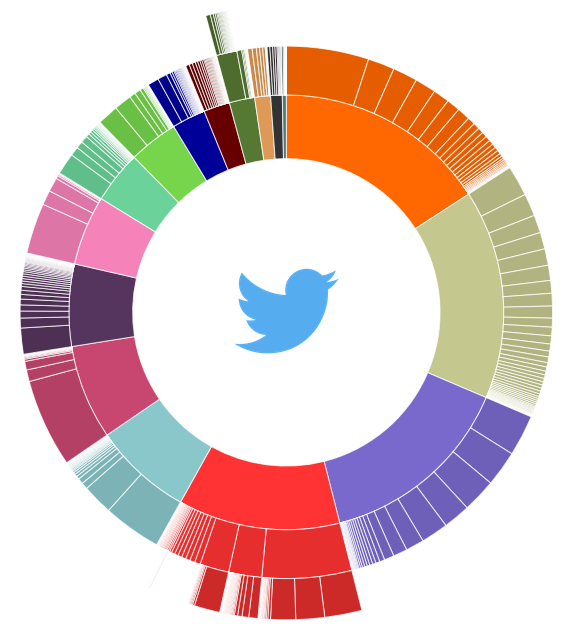 Since "Social Explorer" was launched, some time has passed, and the data was beginning to look a little stale. In August, we passed the project onto our Majestic Monitor team for a facelift and new data import !
What Next?
We would love your help to make 2020 an even busier year than 2019 for our developers – please drop us a line if you have any ideas or feedback you would like to see implemented into the Majestic platform.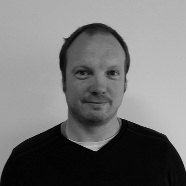 Latest posts by Steve Pitchford
(see all)