We'd love to share with you an enhancement to Clique Hunter, one of our oldest competitor backlink analysis tools.
Clique Hunter, launched way back in 2010, is a tool that will help you discover which individual websites contain most links to a group of other websites.  For instance, you can check to see who links to your competitors, but not link to you. Most leading backlink platforms offer a similar tool. Moz and Ahrefs call their tool "Link Intersect", with Semrush calling theirs "Backlink Gap Analysis".
No matter which provider you prefer, this manner of competitive analysis can help unearth new opportunities for outreach and engagement. The theory goes that sites that link to a number of similar sites to yours are thought to have a higher chance of successful engagement. While individual circumstances may vary, this approach should give you a batch of relevant, potentially qualified leads.
Do you want to find out more about finding opportunities with Clique Hunter? Check out this video introduction from backlink expert Ken McGaffin. The Majestic Clique Hunter for Faster and Better Link Building.
Using Clique Hunter
Clique Hunter has long excelled at helping to find sites that link to your competitors but not to you.
To use it…
Enter a batch of linked sites or URLs that interest you (for example, your website and a few of your competitors).
We then fetch the top referring domains for them all and do some behind-the-scenes aggregation magic.
Receive a list of the top domains we found, together with a count of how often each one links to the different domains (or URLs) in your group.
To show you what we mean, here are the first few results for a local restaurant search. You may be able to spot that local newspaper websites, and local "what's on" guides have links to almost all of the establishments.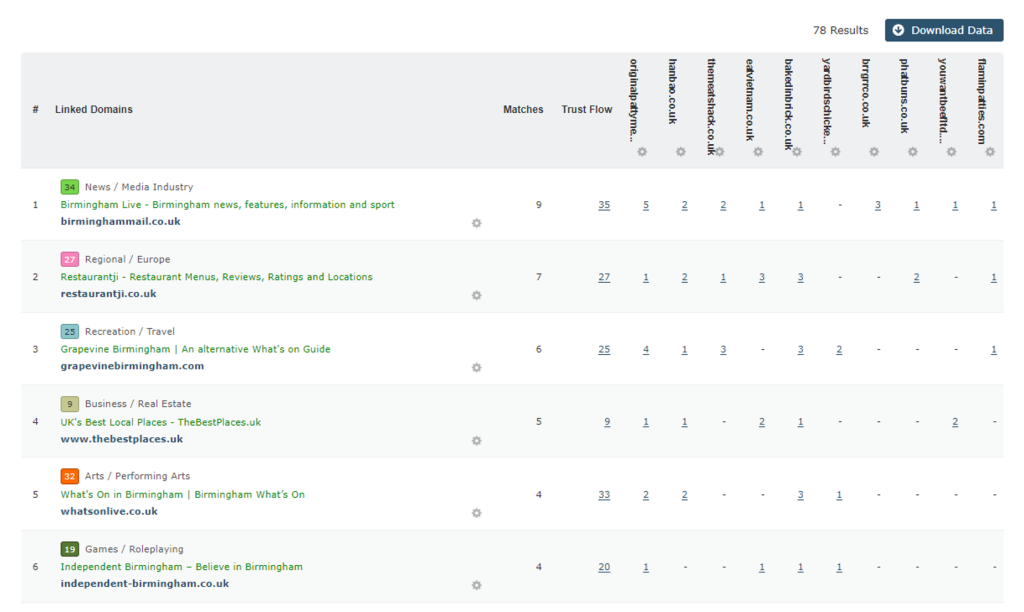 For a smaller search like this, there are only 78 results. That is, there are 78 different domains in our Fresh Index that have top links to at least two of the websites you entered. This list is easy to navigate and looks manageable. I'd be happy to start to prospect for potential candidates for link outreach.
However, some Clique Hunter searches are massive. Indeed, if we search for the four main backlink platform providers from the introduction paragraph to this blog post, we receive a result set with almost 23,000 rows!
That's a lot of manual searching to try and find the gold.

Using Clique Hunter Filters to find link opportunities
And with that, we're delighted to share that you can now filter your Clique Hunter results.
Filters add a new level to your analysis, giving you the power to do more research in Majestic, and potentially finding more leads in less time. You can now instantly filter your list of matching domains, and this should help you bring a list of 23,000 sites down to something more manageable and topically relevant.
For this blog post, however, we're going to go back to the list of 78 potential link candidates for our local restaurants. Role-playing as a restauranteur looking for links is infinitely more interesting than looking for backlinks for a backlink tool!
Here is that initial set of results again for our ten domains.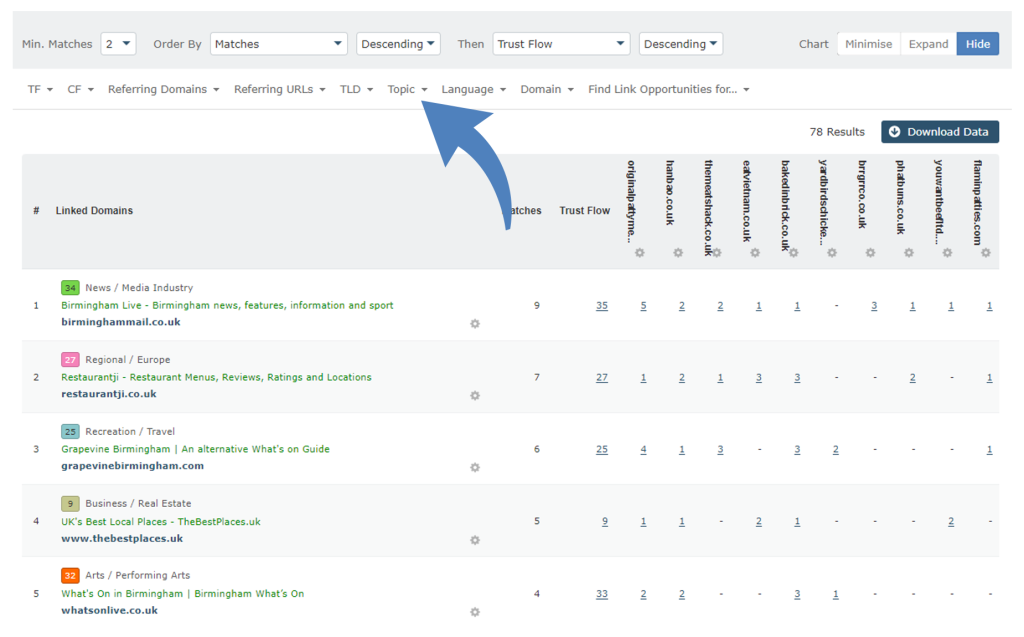 The new Clique Hunter filters are in that second row down. If you use other Majestic tools, like Site Explorer, they should be exactly where you expect them to be.
They work by filtering the domains in your results list. For this example, I'm going to pretend that I am Yardbirds Chicken, and I'm looking to find websites that link to my other competitors, but not me.
Note: We released a smaller version of Link Opportunities in 2019. You can read more about how Ken McGaffin used it in a separate study. (https://blog.majestic.com/development/new-clique-hunter-update-filter-sites-that-link-to-your-competitors-but-not-you/)
The first step is to choose my domain from the "Link Opportunities" filter.

… btw, the number beside the domain is the number of result websites that do not link to each of the competitor sites you entered. This list on its own is a great representation of which websites out of a group are most 'popular.' In this case, the top domain, Original Patty Men, only has 20 opportunities out of 78. This means that 58 of the 78 domains in our results already link to them.
But, for now, I want to filter to opportunities for Yardbirds Chicken. I choose their domain from the dropdown.
I now have 69 possible sites that I could approach for a link, as they are linking to competitors and not me.
However, I've noticed that there are two websites that look out of place for this result set as they have Chinese page titles. These –could- have been legit sites, offering Chinese-language restaurant reviews in my city, but when I visited them, they looked like lower-quality off-topic aggregation sites.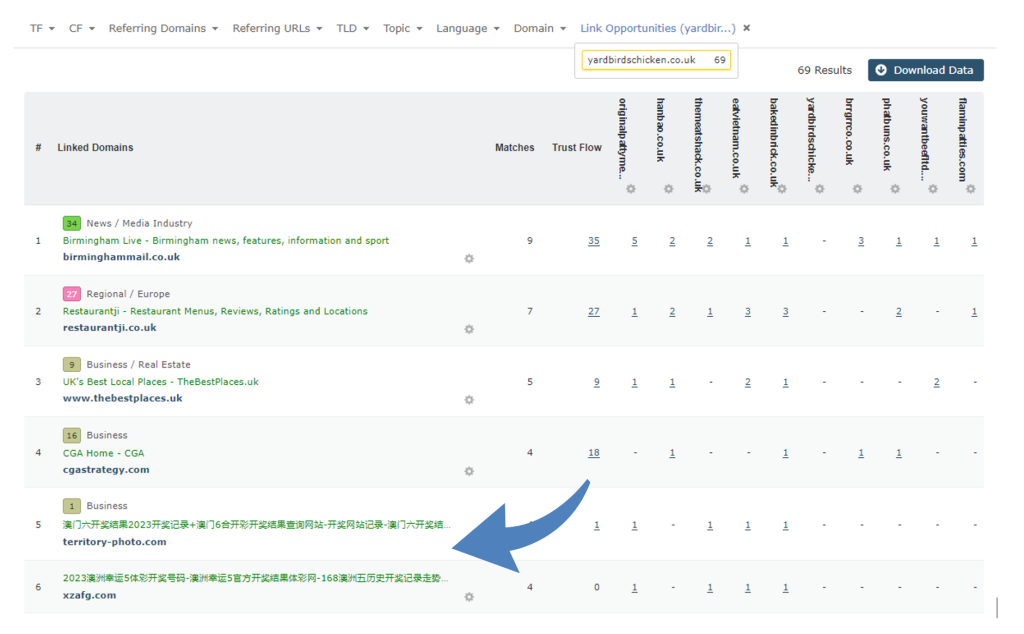 As both sites have a low Trust Flow score, I'm going to use my first Clique Hunter filter, Trust Flow (TF), to look only for the top Trust Flow sites. There are three sites with a TF between 61 and 80.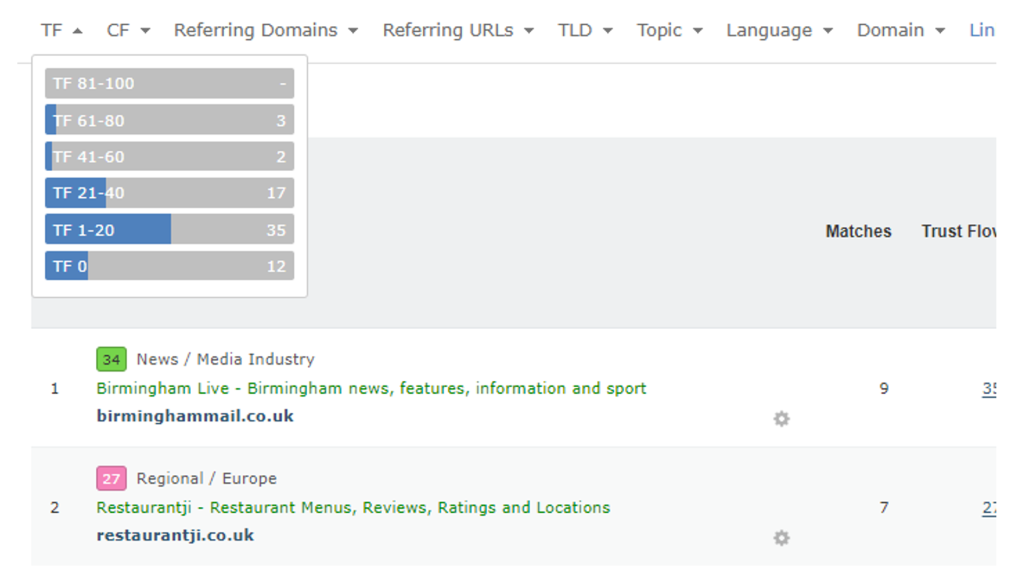 Choosing that option has brought my results set down to those three domains with the highest TF score. This is probably too small a result set to run a comprehensive exercise, but it'll be a good start.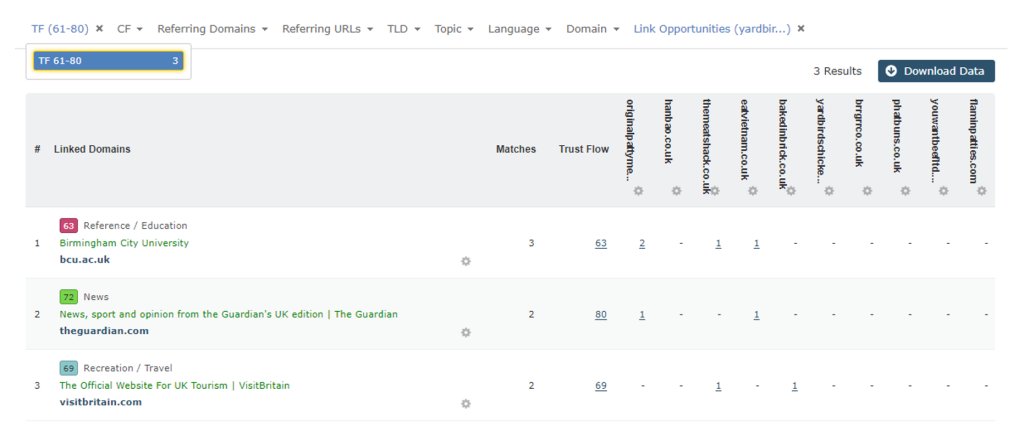 The first domain of interest is Birmingham City University. To see their links to my competitors, I can click on the numbers on the right columns (under each competitor domain) to see the exact links that they have for each one.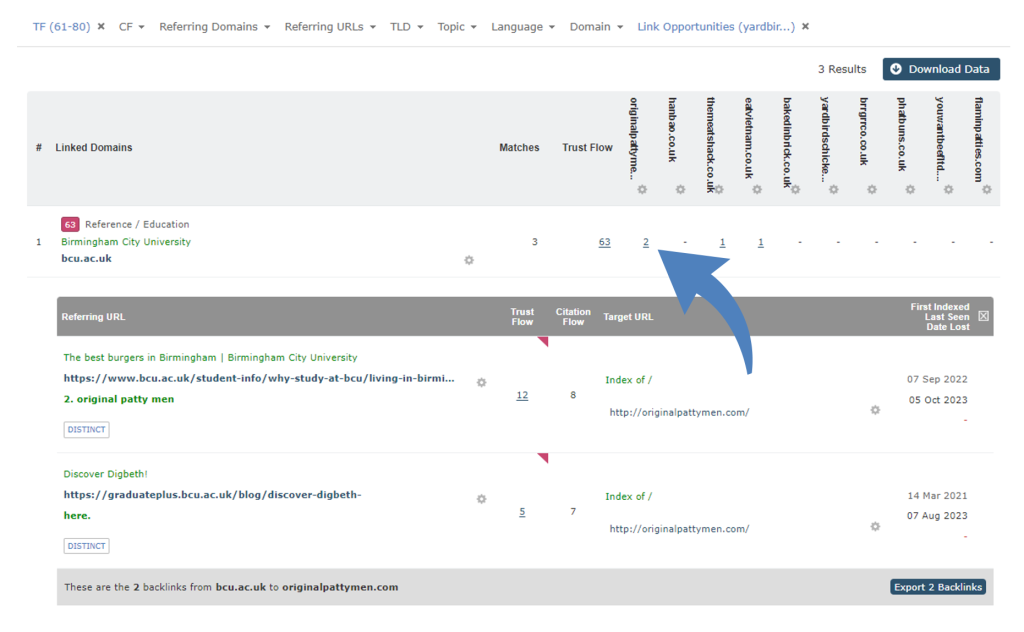 Oh wow, these are great links.
Looking at their links to Original Patty Men, I can see that this is exactly the place that I would like to contact to see if I can get a link. There is a possible bonus here as that these links are not marked as NoFollow! If I was doing this for real, I would definitely add the university websites to my outreach list.
Looking at the rest of these results, the next high TF domain to link to more than one of these sites is The Guardian. I don't think that I'd be able to get a link from a national newspaper, but click on it to see how my competitor managed it.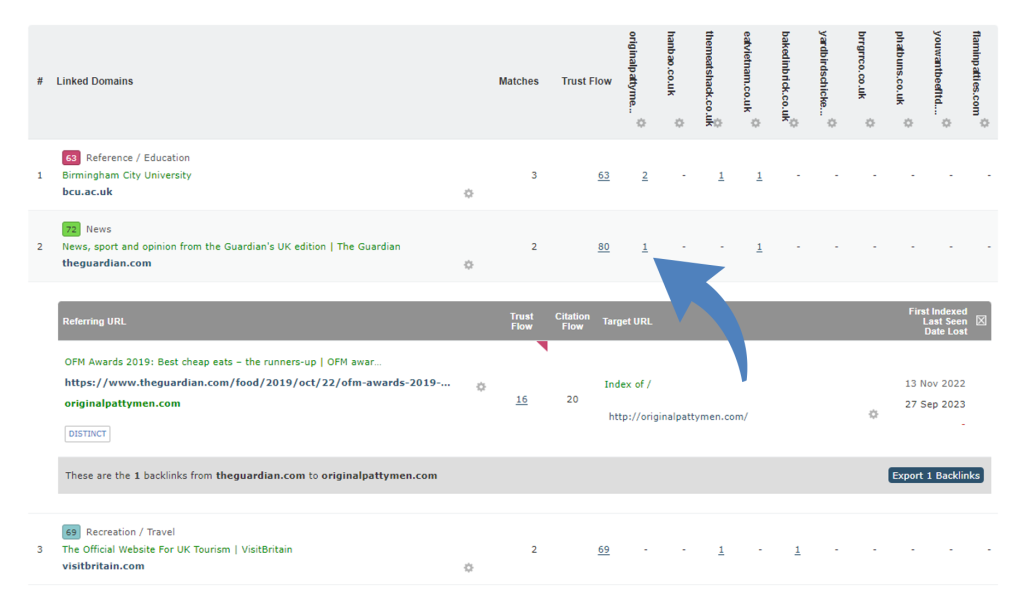 Unfortunately, this looks like a news report on an incredible award that the Original Patty Men won, so I probably won't be able to get a link there.
At this point, I could have an idea… as my first item on the outreach list was a university, why don't I look for websites that are topically relevant to universities?
I clear the TF filter (to allow any Trust Flow item), then choose News / Colleges and Universities from the Topics filter. There is one result.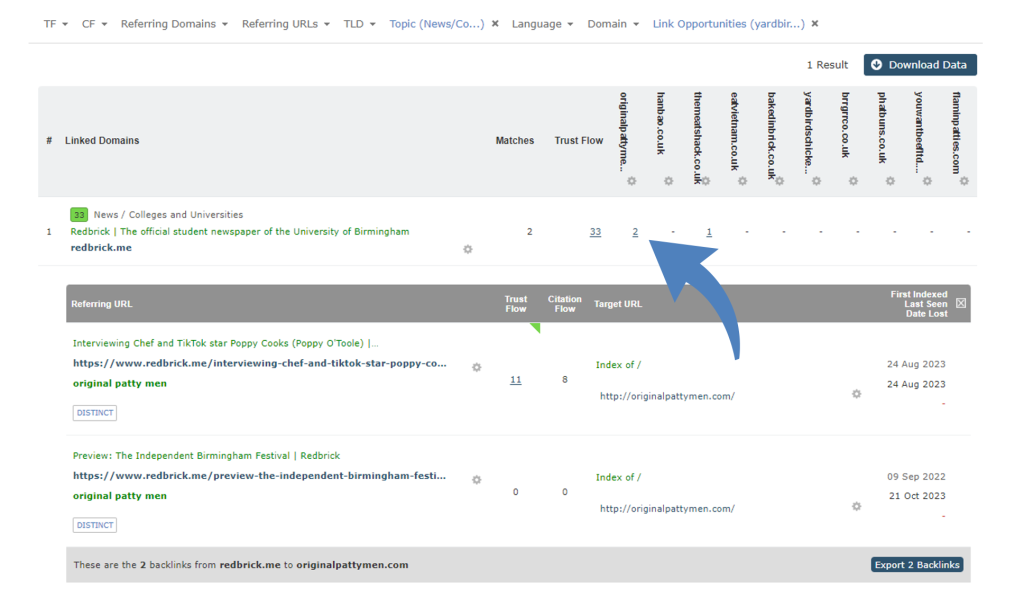 This looks to be another great result. Local companies have been able to get links from articles on this redbrick.me domain. Perhaps I can investigate to see if we can offer anything that they would like.
And from there I can continue to filter and go through my results. Try your own Clique Hunter filtering to see what you can find.
For instance, here's a result from a filter that will exclude any domain that has fewer than 1,000 referring domains of its own.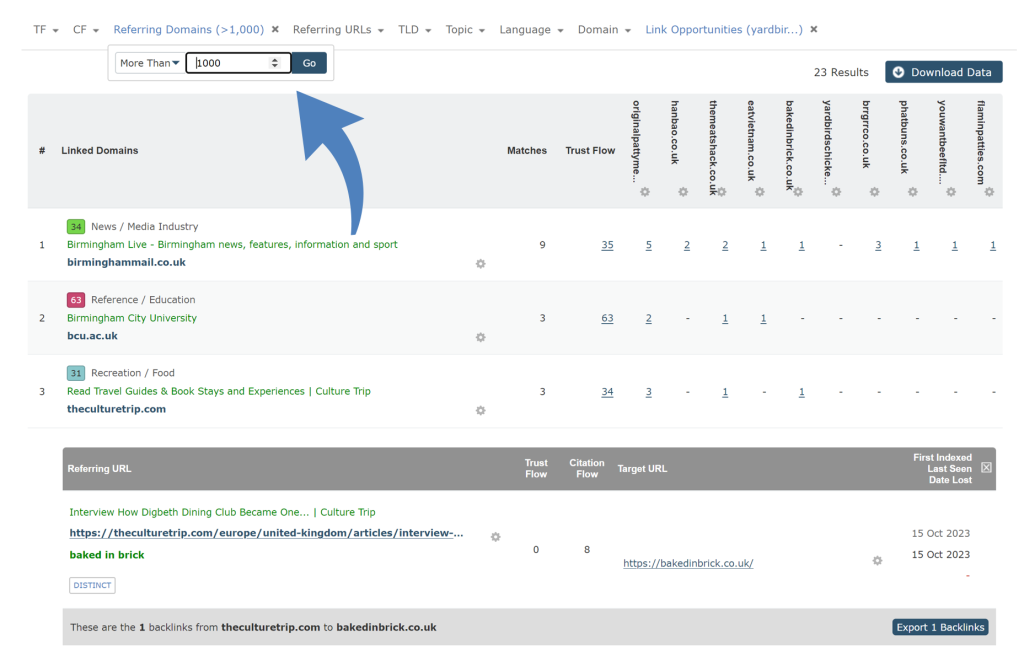 Hopefully this short guide has given you some ideas for your own Clique Hunter filtering.
Wrapping Up
We hope the new filters in Clique Hunter enhance your experience of the tool, and result in less time needed to dig through data in spreadsheets. You can still export results, but you now have more control over what data you want.
We would love to know how this change helps you achieve more in Majestic, and also welcome feedback on how we can enhance Clique Hunter further to better suit your needs. Our Customer Success team would welcome your thoughts via the contact form.
Existing subscribers on the Pro plan are able to use this feature. Lite plan users are able to upgrade to the Pro plan to use Clique Hunter, at a monthly cost of £79.99/ €94.99/ $99.99. New subscribers are able to use Clique Hunter by subscribing to the PRO plan at a monthly cost of £79.99/ €94.99/ $99.99. This comes with a 7-day money back guarantee for brand new customers. Try it out.
Latest posts by Steve Fitzpatrick
(see all)