Reporting is crucial in SEO. Keeping your client apprised of the results of your SEO efforts is an effective way to let them know how you are helping to grow their business – building trust and strengthening your relationship. Transparency can also be increased because you can educate your client on the significance of the data shown.
Jump to:
Benefits of consistent reporting:
If your clients see how diligently you are working on their website, they will know that you are genuinely helping them get the best results.
You can highlight the areas of improvement which are backed by solid data.
Proactively reporting on your client's results can encourage them to readjust their strategy and scale their business.
The report can inform stakeholders about the company's digital presence so that everyone can work together effectively. Shared Knowledge leads to greater creativity, more innovation and enhances the performance of teams.
Consistent reporting helps everyone work together towards the same goal.
SEO reports can contain various metrics, and deciding which ones to include depends on your audience. It's important to agree on what constitutes success for the organisation. Some of the things you can demonstrate in a report are:
The visibility of site – often measured in backlinks (and how this compares to last month)
How many backlinks have been gained or lost in the reporting time period
The quality of the backlinks
What link-building tactics have been implemented and how effective were they?
A list of link prospects
Recommendations to help promote further growth
When reporting on backlinks, let your client know the sources that have linked to their website, such as Marie Claire or The Sun. Real world examples can provide valuable context for your client.
Although earning links from authoritative sites can be easier said than done…
But, pivoting from traditional link-building methods to more creative Digital PR techniques can help.
Digital PR is a process of strategically creating and distributing unique and tactical content to drive awareness and authority.
Pairing Digital PR and Link Building can lead to a positive impact on your SEO performance.
One great example is this campaign that creative agency Rise at Seven' ran on behalf of 'Exam Papers Plus', where the aim was to make learning fun for kids.
The business secured 41 media placements from credible sites such as Heart Radio, improving its visibility.
Google emphasizes that the total number of backlinks to your site is unimportant – confirming that one link can be worth more than thousands of links. Relevancy is crucial when building links.
Google's John Mueller has also given the technique his seal of approval.
Now is the time to leverage Digital PR and Link Building (if you are not already).
Ultimately, each business will have its own unique goals.
Your focus should be on helping customers through the content you develop and share, and the relationships you build. Links will follow as a result.
So here we'll look at how your Majestic subscription can help you get the data you need:
Campaigns
Campaigns offer a way to group and track the progression of a collection of domains or URLs over time. Their statistics update every time the Fresh Index is updated – giving daily-ish updates on how well the different websites are performing.
Create your own Campaign in just a few steps. Add your websites/webpages and within seconds you'll have a highly interactive data visualization, which will put our data at your fingertips.

Your Backlink Campaign will provide real-time performance statistics such as Trust Flow and Citation Flow to judge the performance of your own and your competitor's domains. This will help you benchmark performance and determine budgets and timelines for the future.
Campaigns can be shared with your clients publicly or privately and can be configured to send you regular emails updating you about any new backlinks we've found.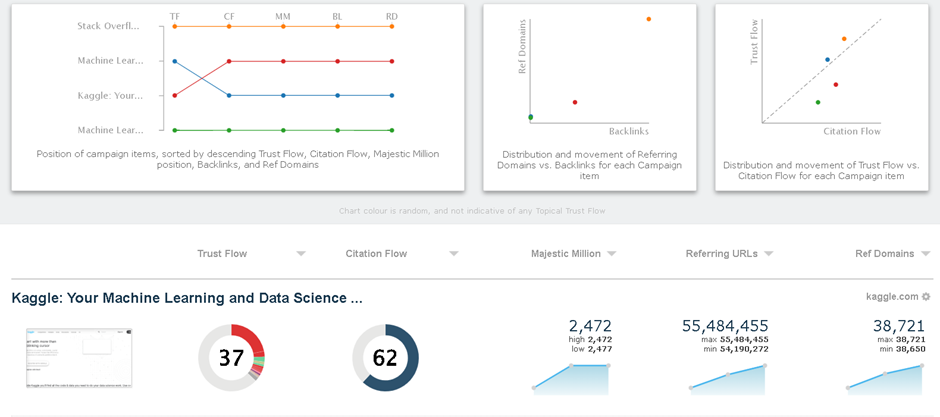 Anchor Text
The Anchor text is the descriptive text that appears as the clickable part of the link. Well-written anchor text captures what the page linked to is about. Use the Anchor text tab on the Site Explorer page to see anchor text other websites have used to link to yours. The most popular anchor text is biggest, with less used text being smaller. This gives you a great idea of what websites are saying about you when they link to you.

A way to present the data is to create a pie chart. Here's a step-by-step guide to doing this:
Export the data via Excel, CSV or TSV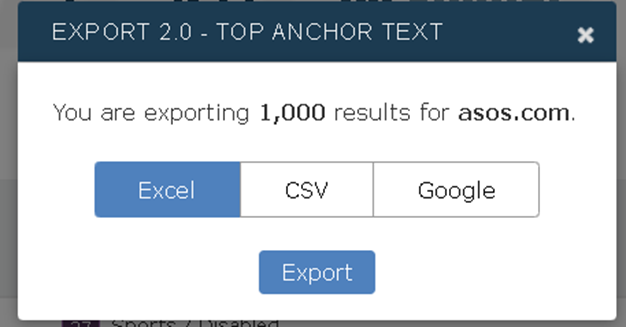 Choose the number of rows that you wish to analyse. For example, you may choose to focus on the top 100 results.
Now, you can begin the process of categorisation. Create a simple table in Excel with each column representing a type of Anchor text. Below we have included the definitions of the different types of Anchor text:

Branded – When a brand name is used as anchor text, that's called a branded anchor text. For instance, a link to majestic.com with the anchor text 'Majestic'.
Exact-match – Where the anchor text includes a keyword that matches the page being linked to. For example, 'jeans' linking to its product page.
Partial-match – A partial match anchor text is when a keyword or phrase on the linked-to page is similar but not identical to the keyword or phrase in the link. For example, 'link auditing tips' directs you to a page about 'link auditing.'
Generic -This is a phrase or word common to many sites. The anchor does not describe the page it links to. 'Sign in' or 'click here' are deemed generic phrases.
Naked link – A naked URL is a hyperlink that is used as an anchor. For instance, https://majestic.com/.

Go to the 'Link Context' tab on the Site Explorer page, click on 'Anchor' and apply the filter named 'Is Exactly'. The Link Context report shows the position of your link and the context around each link. You can see how many links surround your link and where those links point to. You can find out if they're Nofollow, frames, or images. This can remove the complexities from the task of distinguishing between the quality of the context item.

Then, enter each Anchor text to view the exact pages that the Anchor text is linked to. This will help you in determining if the phrase is an exact match. Alternatively, search for 'Contains' to see if the text is a partial-match (and then subtract the number of exact matches from the total). Plus, viewing the context that surrounds the link can be useful.
Once you have updated your table with the figures, create a pie chart and voila! Your results are ready to present.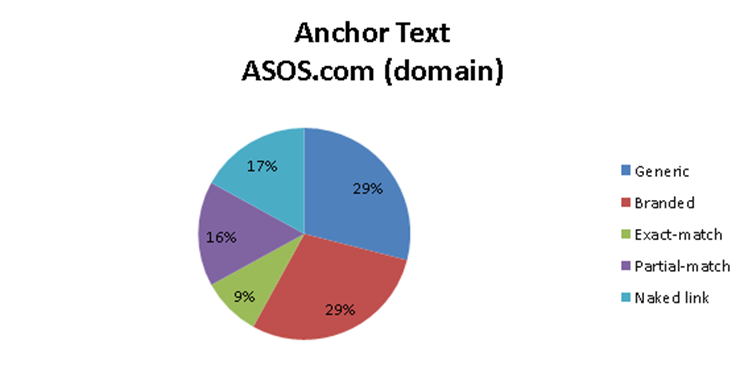 You can also create a pivot table to spot 'spammy' or undesirable terms to understand how often they appear. You can view if the anchor text is being used effectively within your website. The goal is to ensure that the desired anchor text is used to link to the site and increase the organic search engine rankings. But you can also find spam or toxic backlinks that by investigating any negative or strange anchor text.
Advanced Report
Site Explorer is great for sites whose total backlinks are less than your subscription limits. For site with more backlinks, we strongly recommend our Advanced Reports. Reports provide insightful data about backlinks, referring domains, top-level domains, countries, subnets and much more! Or experienced SEOs can create an Advanced Report that contains extensive sub-categories and filters for deeper analysis.
Each report can be filtered to your exact demands so you can focus your analysis. This richer data set gives you a better understanding of the link profile of your or your competitors website. This can lead to more insightful discussions strategy decisions and more data-backed discussions with your clients about your SEO efforts.
Alternatively, you may wish to highlight the competitor's top pages and identify which types of content they are building links to. This can be an essential factor in deciding which types of content your client should be creating to establish themselves well in their industry. You can then extract the data and open the CSV file in Excel. Analyse, dissect and organise the data as you see fit and share the results of your efforts with your clients.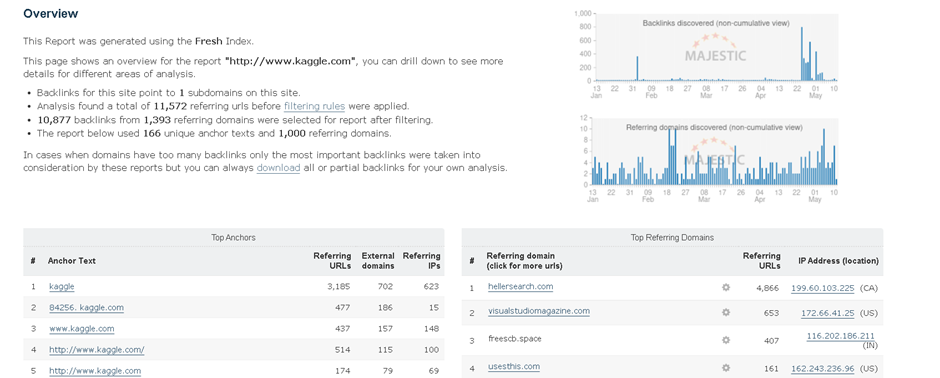 Advanced Reports offer four main areas for filtering data:
Target – Contains Target URL filters – such as the ability to limit analysis to either include or exclude up to 100 URLs.
Source – These filters work on the source page of the backlink, and also contains some link related properties – such as if the link is a frame, if it's deleted, or Majestic discovered the link within a specific date range.
Anchor Text – The ability to examine rows of data and only return links whose anchor-text matches certain criteria. Links can be included or excluded if they match keywords exactly or contain words within larger phrases
Flow Metrics Scores – The ability to filter links above or below a certain Trust Flow or Citation Flow, or above / below a Trust Flow/Citation Flow ratio of your choice.
You can also create reports for competitor's top pages to which types of content they are building links to. This can be an essential factor in deciding which types of content your client should be creating to establish themselves well in their industry. Download the data to analyse, dissect and organise the data as you see fit and share it with your clients. The aim is to convert the raw backlink data into meaningful information that resonated with your clients.
'New' Backlinks Tab
A key element of reporting your progress to clients is demonstrating the links they have recently acquired thanks to your link building efforts. Tracking these manually in a comprehensive list can be difficult and time-consuming. The 'New' links tab in Site Explorer simplifies this process by showing the new links discovered for each day.
Select a date from the filters or use the interactive chart to see which links were discovered each day, or see all the new links over a two-week period.

Detailed information about these links is provided underneath the graph, including the Anchor Text used to link, the Citation Flow and Trust Flow of the link, and whether the link is still 'live'.
Majestic has developed a new way to filter in on high-quality links for reporting. It is known as Duplicate Link Detection.
The purpose of this development is to provide you with more practical and actionable data by eliminating rows of links that offer little significance. The resulting dataset is smaller and more focused, so you can extract even more value.
By checking the new links of your competitors – you can report on their link building activities and find new link opportunities.

Bringing it all together
Reports can be used as a key part of your reporting process. Use them to track your link building efforts, uncover new link opportunities and even find anomalies and cause-effect chains.
Create a Majestic campaign to track the progression of a set of domains or URLs. This will help you measure performance and optimise strategies for the future.
Use the Anchor Text tab to see what phrases external domains use to link to you. Produce a chart on Excel and use to develop a strategy for including desired anchor text in your external links.
Advanced reports provide a wealth of link intelligence data. Explore the full report to build a quality report for clients.
Monitor your own link-building efforts and keep track of your competitor's activities with the 'New links' tab available on Site Explorer. Checking competition's new links allows you to find new opportunities that might otherwise be overlooked.
If you want to read more about the tools mentioned in this blog post, you can read the following:
Campaigns – https://blog.majestic.com/case-studies/majestics-campaign-feature-improves-workflow-client-communication/
Anchor Text – https://blog.majestic.com/training/actionable-seo-site-explorer-anchor-text-tab/
Advanced Report – https://blog.majestic.com/training/link-reports/
New Links Tab – https://blog.majestic.com/training/actionable-seo-site-explorer-backlinks-new-and-lost-links/
Regularly re-evaluate your strategy to ensure that you're getting the right results, and then use these tools to track the success of your efforts.
You can try us out here: https://majestic.com/plans-pricing. Or if you are interested in a detailed demonstration of the toolset – book a free session with one of our Customer Service Advisors. We're a friendly bunch!
Latest posts by Kainat Malik
(see all)