Join Dixon Jones (Global Brand Ambassador) and a panel of illustrious guests for installments of our Old Guard vs New Blood webinar series.
For each webinar Dixon is joined by experienced veterans of the industry, who have decades worth of experience, and the rising stars, fearless in trying new tricks.
Together they answer your questions about all things SEO, Social Media Marketing, Digital Analytics and more.
Our Next Webinar
Wednesday September 7th will see us talk about 'How to start your own SEO Agency'. Stay tuned for more information!
Past Webinars
SEO and UX
How can SEO and User Experience work together? Where do the SEO and UX worlds collide and how should SEO and UX be helping each other out?
Joining Dixon Jones for SEO and UX was Ulrika Viberg, Charlie Williams, and Pedro Dias.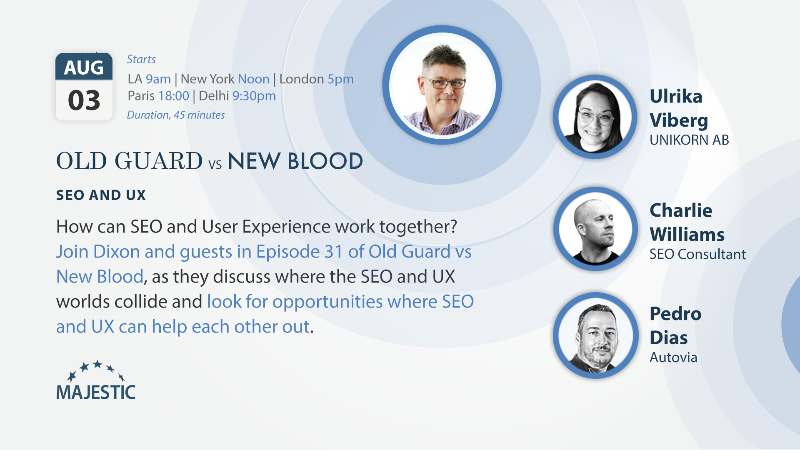 SEO QA and Testing
How do you know that your team's SEO work is of high quality? And how do you test the impact of your SEO changes? That's what we're going to be covering in episode 30 of Old Guard vs New Blood.
Joining Dixon Jones is for this episode on SEO QA and Testing was Myriam Jessier, Jess Joyce, and Chris Green.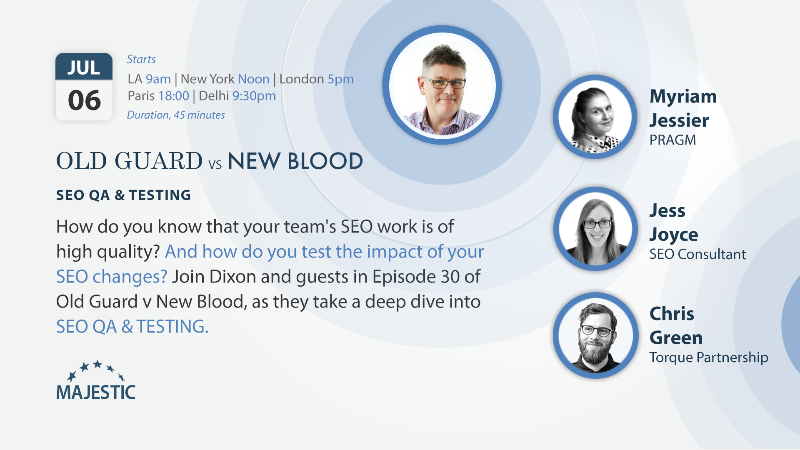 Strategic Alliances
How does your agency or digital marketing platform work together with other agencies or data providers? How do you work together with other agencies or tool providers that might otherwise be considered as a competitor in some way?
That's what Dixon Jones will be discussing on episode 29 on Old Guard vs. New Blood with Paul Stainton, Laurence O'Toole and Laura Hogan in our 'Strategic Alliances' webninar on Wednesday 8th June.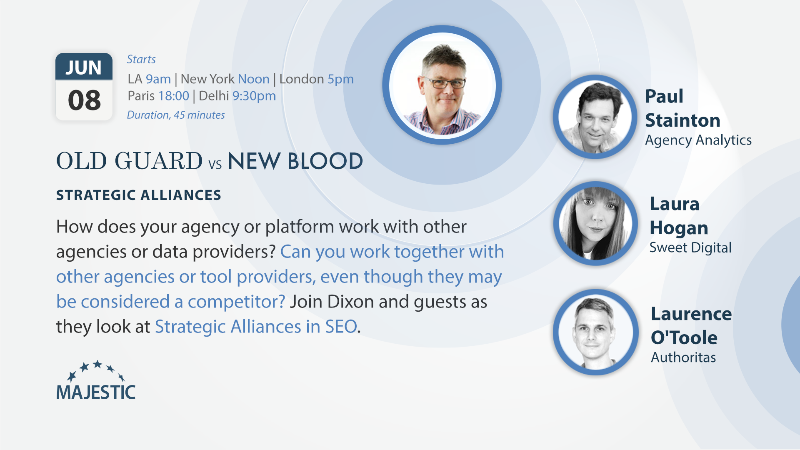 Machine Learning for SEO
How is machine learning changing SEO? And how do you need to adapt your SEO workflows to take full advantage of machine learning in SEO?
Joining David Bain on Wednesday 4th May for 'Machine Learning for SEO' was Lazarina Stoy, Susan Connelly and Jessica Peck.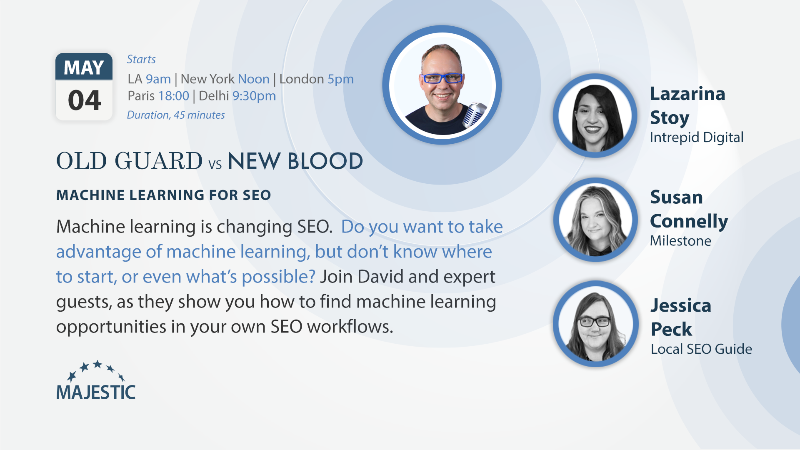 SEO in France
Is doing SEO in France any different to doing SEO in English speaking countries? In this episode on Old Guard vs New Blood we explore whether you should be aware of any differences if you want your website to be riding the top of the SERPs in France.
Dixon Jones was joined by Laurent Bourrelly, Lydia Arzour, Rebecca Berbel, and Jason Barnard to discuss SEO in France.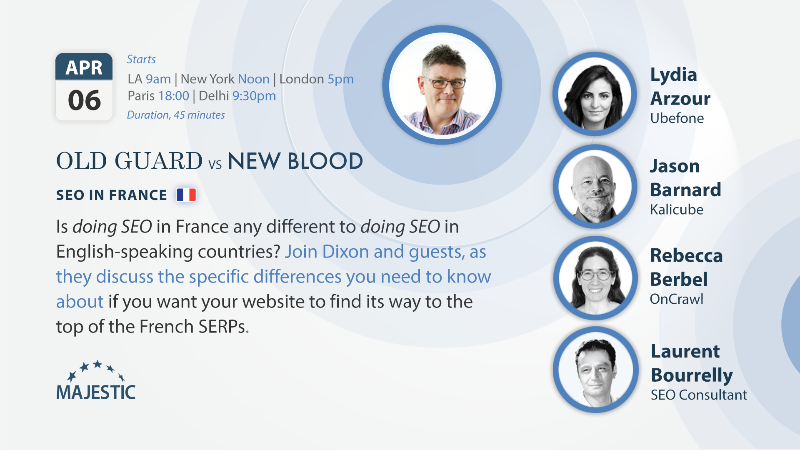 Internal Linking
How important are internal links in 2022, what are the mistakes that many websites make with internal linking and what are some of the key internal linking opportunities? That's what we're going to be covering in episode 26 of Old Guard vs New Blood.
David Bain was joined by Dixon Jones, Orit Mutznik, and Mags Sikora to discuss Internal Linking.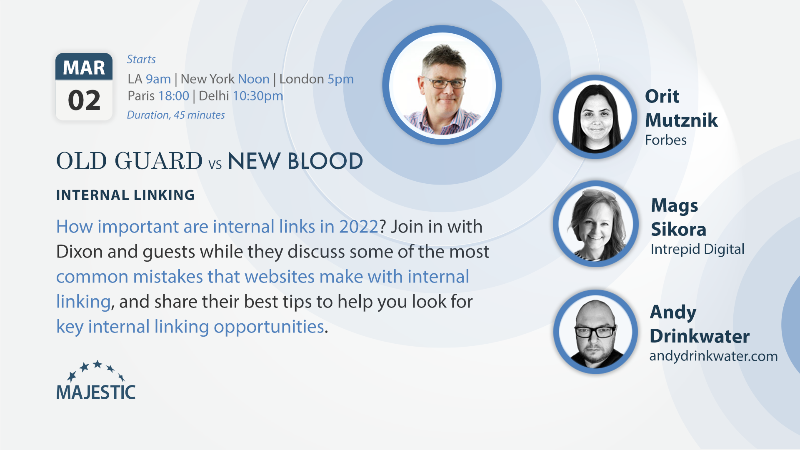 Google Search Console
How much time do you spend in Google Search Console? Probably not enough! There's a great deal of valuable data for SEOs inside of Google Search Console and in Episode 25 of Old Guard vs New Blood we explore what data you might be missing out on and how to incorporate the use of this data into your work patterns.
Joining Dixon Jones for this one was Olga Zarzeczna, Natalie Mott and Sante J. Achille.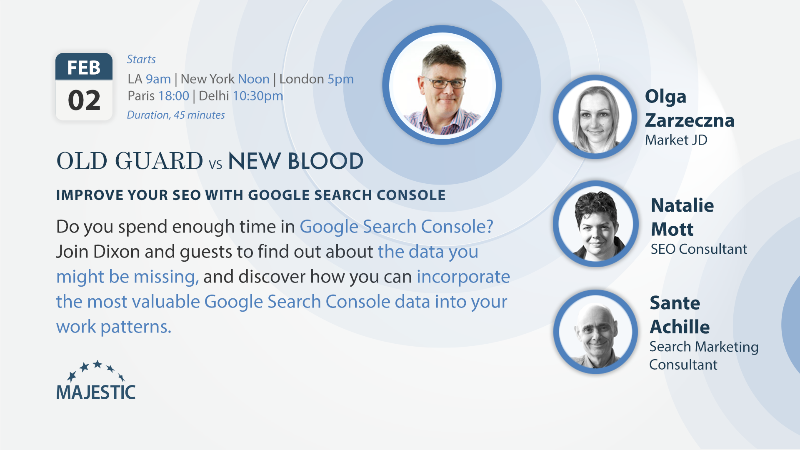 SEO in 2022 Strategy
It's time to plan out your activities for the coming year! But what should you include and what should you prioritise in 2022?
Amel Mehenaoui, Rejoice Ojiaku, Lidia Infante, and Andy Drinkwater joined Dixon Jones to discuss SEO Strategy in 2022.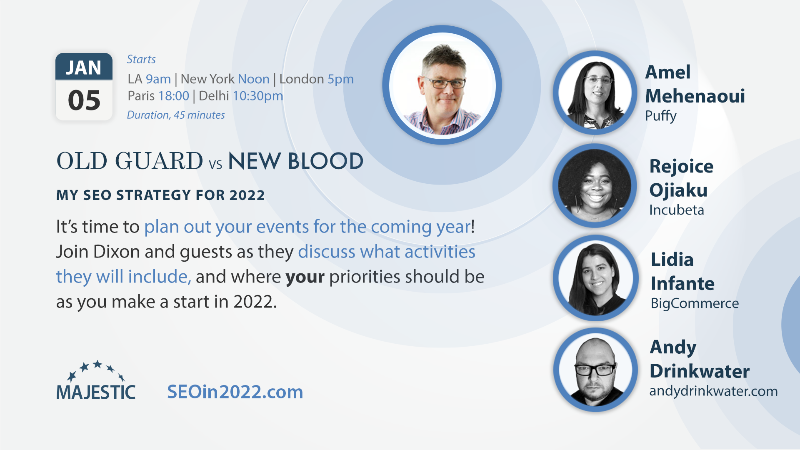 SEO in 2022 Preview
We'll be publishing a book called "SEO in 2022" soon, which features 66 of the world's leading SEOs as they share their number #1 actionable tip for 2022.
In our special preview show Dixon Jones was joined by Aiala Icaza Gonzalez, Michael Bonfils, Jono Alderson and Olga Zarzeczna.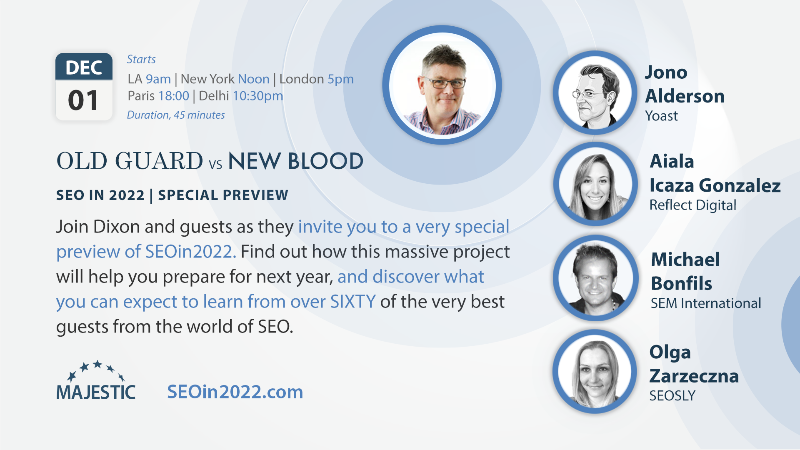 Crawling Websites for SEO
How often should you be crawling your website and what are the key issues that you should be looking to identify with a site crawler?
Crawling Websites for SEO is the topic that we're covering on Wednesday 3rd November in episode 22 of OLD GUARD versus NEW BLOOD, with Mark Thomas, Izabela Wisniewska, and Richard Lawther.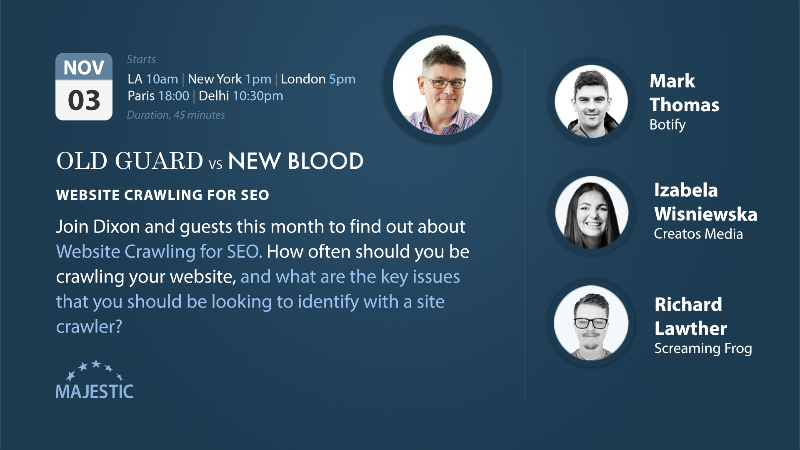 SEO on the Edge
Do you SEO for a big website? If so, do you struggle to get all the on-site SEO improvements implemented due to lack of site access or a poor CMS? Perhaps conducting 'SEO on the Edge' may be exactly what you're looking for.
On October 6th Dixon Jones was joined by Nick Wilsdon, Chris Green, and Emily Potter.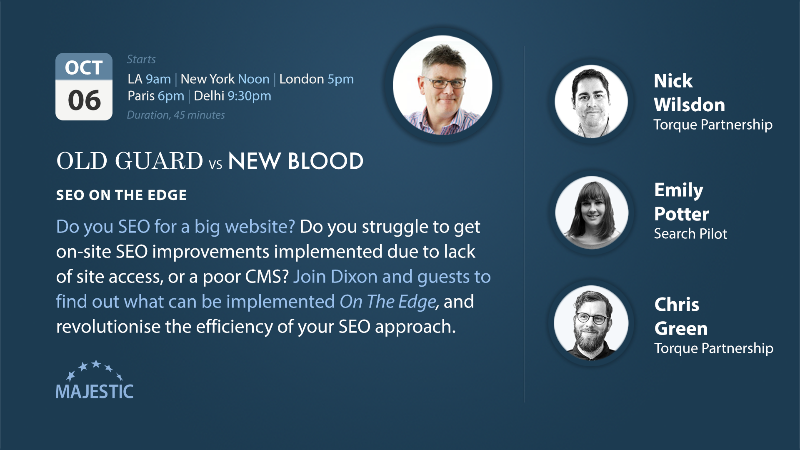 SEO for Shopify
1.75 million merchants sell using the Shopify platform, so if you're an SEO that specialises in e-commerce, you absolutely need to master SEO for Shopify.
Dixon Jones was joined on Wednesday 1st September by Kevin Indig, Dominika Taylor, and Aaron Orendorff.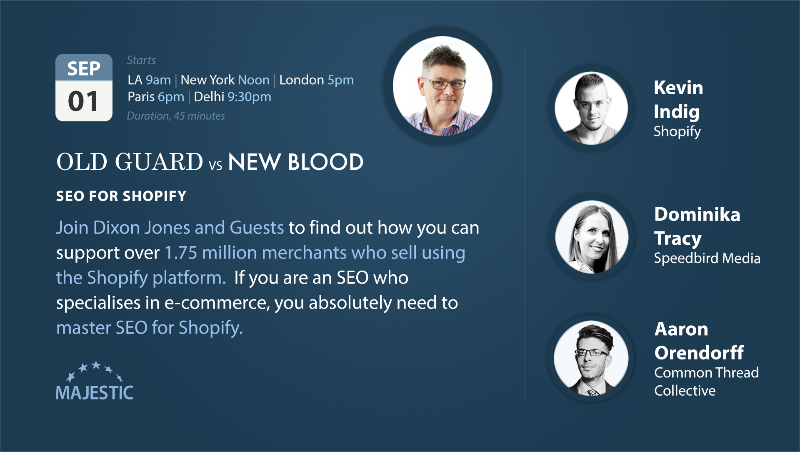 How Does Site Performance Impact SEO Success?
How significant is site performance to SEO success and what aspects of site performance most impact SEO? Those are just 2 of the topics that we cover in our webinar discussion "How does site performance impact SEO success?"
On Wedneday 4th August Dixon Jones was joined by Jon Henshaw, Pam Aungst and Lukasz Zelezny.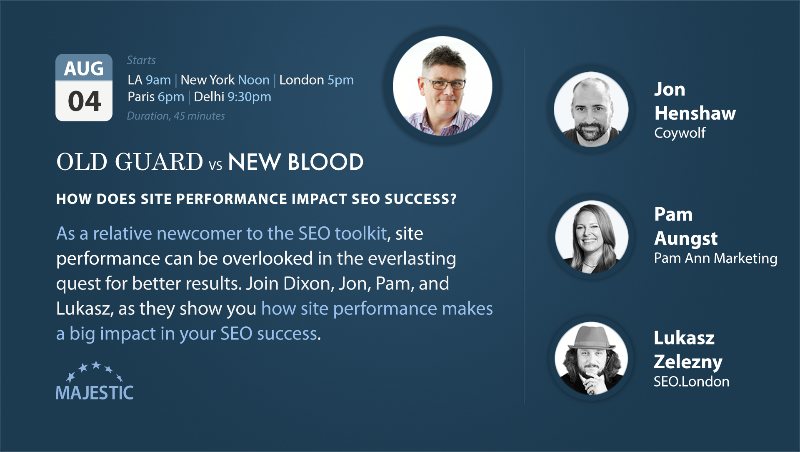 SEO for WordPress
WordPress has a lot to offer – but because it offers so much, it can be a bit of an SEO challenge. In this episode we discuss how to optimise your WordPress website, and how to keep it lean and appealing to search engines.
Dixon Jones was joined by Jono Alderson, Mindy Weinstein, Jo Turnbull, and Keith Devon when they discussed SEO for WordPress.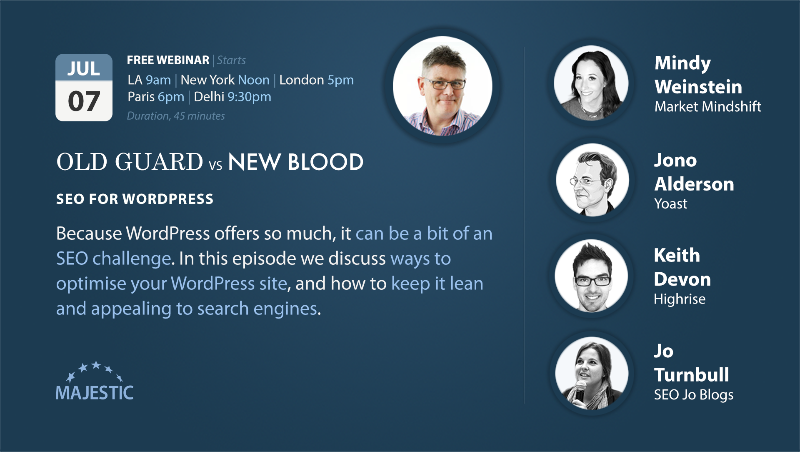 What You Need to Know About Google's Knowledge Graph in 2021
How do you enhance your brand's SERP appearance by taking full advantage of Google's Knowledge Graph in 2021? How does the Knowledge Graph influence user behaviour and SEO success and how important is it?
That's what we discussed on Tuesday 1st June in Episode 17 of Old Guard vs New Blood when Dixon Jones was joined by Jason Barnard, Paige Hobart, Hannah Thorpe and Dan Taylor.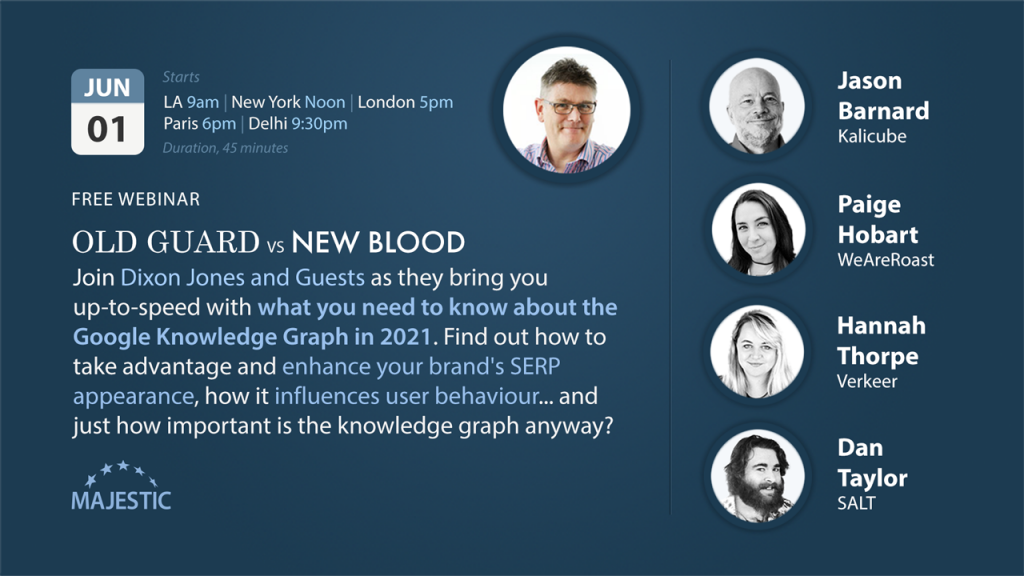 SEO for eCommerce
What are the specific skills, techniques and strategies that you require in order to SEO for eCcommerce?
That's what we discovered on Wednesday 5th May in episode 16 of Old Guard vs New Blood when Dixon Jones was joined by Kristina Azarenko, Chris Dunn and Emma Russell.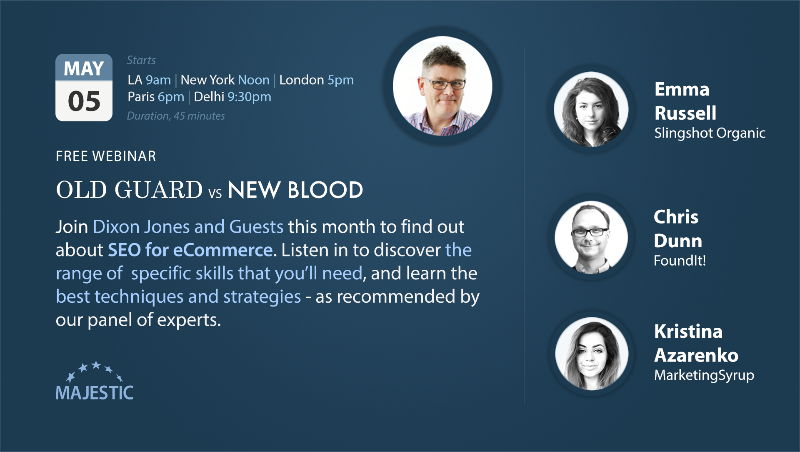 How to keep SEO clients satisfied
It's one thing starting a new SEO client and it's another thing keeping them happy and retaining them! This month on Old Guard vs New Blood we'll be checking-in with 3 leading agency SEOs, exploring what it takes to manage a client's expectations and keep them satisfied.
On the 7th April 2021, we answered the question "How to keep your SEO clients satisfied?".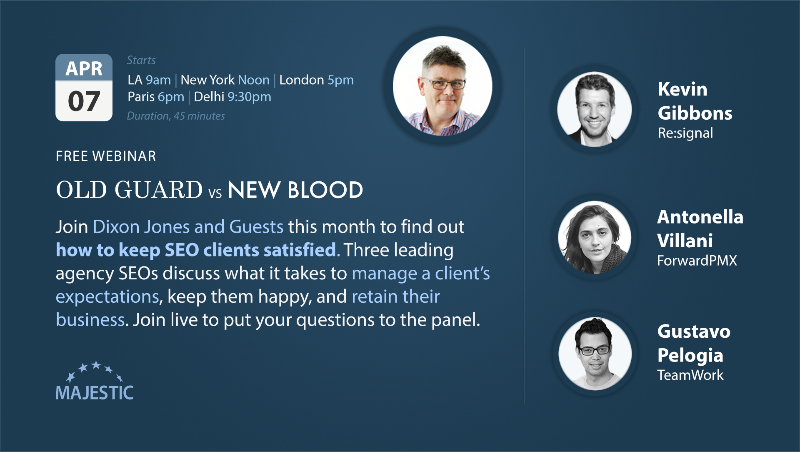 2nd and 3rd Tier Links
If you're an SEO, you'll certainly be aware of the power of links and how having high authority, relevant links pointing to your site can skyrocket your rankings. But what about 2nd and 3rd tier links? How important are they and is it possible to have any control over them?
On Wednesday 3rd March, Dixon Jones was joined by Max Brockbank, Amel Mehenaoui, and Gery White to answer the question: "How useful are 2nd and 3rd tier links to your SEO success?"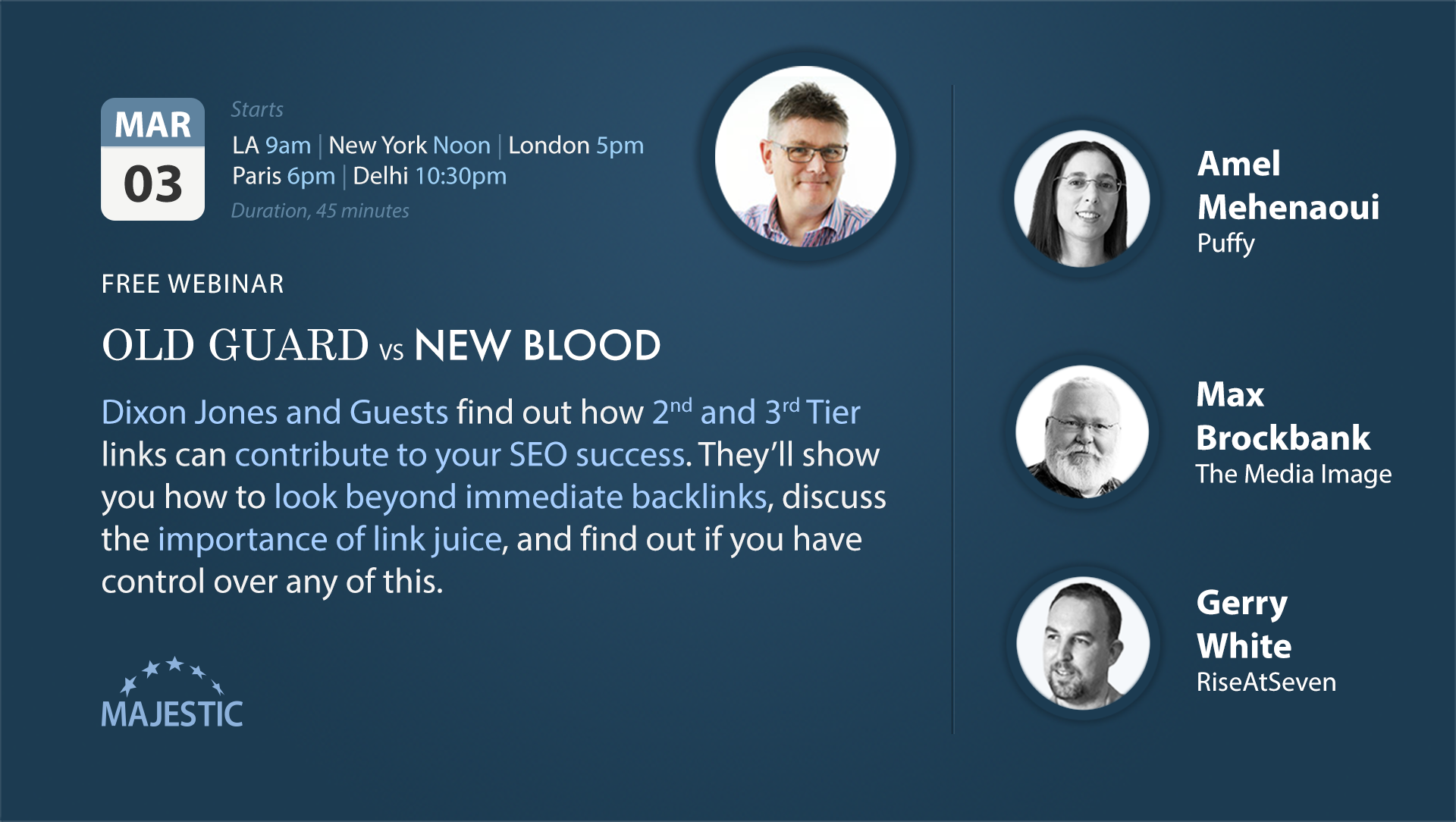 Audience Intent
On this panel we discussed how to determine exactly what your organic visitors are looking for and how to use SEO to serve that intent, giving you a great opportunity to maintain your rankings over the long term.
Dixon Jones was joined by Imogen Davies, Jenny Halasz and Natalie Mott to talk about satisfying audience intent.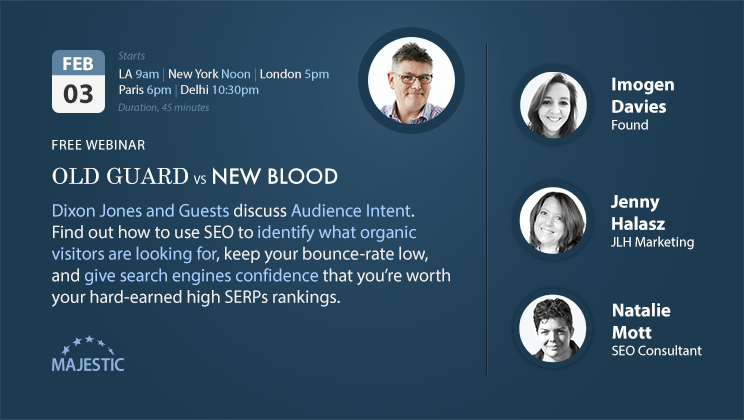 SEO Strategy Edition
How do you plan your SEO strategy for the coming year? Is it best to plan your SEO activities for a whole year or is it more effective to break down your overarching plan into smaller chunks?
Guest Host David Bain was joined by Maria Amelie White, Kevin Indig, and Anna Corbett to discuss how they pull together an SEO strategy and how they suggest you do too.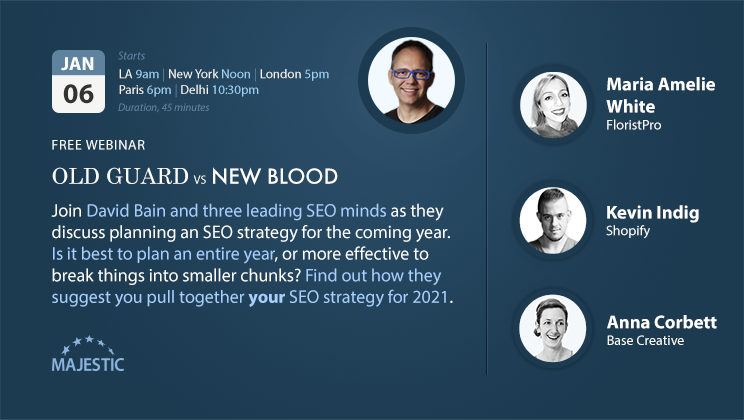 Content Edition
On Wednesday the 2nd December we focused on SEO's twin brother – content.
Dixon Jones was joined by Rebekah Dunne, Shaun Hill and Miranda Miller to discuss the types of content that are much more effective now as well as how to tie everything together into a coherent content marketing strategy for 2021.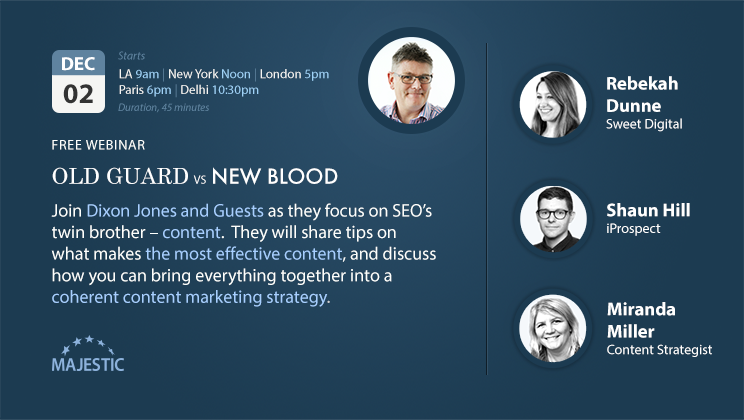 Rookie Mistakes Edition
On Wednesday 4th November Dixon Jones was joined by Dom Hodgson, Laura Hogan and Laurent Bourelly where they discussed the most common Rookie Mistakes that new SEOs make, and how you can avoid making them yourself!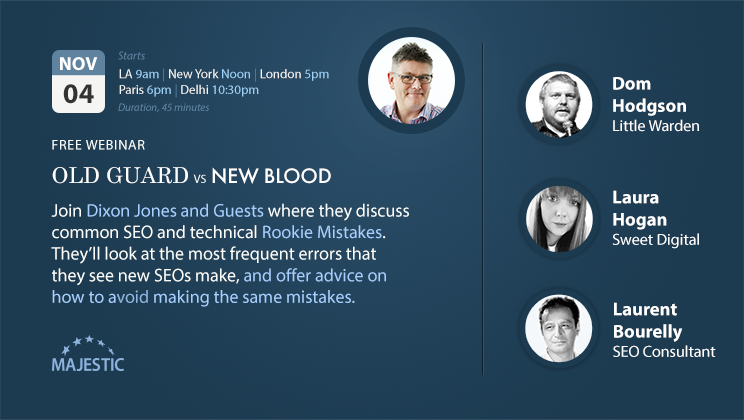 Crawling and Indexing Edition
On Wednesday 7th October, Dixon Jones was joined by Rasmus Sørensen, Romain Damery and Patrick Hathaway where they talked about all things Crawling and Indexing.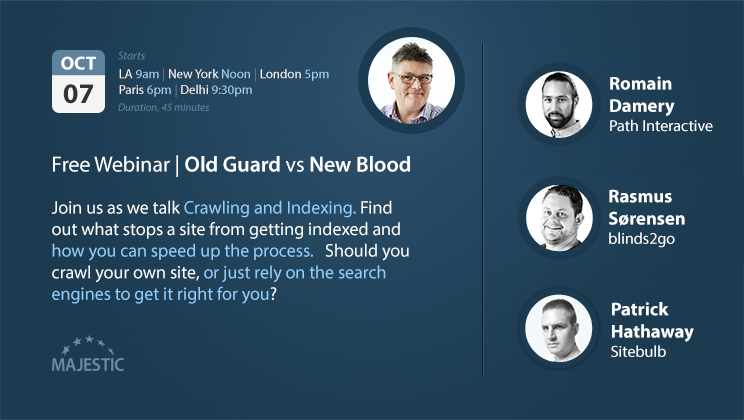 Tools Edition
On Wednesday 2nd September, Dixon Jones was joined by Fabrice Canel, Kristine Schachinger and David Iwanow to put Google Search Console and Bing Webmaster tools under the microscope!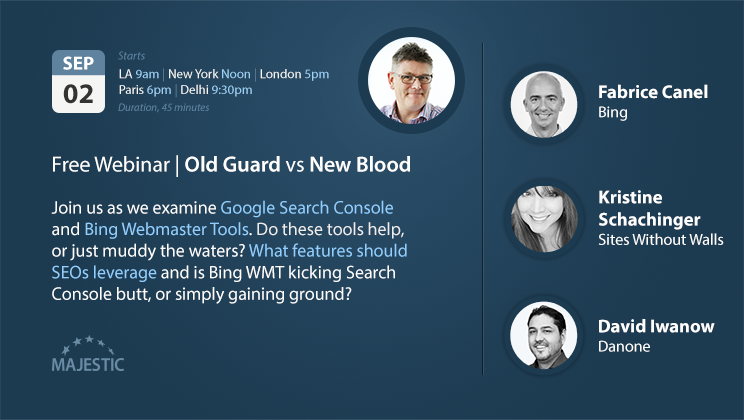 Remote Working
As we all get into the new reality, Digital Marketing is better placed than most to work remotely. But how do you manage teams remotely or how do you want to be managed remotely?
Aleyda Solis, Jo Turnbull and Gareth Hoyle explore this hot topic in the Remote Working edition.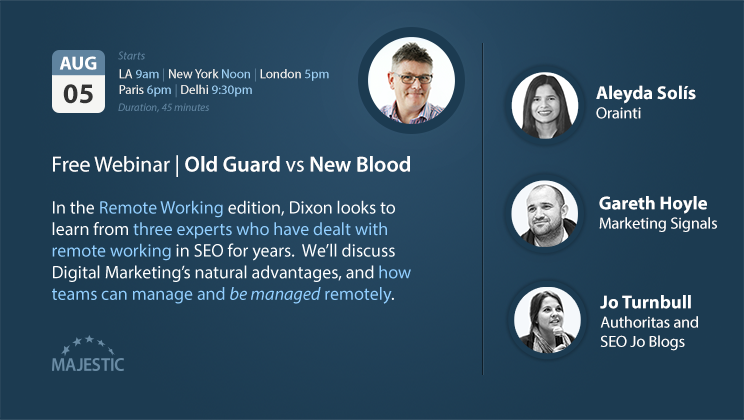 Enterprise vs Small Business SEO
In the Enterprise vs Small Business SEO edtion of the series, Dixon Jones was joined by Judith Lewis, Iman Hamdan and Mike King to discuss how Enterprise SEO compares to Small Business SEO.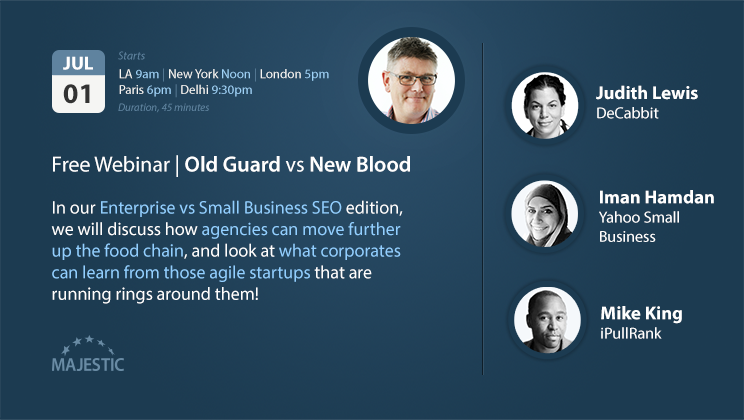 Agency vs In-House Edition
The Agency vs In-House edition of the series saw Ruth Everett, Topher Kohan, Viola Eva and Susan Hallam MBE all join Dixon to talk about their experiences of each position.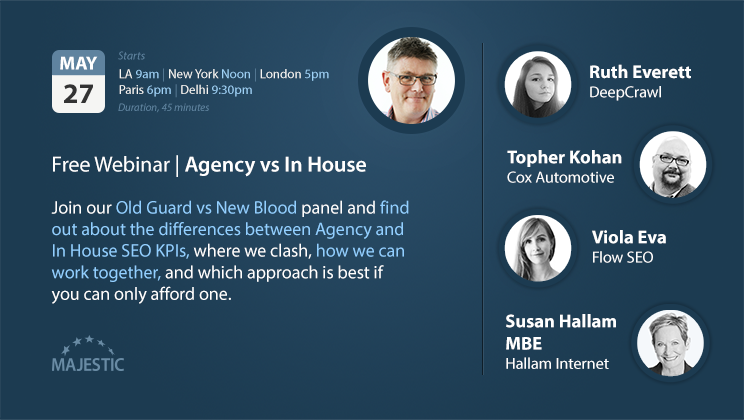 Analytics Edition
In the Analytics edition, Dixon was joined by Analytics experts Sara Clifton, Annie Cushing, Jim Sterne, and Jill Quick, where they discussed the importance of analytics.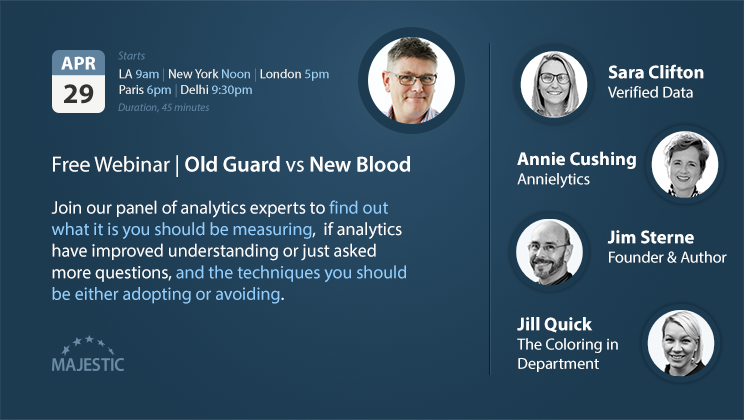 Social Media Marketing Edition
The Social Media Marketing edition saw Shari Thurow, David Mackenzie-Kong and Ned Poulter, all join Dixon to talk about how to market a brand on Social Media.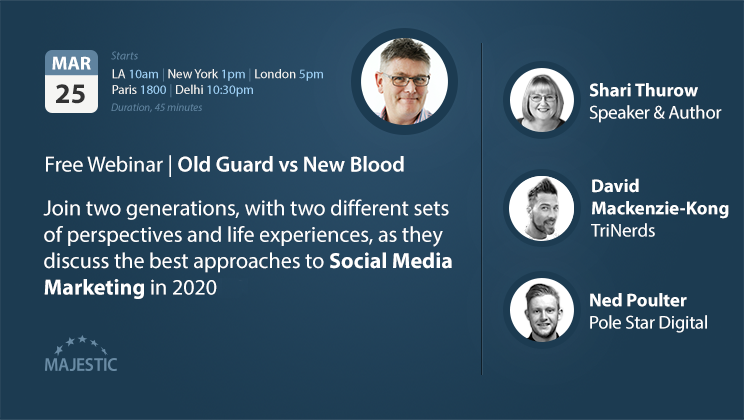 Link Building Edition
February's Link Building edition had Dixon joined by Frank Watson, Helen Pollitt, and Alina Ghost, where they discussed their approaches to link building.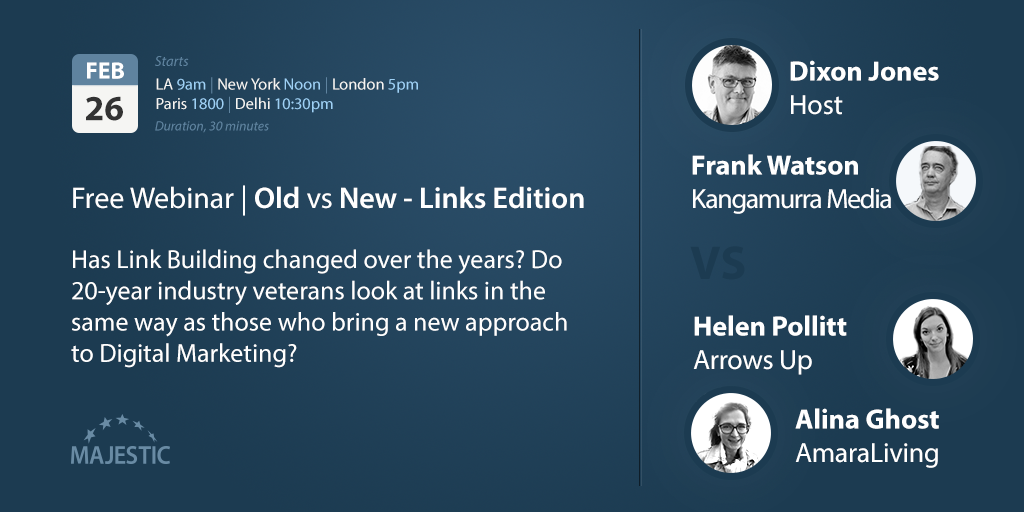 SEO Edition
The SEO edition saw Jenny Halasz, Bill Hunt Snr, Hannah Thorpe and Tom Pool all join Dixon to discuss all things SEO.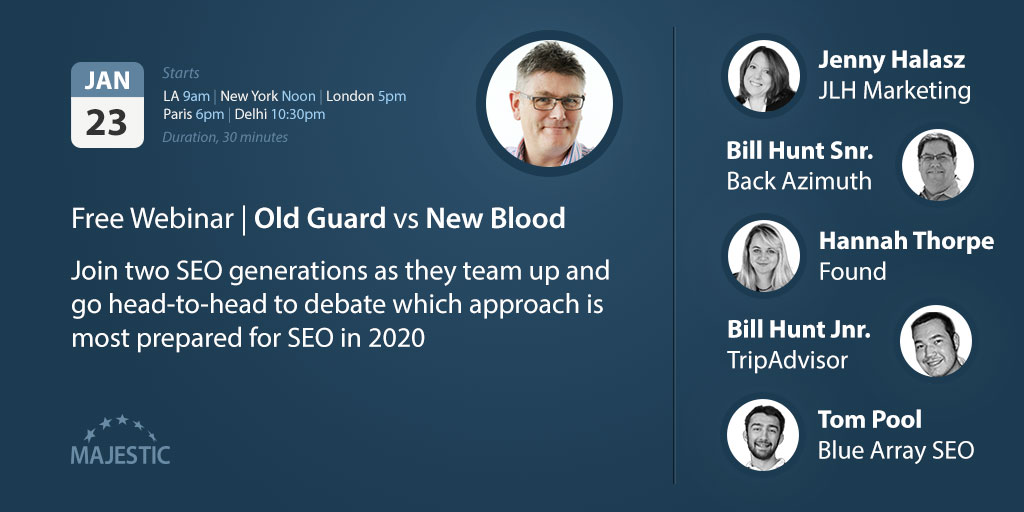 On-Demand Recordings
Not able to catch it live?
Not to worry – all webinars are uploaded to their individual page for you to watch at your convenience!
And you can now listen to the series on your favourite podcast provider! Just search for 'Old Guard vs New Blood' and subscribe to never miss an episode!
Listen on Spotify, iTunes and Google Podcasts.