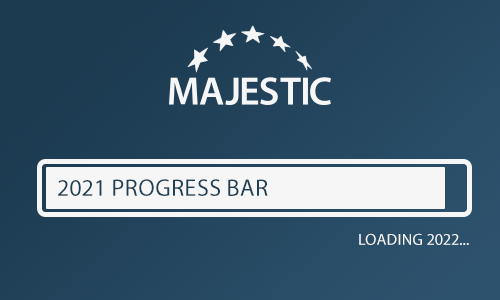 As we approach the end of 2021, and 2022 rapidly approaches we wanted to share some reflections on how the Majestic platform has developed over the last 12 months.
At the start of this year, we shared our plans this year to develop the core of the Majestic Platform to deliver you better Link Intelligence data than ever before. We've applied this theme to a number of our tools and databases, adding duplicate analysis to the Fresh Index, expanding the scale of the Historic Index and making data easier for you to access.
For this "End of Year Review", we've handed the rest of this post over to our developers to look back on how Majestic has changed in 2021. We would like to take this opportunity to wish you all a happy holiday period and well for the coming New Year.
Q1 2021 – Link Graph enhancements
In December 2020 we were delighted to launch Link Graph. Link Graph is a visualisation of the link neighbourhoods surrounding a website. Link Graph traverses up to four backlinks away from the site under investigation. This gives you the power to observe link networks or badly configured PBNs which could boost your ranking in some third party tools, but are unlikely to pull the wool over Google's eyes.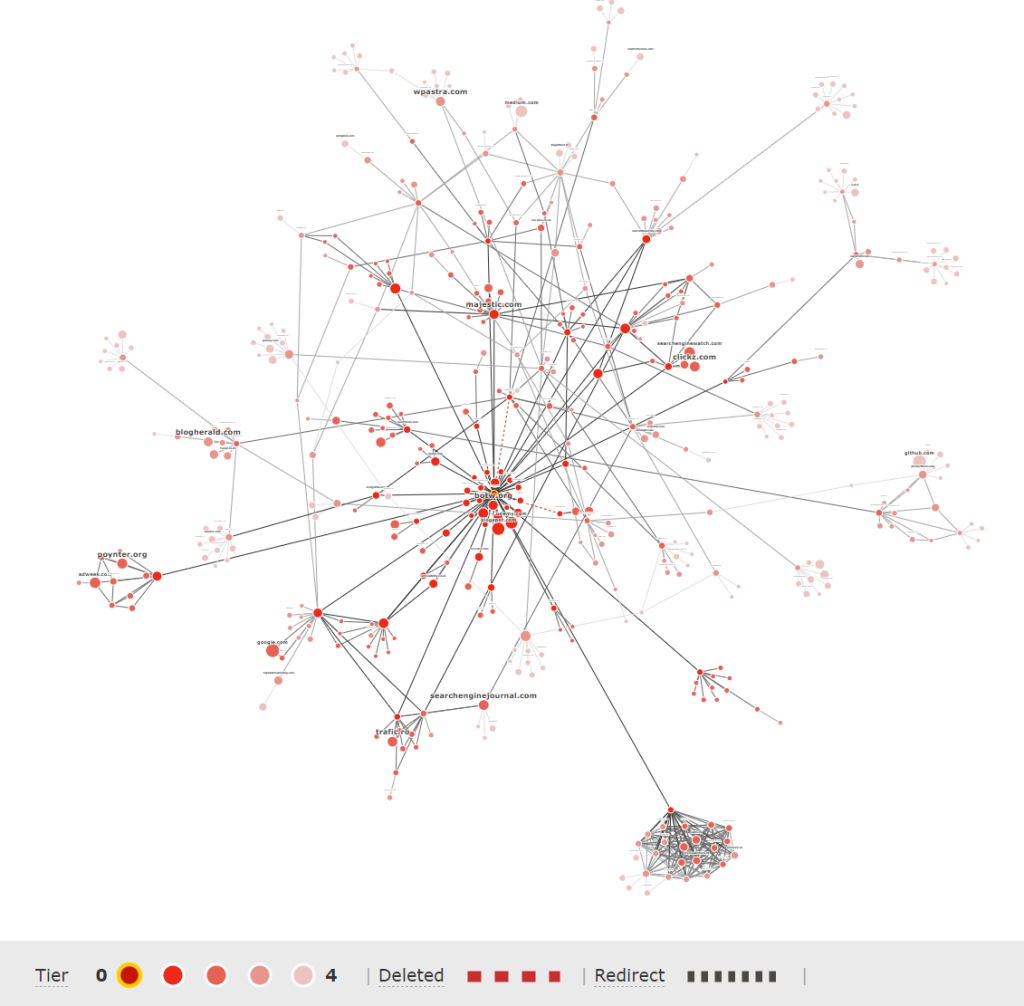 Updates to the initial release of Link Graph followed in January and February 2022, adding the ability to view data tables and new ways to select and filter data of interest.
Later in the year, Majestic Ambassador Bill Hartzer collaborated with Brooke Sikora from Inseev Interactive (a San Diego based SEO agency) to produce a series of three webinars (moderated by Kristine Schachinger) culminating in a master class of Link Graph.
Q2 – UI enhancements, new visualisations & fresh index improvements
The period of April through to June saw subtle enhancements to the Majestic platform. In April, the onsite header size was reduced to stop Majestic branding interfering with data and analysis. Related sites also saw an update with the introduction of a TF/CF graph of similar sites, providing insight and potential link opportunities within a niche.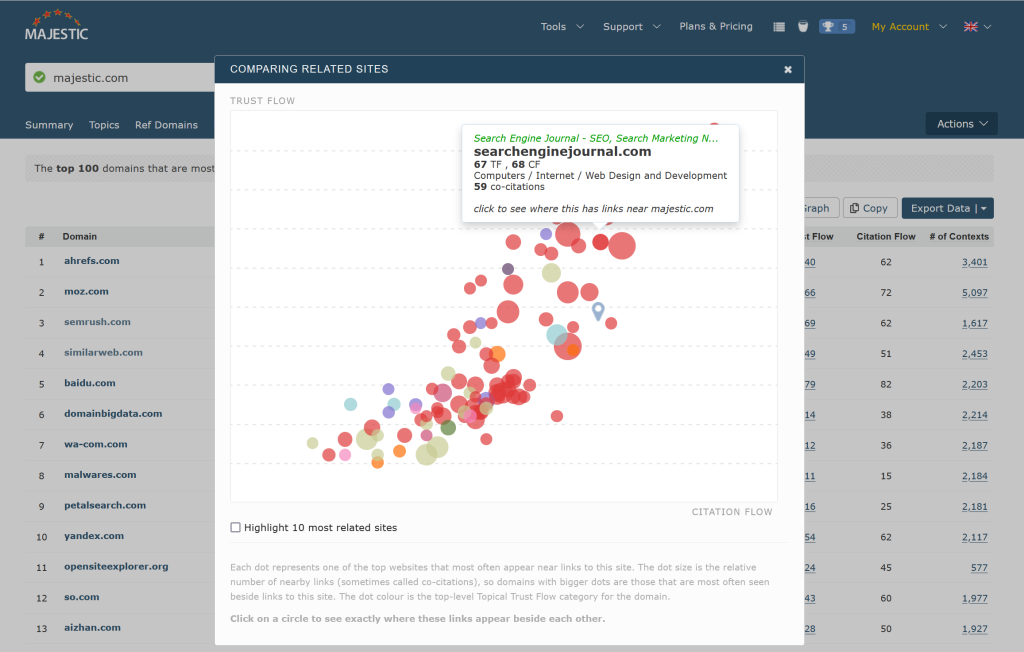 If you are yet to use Related Sites, or would like to know more about how it can be used in Backlink Research, click here.
June saw an update that allowed the "First Indexed" date to reach outside the respective range of the Fresh Index, with the hope of making "First Indexed" dates closer to "first discovered" so that we can give you richer data.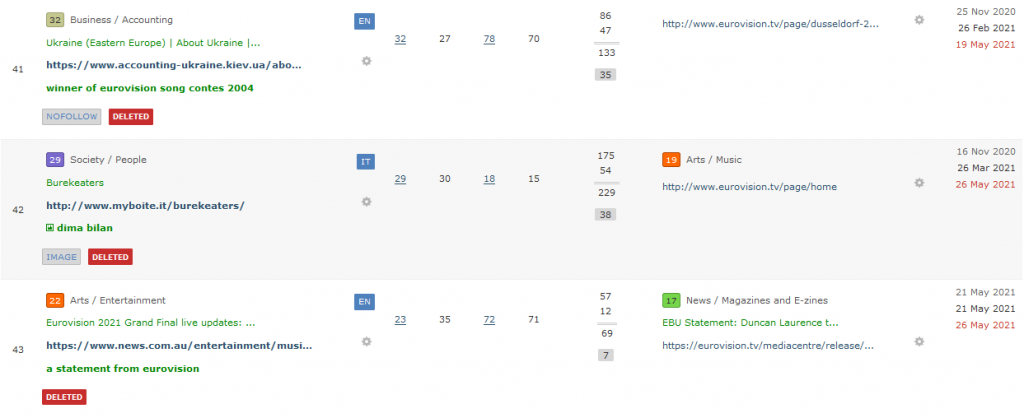 Q3 – Related Sites addition, changing the reporting of backlink counts and Rank Tracker enhancements
In July, a new 'Copy' button was introduced to Related Sites, allowing you to transfer the data in the table to your clipboard and into a spreadsheet or report at a click of a button.

August through to September saw the first steps in changing the way we report backlink counts as part of our "Backlink Fidelity" project. As "External Backlinks" can be interpreted in many different ways, August saw the introduction of two new terms:
External Inbound Links – a link level backlink count that is not capped at one link per referring URL.
External Referring URLs – the number of URLS in the index that point to the site.
The introduction of these new terms saw our headline backlink count change from External Backlinks to External Inbound Links.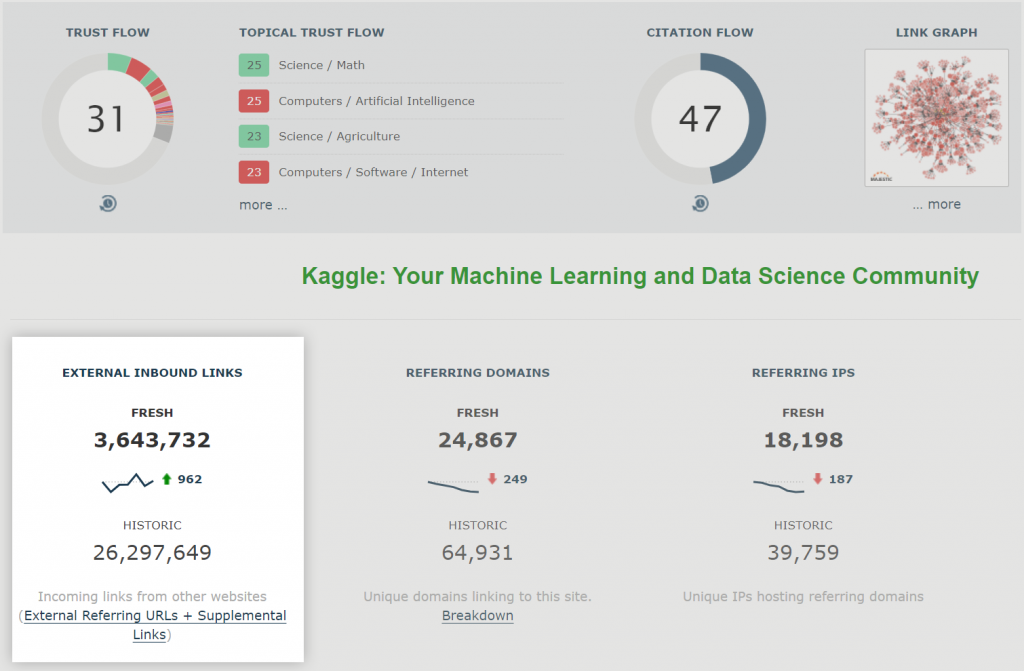 In late August, we were able to take the next stage in our "Backlinks Fidelity" project and allowed us to take a huge step forward in advancing link level analysis by introducing "Duplicate Link Detection". Duplication Link detection works at source domain level and analyses all the backlinks from that source domain to a given URL on a different domain. This analysis assigns a duplicate status at link level to backlink data:
| | |
| --- | --- |
| Duplicate Analysis Classification | Explanation |
| Distinct | Either, a unique backlink, or the most notable link from a set of duplicates on a site. |
| Notable Duplicate | A link that appears to be a copy of another link from the same site, but is on a page that transfers Trust Flow and Citation Flow. |
| Redirect | The link has been redirected by an intermediary and hence the duplicate nature is uncertain. |
| Pending Classification | The link analysis process takes longer than the Fresh index takes to build so there may be a number of links that are yet to be classified. |
| Cannot be Classified | The algorithms haven't been able to classify the link. |
| Non-Notable Duplicate | This link appears to be the same as a higher ranked link on the same site in a different location. It carries insufficient "link juice" to be considered notable. |

The Site Explorer summary page was updated to show a complete breakdown of how many external inbound links have been placed in each duplication classification category, and the new style full export was updated to include duplication classification information.
September saw the addition of After Noise Reduction to the Site Explorer Summary. This temporary count helps you to see what your site's backlink count is after low-quality duplicate links (Non-Notable duplicates) are removed from the Fresh Index. These links will not be removed from the index yet, but when they do, it'll allow us to open up the index to be a more contemporary view of today's internet. This will help you get the best links first, and creates more space, which will allow us to increase the Fresh Index window beyond its current 120-day cycle. This should increase Referring Domain counts, and dampen the Memory Effect that can be frustrating for builders of new links.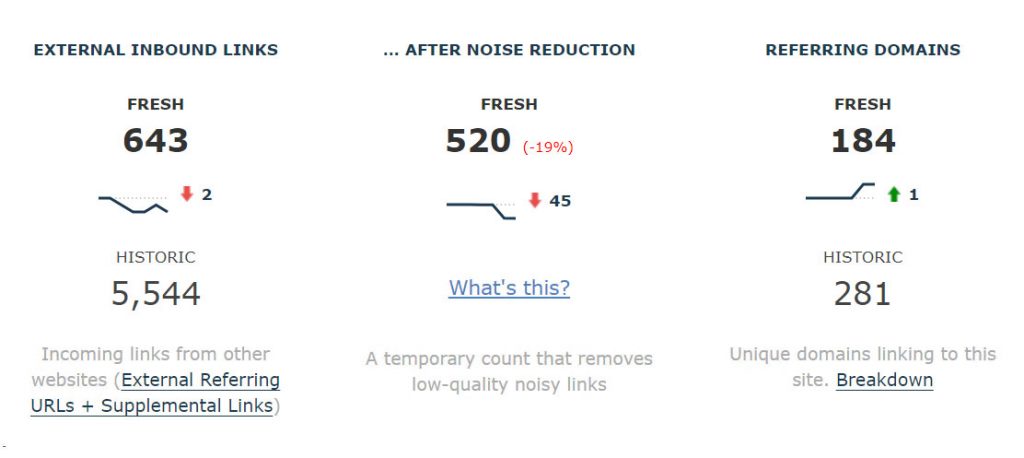 Rank Tracker is a tool that allows you to watch the evolution of key metrics for a collection of sites that you own. It regularly imports Google ranking data from your Google® Search Console and combines it with Majestic data. In September, we released a few Quality of life updates to Rank Tracker to improve your experience in using the tool and to help you gain a deeper insight into the evolution of key search metrics for a range of websites you own. These updates included:
The ability to add domain-level and URL-path-level Campaign items
Add Majestic failed verification Campaign items
Adding multiple Campaign items at once
Having global view Campaign items
Sorting
Q4 – Export and Historic Index enhancements
In November, we introduced an easier way to work out which Site Explorer data extract is best for you. The "Export Data" button in the Site Explorer backlinks report was replaced with a brand new menu, to help improve the way we communicate and offer the export of backlink downloads. The menu offers two levels of backlinks export:
A "Top Backlinks" report attempts to mirror the data you are looking at in the Backlinks tab. The number of rows of backlink data is dictated by your plan and is capped at one link per referring URL.
A "Full" raw export of all Inbound Links data, with multiple links shown from each referring URL where appropriate.
An additional, more contemporary export format was also released. Export 2.0 is our recommended choice of data extract, which offers:
Expanded data points (including Link Context, languages, duplicate link status)
Easier-to-read column headers, including new backlinks terminology
Synchronised column names between Instant and Full extracts
Removal of deprecated columns
Future updates as they become available
Up to 20,000 rows for a Google Sheet extract– double the legacy export
To try and respect the needs of our valued existing customers, we have taken a philosophy of trying to avoid breaking changes. The organic approach of maintaining backwards compatibility by adding new fields and never removing the old ones has limits. For example, there is some data in our old extracts like AC Rank that is irrelevant in current digital marketing practice. We don't want to completely drop these types of fields as we appreciate that some customers may need them – even if it's just that their presence prevents some in-house code from breaking, so we will continue to offer a legacy export for backwords compatibility only.
In December, we upgraded our Historic Index to now include over FIFTEEN years of data. You can now search through some of the rarest commercially-available backlinks on the planet, with links dating back to June 2006.
December also saw updates across the site to make use of the new External Referring URLs and External Inbound Links terms, to help clarify where we're counting backlinks at URL level, and where we count each individual link.


Wrapping Up 2021
2021 saw enhancements to the Link Graph, Related Sites and Rank Tracker tools. We improved the UI across the site to stop it interfering with your data and analysis. Improvements were made to both the Fresh and Historic Index to give you richer data.
We aimed to deliver "Backlink Fidelity" this year, which saw changes across the site in the way we report backlinks counts. This included the introduction of the terms External Inbound Links and External Referring URLs, which replaced External Backlinks. Duplicate Link Detection was introduced, with this analysis assigning a duplicate status at link level to backlink data. "Non-Notable Duplicate" links discovered in this analysis will be removed from the Fresh Index in the future.
Site Explorer saw the "Export Data" button replaced with a new menu, which offers all the export options available to you. Export 2.0 was also released, which is our recommended choice of data extract. The legacy export will still be available, to maintain backwards compatibility.
Looking Forward to 2022
Given the subject of this blog, we hope you'll excuse a reference to another project we've been involved in over the last few months.
We are delighted to have facilitated "SEO In 2022", a guide which captures insight from 66 leading Authorities on SEO. Over the last few months, David Bain has interviewed SEO experts, asking them for their Actionable SEO tip for 2022. You can access this guide FREE via YouTube, and podcast. SEO in 2022 is also available to buy as a physical book or book for kindle via amazon.
For more details, please visit seoin2022.com
Latest posts by Miraj Shah
(see all)